The Washington Commanders got an early start in honoring Salute to Service month with a visit to Walter Reed National Military Medical Center in Bethesda, Maryland on Monday, Oct. 30. For the second year in a row, a Commanders contingent spent time at the facility interacting with service members – active duty and retired – from around the country and every branch of the military.
"It was another special event this year with a great group of players spending time with patients, staff, and service members," Washington Salute program lead Chris Bailey said. "Thank you to our friends at USAA for coordinating this year's visit and for the amazing staff and leadership from Walter Reed who welcomed us back with open arms.
In addition to a group of Commanders players, team dog Goldie, Command Force members and Major Tuddy were at the hospital for the afternoon. From conversations in the Military Advanced Training Center to meet-and-greets and autograph signings, the experience at Walter Reed was both a fun and powerful one for all involved.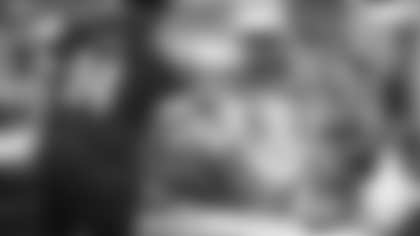 The Walter Reed visit started in the Military Advanced Training Center (MATC), the location of what Bailey and players described as some of the afternoon's "most memorable moments."
The 31,000 square-foot facility houses more than 15 specialties and helps care for wounded warriors in transition. Here, those undergoing treatment got to hang out with players, breaking up the sometimes-monotonous days. Megan, the mother of 13-year-old Ryan who is being treated for Ewings sarcoma, loved seeing the smile on her son's face as he met with players during this first stop.
 "He trades and sells rookies card, and I think he had [Daron] Payne's rookie card," she said. "He just got it signed by him so that will be the highlight of his day for sure."
Employees at MATC were just as excited. For them, they appreciated that the visit would show a new part of the community a glimpse of the awesome, life-changing work that happens at Walter Reed.
"I live right here, and it's really amazing how many people around Walter Reed aren't familiar with what these guys go through and what we're doing here, so I think for that reason it's just great that Commanders are here today," said Ellen Tazikas, an orthopedic surgery clinical research coordinator.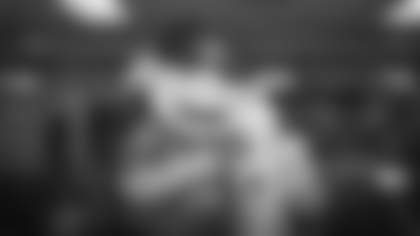 The impact of this facetime was not lost on the players. All of them were deeply engaged, asking thoughtful question and adding in some humor when possible in their interactions.
"It's nice to be able to talk to and interact with the patients who are going through some battles right now and uplift their spirits a little bit," Commanders' kicker Joey Slye said.
The backend of the Commanders' visit was spent taking pictures, signing autographs and briefly chatting with those at Walter Reed in another part of the facility. E-5 sailor Alexa Carreon was beyond jazzed to talk with players of her favorite team, especially after just being at FedExField for the game against the Eagles less than 24 hours earlier.
"They could be tired after a gameday but they still came out here and that means a lot," she said. "I love that they do this… It boosts the morale and definitely gets people out to socialize and mingle."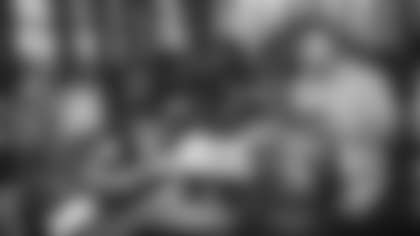 E3 Marine Dimitri Cheko, a former heavy equipment mechanic, was one of the first in the line for the meet-and-greet portion and was outspoken about the impact of the Commanders' presence at the facility.
"It motivates to keep striving and not just stay depressed, because a lot of us do stay depressed," he said. "It motivates us to keep a positive attitude and keep moving forward. Our situation is not the end of the world."
The afternoon was filled with memory-making and smiles. Salute to Service month is just getting underway, but the visit to Walter Reed is undoubtedly already one of the big highlights.
"Thank you to the team at Walter Reed National Military Medical Center for hosting the Commanders today," Bailey said. "We are already looking forward to next year!"