"This day is a way bright light," said Mashea Ashton, CEO/Principal of Digital Pioneers Academy (DPA), a public charter school the Commanders have pledged to support.   
On this 90-degree day, fans quickly headed towards AC as soon as practice wrapped up. But on the other end of the field, you'd find Commanders players meeting with young football players from Digital Pioneers Academy.  
Players from both teams met after practice and got to know one another. They shared a mutual excitement of new beginnings and a future of growth. Autographs were signed, and stories were exchanged both ways. Head coach Ron Rivera stopped by, as did many different players, including Chase Young and Emmanuel Forbes.   
Digital Pioneers Academy was founded five years ago in the southeast area of the District of Columbia. The school prioritizes students as scholars and educates them about accountability, ownership, growth, optimism and empathy. Fostering these attributes while focusing on a future of innovation sets DPA apart from other local schools.
Despite the hard work that's gone into building DPA, it's been hit with overwhelming tragedy in recent years. Four students have lost their lives to gun violence, as increased crime in southeast D.C. has dramatically affected the youth within the community. Additionally, a 10th grade English teacher died after being forcibly detained while visiting family at home in Los Angeles.
"As much as we are resistant to it, there is kind of a cloud over us. Every opportunity and moment to bring light and energy is just great," Ashton said.
Recently, light has come in the form of football. DPA is weeks away from kicking off the school year and with that, its very first football season. At a June school assembly attended by Team President Jason Wright and several Commanders players this summer, the Commanders announced its $75,000 donation to DPA as it worked to launch its football program. Washington's role in this exciting beginning is never far from the minds of DPA's freshly-minted football players.
"On Friday, I went to practice; it was only the second day they had pads on," Ashton said. "They all had their cleats on that we got from the Commanders. I was overwhelmed with joy."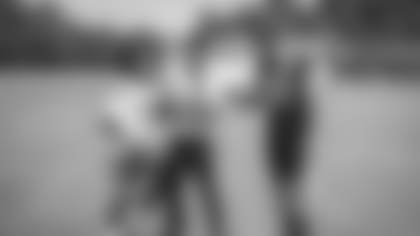 The connection between DPA and the Commanders has allowed for a sense of growth within the community. It's also working to support young football players in building this program from the ground up.
"The impact of football on the whole community takes it to another level," Ashton said. "And so yes, this is about these players and these coaches. But our whole community is rallying around this, and that's where it's so amazing."
Students were overjoyed to be able to build this initial connection and to be able to continue it at training camp. Next up is a trip for DPA players and coaches to FedExField for a Commanders gameday.
The impact has gone both ways between Commanders players and the growing football stars. For the team, connecting with the community around them and giving back is extremely important.
"It means a lot to the Commanders," Forbes said. "Bringing out the community and having them out here having fun."
The Commanders are excited to continue their relationship with Digital Pioneers Academy as they start their seasons this fall.