For the second year during the team's Inspire Change-themed game, the Washington Commanders invited a group of Black-owned, DMV-based businesses to showcase their work at FedExField.
"I think it's an awesome opportunity to reach a crowd of people I haven't reached and spread my art to a larger audience," said Beezy Young, founder of Wood You Wear. "I hope this continues to inspire people to support small business and specifically small Black businesses."
In addition to Young's Wood You Wear, Heart of the City Candles, Ar'ryles, The Museum and D.C. Proper were invited to vend at FedExField's West End Zone Pavilion during the team's Sunday Night Football game against the New York Giants. While each of the businesses in attendance specialize in different items, they share a mission of empowering patrons and their community with their craft.
At the game, Young offered a glimpse at Wood You Wear's selection, pieces which she describes as "wearable art." Her shop features her handmade pins with sayings such as "You got this" and "Honor your journey," which, as she puts it, serve "as reminders of whatever affirmation you might need."
Next to Wood You Wear's table, the Ar'ryles brand displayed its assortment of turban headbands known as the Halo Collection. Ar'ryles brand founder Ashley Beasley has a goal to make on-the-go women feel comfortable without sacrificing style and calls the Halo Collection items "that one, all-inclusive piece that takes your outfit to the next level."
Beasley appreciated the spotlight offered by the Shop Black Holiday Market on the big stage of Sunday Night Football and hopes the impact of the initiative continues to reverberate far past the stadium walls.
"I think it's important that the Commanders are giving us a platform so that people can know we have great ideas, we're passionate, we're successful businesses. More than just a Black business, we're successful businesses in general," Beasley said.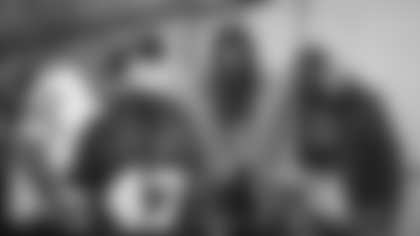 In addition to highlighting passion, great ideas and successes, the Commanders' Shop Black Holiday Market underscores the idea that creativity should not be confined or limited. The more it is shown, the more it grows. Exposure can plant seeds in beautiful and unexpected ways.
"I think it's great for people in the area to see that we are appreciated, that the opportunities are out there," Heart of the City Candles founder DB Bantino said. "People might look up to the players on the Commanders, but they might not see themselves in a lot of these environments."
Coupled with selling their delicious-smelling wax creations, Heart of the City Candles is intentional about serving the community that Bantino and business partner Derrell Simpson were born and raised in. They have hosted candle-making workshops for DC Public School teachers and, just like week, organized toy giveaways.
Giving back is at the core of the brand and that fact gave a special perspective on their invite to the Shop Black Holiday Market. A little but of support from others, especially an entity like the Commanders, can elevate someone's project to a whole new level and change their future.
"This event shows that if you have an idea and a brand that there are people like the Commanders who will get behind you and give you an opportunity to show it to the world," Bantino said. "Being a part of just the whole environment and the energy, I'm really thankful for the chance to be here tonight."