For Daron Payne, it felt like an entire month.
The ankle injury that sidelined him for the first couple weeks of training camp, along with the team's first preseason game, was particularly frustrating. The Redskins didn't want to take any chances with their first-round pick, but it was clear over the last few days of practice he was more than ready to take the field Thursday night in front of the home fans.
And on the very first drive of his first NFL game, Payne made all that waiting worth it, sacking Jets quarterback Sam Darnold in the Redskins' 15-13 victory at FedExField.
"It felt good," Payne said. "Just glad I got it."
Following a short pass and an incompletion, the Jets faced a third-and-8. Lined up to the left of the center, Payne took one step to his left then pulled a swim move, blowing by the right guard and taking Darnold with him to the ground.
"It felt good," Payne said. "It's something I've been working for my whole life so I'm definitely just blessed and happy for the opportunity."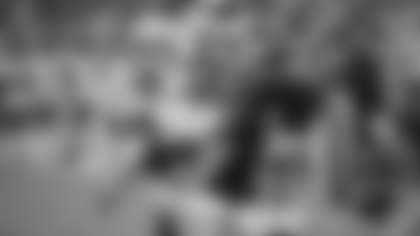 It's one play amongst many, but it's a good sign for the Redskins, whose goal the last two years in the draft has been to bulk up a defensive line that's been particularly porous against the run over the last few years. Despite missing Matt Ioannidis, seeing Payne and Allen side by side and causing havoc was an exciting sight.
"Happy for him, man. Happy for him," teammate and line mate Jonathan Allen said. "I got my first one in my first action. He did, too. I'm real happy for him."
"He was ready to go," defensive lineman Tim Settle said. "I was getting him up a little bit before the game, all that hype and that. And he showed me, I was watching the whole time. I saw when the offensive linemen over set him and he hooked his way inside, I was so into it. That's the thing we've got in our room. If any of us do well, we're excited and happy. It was good seeing him get out there for the first time and showing what he got and showing he's solid."
After making his debut last week against the Patriots, coming up with a fumble recovery and becoming a force on the inside, Settle keeps improving, showing his versatility by tipping a pass at the line of scrimmage later in the first half.
"It's not all me, trust me," Settle said. "I just take advantage of that. I'm still learning, I still ask questions. I still have some technique errors that need to be fixed. I'm going to get it done though, I've got a couple more weeks." 
The impact is already felt by cornerback Josh Norman. After singing the new defensive line's praises at training camp, using the Roll Tide moniker multiple times, he continued to express his amazement about the addition of Payne and the impact he can have with Allen, Ioannidis and the rest of the line.
"Oh my gosh. Did you see it [laughs]? Wow, that's love," Norman said. "I would say this: it's a good time to be a Redskin. It really is. You wait and you see the progression of three years, you know, sitting back here and watching those young bulls go at it and they go hunt. It's a great feeling it really is."
 Payne would only like to oblige the veteran defensive back, and earn that excitement.
"I'm going to go out there and give my hardest every chance I get," Payne said. "So I hope it's more to come."