During the Washington Commanders' 2023 Hispanic Heritage Night, culture and celebration coincided for an extraordinary evening that honored local businesses and young Hispanic leaders.  
Before fans found their seats at Thursday night's primetime game against the Chicago Bears, they had the opportunity to visit local Hispanic vendors' pop-up shops. The event not only honored Hispanic and Latino business owners who have planted their roots in the DMV area but spread messaging on the Commanders' unification with initiatives recognizing Hispanic heritage.  
The market was hosted in Legends Plaza, where the space was filled with numerous items for sale, from jewelry to food to homemade candles. Materials were locally sourced and handcrafted with care and immaculate attention to detail, while simultaneously telling a story that honored Hispanic heritage.  
Josue Martinez, the founder and artist behind Corinto Gallery, was one of the vendors featured in the pregame market. Throughout Martinez's transition to the United States, he has found comfort in his artwork and has since made it an essential aspect of his life and livelihood.  
"I was born in El Salvador and moved to Maryland when I was 10, so I've been here most of my life," Martinez said. "I've been doing artwork and t-shirt designs and selling things here and there until I opened my first store in Adams Morgan."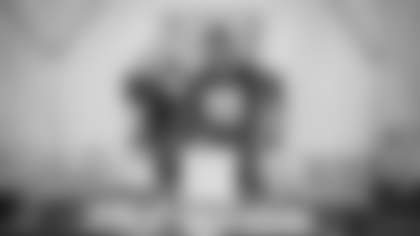 Martinez's artwork has allowed him to connect El Salvador and Washington, D.C. in various designs. In one of his signature prints and most known pieces is a picture of George Washington with a bandana marked with the D.C. flag across his mouth.
"One of the first designs was made around the lack of D.C. statehood," Martinez said. "The mayor has actually worn that shirt, which is a big statement; she calls it the statehood shirt. DC doesn't have a voice, but DC needs a voice. Washington has a bandana over his mouth and can't speak, just like this city can't speak."
Martinez's designs are visions that connect with people throughout the DMV area, and he, too, has had the chance to connect back with the area and bridge D.C. sports with Hispanic heritage.
"I watched the [Commanders] growing up," Martinez said. "My father was a huge fan, and we had season tickets at one time. I gave them to my dad, and it became one of those thing. It's just always been Burgundy & Gold. Growing up with this is important. And being here [at La Plaza Hispana] is a huge deal. I mean, we're beyond honored to be here."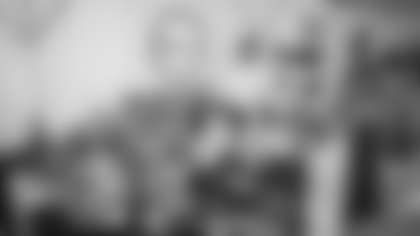 Additionally, it was an honor for the Commanders to be able to host an event that welcomes different cultures and backgrounds.
Gabriela Torrico, the artist and founder behind Inti Phaxsi Gems, felt excited to tie together culture and sports in the nation's capital.
"I support all of the DC sports," Torrico said. "It feels so amazing to be here and represent my country and family here."
Hispanic representation in DC sports is a significant way to increase inclusivity and visibility to all members of the team's fanbase.
In addition to the vendors at the game, the Washington Commanders Charitable Foundation recognized two youth football players, Eleny Nava Pineda, and Chris Marin, as nominees for the Hispanic Heritage Foundation Youth Award.
Part of the NFL and the Hispanic Heritage Foundation's year-long partnership to recognize and celebrate Hispanic and Latino excellence in and around the NFL Community, the annual honor award is bestowed on two standout students for their athletic and academic excellence.
Pineda and Marin were honored during the third quarter of the Commanders' game against the Bears, as they were recognized for their significant accomplishments and received a round of applause from FedExField.
Pineda is a senior at Benjamin Banneker Academy High School and began playing flag football when she entered high school to stay in shape for her primary sport, soccer.
"I thought I wasn't gonna understand the game and be able to compete because I'd never played football," Pineda said. "And then one day, on my way to class, my coach stopped and told me that the NFL nominated me for the Hispanic Heritage Award. And then I thought, 'How can I go to class and think of anything other than this? How is it possible that I got here when I started with not knowing anything?'"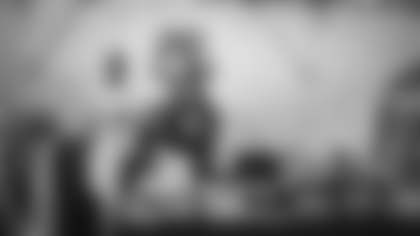 Pineda pondered how she ended up with that honor. Still, her talent on the field, academic excellence, and overall leadership are all qualities that set her aside as a fantastic role model. Awarded alongside Pineda was Chris Marin, a senior at Mount Vernon High School who ranks as an All-Region punter.
Marin has also been a leader on and off the field. In addition to his extracurricular activity on the football field, he photographs girls' and boys' sports at his high school.
"It felt surreal to walk out onto the field," Marin said of his Thursday night experience. "From where I was sitting, the stadium didn't look as big, but when I walked out there, it felt amazing to just look out at everyone's faces in the crowd."
Marin's chance to walk onto an NFL field paired well with the fact that the next day, he competed in his high school football team's homecoming game and won 56-0.
The two young athletes nominated for the NFL's Young Hispanic Heritage Award signal an essential branch for Hispanic and Latino communities to be represented and celebrated within significant league sports.
Between the ten local vendors at the game and the two young Hispanic athletes, the game was filled with traditions and sentiments on inclusion in sports.