While serving in the Navy for 25 years, one of the aquatic experiences Chris Bailey enjoyed most was not at sea, but rather at the swimming pool. During the tail end of his career in the military, Bailey had a collateral role as Officer Representative to the Naval Academy's Men's Swimming & Diving team. It was here, mentoring student-athletes and helping the coaching staff manage the academy's military expectations, that Bailey began to consider a future career in sports
"Being a part of that competitiveness, being a part of the team supporting the athletes, it was a highlight of that last four years on active duty for me," Bailey said. "Being a part of the athletic community was a lot of fun and something that, as I was getting out [of the military], I saw a fit."
That inkling eventually led him to his post-military career now with the Washington Commanders. As the first Salute lead under the new brand identity, Bailey is both well-equipped and uniquely passionate about leading the franchise's efforts to honor, empower and connect the military community in the DMV.
After watching the original Top Gun as a kid, Bailey could not shake his dream to fly Navy, and was, as he puts it, "lucky enough" to get into the Naval Academy when he applied in high school. Training as a helicopter pilot alongside others who committed to serving their country was transformative for him.
"I think what shaped me the most during my time in the Navy was being a part of high performing teams -- teams where we would get to deploy together, operate together, be given a problem set or a deployment mission," Bailey said. "And the idea of building a team, building a plan, setting out to accomplish something and doing it together, that was very fulfilling and what kept me in for so long."
"The time was just right," Bailey said of his decision.
It was about a year and a half after his retirement, as he was working in a sector not related to the military, that the job posting for the Salute to Service position at the Commanders came across his feed. The opportunity, which melded two of his passions, was nearly perfect.
"This is kind of what I was hoping for as I left the military to begin with," Bailey said. "And here we are a few months later."
Bailey hit the ground running once he assumed the role in May, maximizing the Commanders' platform to organize best-in-class initiatives for local service men and women.
Since starting, he has often turned to the many lessons and skills about teamwork he gained during his time in the military.
"Nothing I did, either flying or on the ground, was done in a bubble… It was never about the individual, it was always about what we could accomplish together," Bailey said. "I see that parallel in this role now. On the business side of a professional sports organization, nothing gets accomplished alone. It's great to still be a part of a high functioning team focused on mission accomplishment."
Having once been in the shoes of the military members with which he now engages, Bailey has found an intimately special purpose in his new line of work.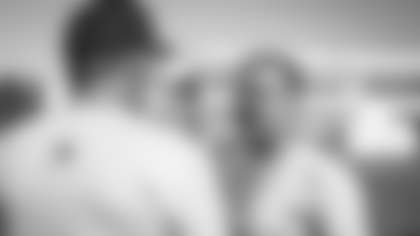 "I think the biggest fulfillment in this job comes with making a lot of people happy and bringing service members and football together. When I get to make somebody smile, because they got to come to a game or practice or they got to meet a player, that makes the hours and the hard work worth it," Bailey said.
And while there is little doubt that he would attack the role no matter the name of the team, Bailey sees the new brand identity as a chance to elevate Washington's Salute to Service program.
"It makes so much sense with this new branding and everything that comes with that," Bailey said. "This team needs to be on the forefront of the military community in the DMV. We need to lead the way and be that place where these folks can come, have fun and connect with their local football team and see that this organization values their service and their sacrifice. We need to show them that we understand what they go through, and we want to recognize that."
That idea will be at the forefront this November during Bailey's first Salute to Service month in this new role. With the help of the Washington Commanders Charitable Foundation, he has developed activations and events that touch many corners of the military community. He is proud to be at the helm of a program that means so has such to him and has such an important impact.
"As a fan, I've always enjoyed this game from the couch in front of my TV, and it's exciting to be a part of it and everything else we're doing behind the scenes this year," Bailey said.