If you were feeling anything like me during the season, seeing our team play in an empty stadium was bittersweet and a bit of a tease. A young team showing flashes of great things to come on the way to a division championship... but without our fans -- the lifeblood that fuels the team to new heights. We truly missed our fan base at FedExField last year, and we've been taking the right steps to ensure you all will be back this upcoming season!
Safety for our fans, employees, coaching staff and players is our top priority, and for the past year we have been working closely with Virginia, Maryland and Prince George's County health officials to make sure we are adhering to the proper health and safety protocols. The results have been the best in the NFL, and because of that, we felt confident enough to announce our intention to welcome back fans to FedExField at full capacity. There are still some steps we need to take before that goal is realized, but if our future efforts to create a safe environment are anything like the ones in the past, we're on track to have our fans back cheering on the reigning NFC East champions.
There are other reasons why we feel this is achievable, most notably events like the Draft Week '21 Live event last Thursday. Aside from the fact that everyone from the Stadium operations team, Sponsorship and Suites ticketing department, our content studio and so many others delivered a quality experience to our fans (more on that later), we saw 3,000 of our fans celebrate our team in a safe manner.
We continue to safely host other events at FedExField, such the Peruvian elections and Catholic University's graduation ceremony, following strict COVID-19 protocols set forth by Prince George's County health officials, and we will continue to work with them as we bring in more of our fans. In the meantime, we only have (checks calendar anxiously) about four months until the season begins, and guess what?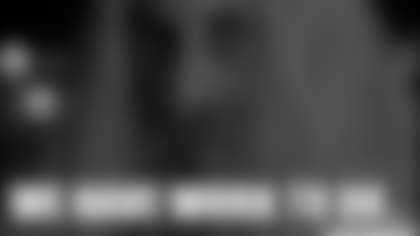 Bringing you all back to FedExField only gives us more motivation to continue our diligent efforts toward reimagining the fan experience at the stadium. The event last week was a step in the right direction. Based on the responses we got from folks in a post-event survey, our fans appreciated the dedication and attention to detail they saw in the atmosphere (I still can't get over Julie Donaldson's hair!) and graphics that our social media team put out. I was sorry that I could not be at FedExField personally since I had work to do with the League Office at the primary draft event in Cleveland, Ohio, but I was with you in spirit...
To really maximize the potential of FedExField, we brought in Joey Colby-Begovich as our Vice President of Guest Experience to formulate creative ideas for how to make our stadium more enjoyable for everyone. I won't lay out all the things Joey and the team are implementing, but I can tell you he is working hard on addressing issues we know have been pain points for our fans.
For example, parking at the stadium has been a problem for some time, so we're finding a new strategic partner to help us better understand traffic flows and examine ways to restripe the lots for better access. We're rethinking our entire food and beverage strategy with a lens on higher quality, better value, and more efficient service, even within a less than ideal design at FedExField. We will share as those plans become more solid. And we have already announced that we are overhauling our gameday entertainment slate to add more variety on and off the field.
Those are just a couple topics on our list, but we know these are important to our fans because you all have told us as much, and we want to show that we hear you loud and clear. And once we finalize the Fan Ambassador Network, which you will hear more about later this month, you will have a group made up of people you nominated to be your voice in helping shape these experiences.
When these plans are finally in place, we want as many of our fans as possible to enjoy the finished products, which is why we want to make it easy and affordable for our Washington Football Team family to join us back to FedExField in the fall. That is why we've taken three of our season ticket packages with lower price points, which includes about 7,000 seats, and dropped them even lower for a "get in" cost of below $500 in the upper level and below $1,000 in the lower level. And one more thing before I move on: to celebrate our fan base coming back to FedExField this year, we are waiving all single-game ticket fees for the first 24 hours, beginning at 8 p.m. on Wednesday, May 12 when the 2021 schedule is released. (You can visit our website, HERE, for more information)
Obviously, we want all of you back at FedExField when we suit up for the first time in 2021. But we also want to make sure that you want to come back. To use the cliched football phrase, the stadium is your house, and we want it to be a place you can be proud of. And the best way to do that is for us to make sure, regardless of what is happening on the field, we have a reimagined, fan-centric environment.
Before I sign off for the week, I would be remiss if I didn't congratulate Coach Rivera, Martin Mayhew, Marty Hurney and the rest of the football side on the work they did to bring truly stellar free agents and draft picks to this organization. Through my interactions with each of them, it is clear to me that Coach is bringing in exemplary talent that also fits into the culture he is trying to build. Given all the hurdles they had to overcome in evaluating players because of COVID-19, I applaud them for finding a way without sacrificing the high standards they set for this team. I look forward to seeing what the newest additions to our family bring to this historic tradition.