Hi Washington Football Family,
Wednesday is the "Day Off" for the guys on the squad this week, where they are focused on recovery, spending a little time with family, and pivoting their attention to the next game. A deep breath if you will. I thought that I would take advantage of that natural break in the week to give you a weekly update on the business side of the Washington Football House. I use a slightly longer format to answer some of the things I expect are on your minds, since 280 characters don't allow you to get details and often bring out the shittiest aspects in all of us 😊. So here we go…
Reflections From Steelers Week
I could sense that something was going to be different about Monday's game; you could say I was channeling my former player mind. No matter the outcome, the Steelers game would be a massive moment for the culture that Coach Rivera is trying to build.
Many of us were still riding the high from that Turkey Day win over the team that plays in the Dallas Fort Worth area, but then something unexpected happened over the weekend: the New York Giants pulled off an upset against the Seattle Seahawks. All of a sudden, the mood for many fans and media flipped from excitement to resignation, and I saw a lot of y'all sounding like this: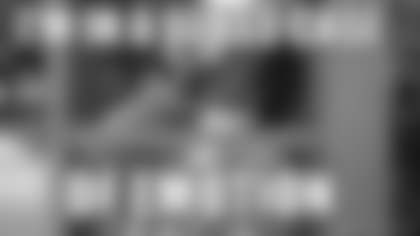 What happened was the bar went up by a couple of notches in the division. It no longer will take a team's "C game" to get to the playoffs; it's going to take its "A game." And, thankfully, the team was not thrown off by this shift. Coach Rivera and the staff spent the week calling the team to this higher level and built a resilient belief among the players. The preparation for this game -- a high-visibility, high-pressure game -- allowed many of the characteristics Coach is trying to instill in the organization to take root.
Best I can tell, Coach told them to set their minds on the need to win out and expect our rivals to play well down the stretch, rather than crumble against tough opponents. He likely told them to focus on preparation and a deep study of the Steelers, so that they don't get caught up in the hype of an undefeated team. Whatever he said, the players listened, believed and put their faith in what Coach told them, and that effort paid off tremendously.
I think we, as a broader fanbase, can play an important role in helping this team continue this amazing momentum down the stretch by taking on some of that same belief. I expected good things to happen Monday because I've seen what Coach is building here.
I hear the things that are coming out of his mouth, to his staff and to our broader organization. I see the body language and feel the energy in the building and have immense faith in the coaches and players as a result. And now, everyone has seen the results.
Plays like the fourth-down stop or the interception were a fulfillment of that expectation and not a surprise, and if you all, with your deep passion, cling to that belief, it is going to buoy this organization down the stretch. Belief from fans, rather than doubt, fuels a team and can make these triumphant moments more and more frequent and be a force multiplier for what Coach and the guys are doing on the field. I know I'm all in.
Business Question Of The Week
How can fans be an authentic part of our new culture?
The role of the fan in the NFL is a new experience for me. When I was a player, part of the process that helped me be the most effective on the field was to tune out media and fan sentiment. All of that is called "the outside noise," and diverting my attention away from that enabled me to focus on the task at hand, being incredibly immersed in preparation for what is a physically and mentally demanding craft.
But as the president of this organization, the script has been flipped; All of that "noise" -- the thoughts/emotions of our fans -- is the key to building a cohesive, exciting and positively engaged fanbase. Clearly, that thought process is a bit of a shift; fortunately, we have a passionate fanbase, and I'm thoroughly enjoying getting to know you all. From what I have experienced, the value fans bring falls into a few categories:
1. Fans provide an emotional connection. There are plenty of things I could tell you about the business process of an organization. I could use HR wonk speak to talk to you about jumpstarting culture change with human resources policies and structured performance reviews and reward systems. Those things have a structure and order to them, but that's not how passionate fans operate. Fandom is based on emotional connection, and that rests at the core of what we need to provide to our fans.
When you think of or engage with the team, we want strong, positive emotions to arise. We want your engagement with the team to be characterized by moments of delight (e.g., a surprise all-white jersey reveal). It's important to learn as much as we can about the fan psyche and create more of these moments, because it is actually what matters for our business.
2. Fans provide momentum and support. Fan support is the life blood of any sports team. It gives momentum to young talent as they're developing, both by directly cheering them on in the stadium and in the public dialogue and reaction to games. They create a buzz around great performances, rock the team apparel proudly, create exciting supportive content via podcasts, blogs, etc. Those things build momentum both in season and out of season and bring the best out of players. Even though they are trained to tune out negative refrains, they will draw on the energy of positive sentiment whenever they get the chance.
3. Fans provide candor. This is especially true about this fanbase, because y'all are not shy about sharing your opinions. We hear you, and when your opinions are stated clearly, it helps us to make better decisions because it gives us a comprehensive view of how folks are feeling.
That doesn't just include the group of fans who are on social media. It includes everyone in our fanbase of about 2.5 million strong around the globe, from the hardcore social interactors to the those who casually have an online presence and the "old school" fans whose extent of interaction includes just attending games and in-person fan events (in a non-COVID world of course, Lord hasten the day!). We need to be listening to and engaging with a sample set that represents the entire group.
So what are the ways our fans can give more and be a part of building our new culture and new identity? Fans can give input through washingtonjourney.com, which will evolve as we push the process forward. We have surveys sent to fans that may not be online. If you receive one, it's important to fill it out and let your voice be heard because we take your input very seriously. We also have good systems set up for listening to opinions expressed online.
We're also looking for other ways to get our fans' sentiment, and we want to hear from you on how we can do that. We see most of the suggestions about firing coaches or signing players (a friendly reminder that I don't make roster moves), but what's more helpful are the suggestions we can use on the business side. So let us know the best ways to do that. We would love to hear your ideas!
Encounters Of The Week
Last week, I had the real privilege to meet with eight of the fan podcast leaders. I wasn't in charge of the selection process, so don't be mad if you didn't get picked. :) But it was still great to hear from a group that creates compelling and interesting content about our organization.
I deeply appreciate the content podcasters produce because it allows you all to engage one another positively around what we're trying to do in the organization, and their work expands our reach. There's no better way to understand our fans than to get into the creative minds that take the time to generate "by fans for fans" content.
I could list all the great ideas I heard, but there were a few that stood out to me. One of them centered around the "iconography" of a new identity; in other words, it's about developing an image of the team that evokes the right emotions. When you read the name or see the emblem, it should generate an emotion that is unique, that reminds you of the experiences you've had with that team, experiences often shared with people you care about. It's like seeing the sigils in Game of Thrones; when you see a lion, you immediately think of the Lannisters and how you felt at the end of season 3. (no spoilers!)
Another podcaster reminded us that a great gameday has powerful rituals. This certainly includes traditions in the stadium, but we also need to be aware that we are just a part of that process for the fans. For many, it is a pilgrimage from their door to FedExField (shout out to the Norfolk, VA beach-area fans) that involves the time spent with their families, the radio stations they listen to in the car, where they park and how they walk to the stadium. So we need to think about the full door-to-door journey for various fan segments when we redesign the fan experience.
What's Next
Next up the team will travel to an "only in 2020" game in Arizona…against the San Francisco 49ers. I have no doubt that they will be focused, ready, and able to perform with excellence in spite of the unusual circumstances. I expect we'll see some great football.