When the 2021 NFL "Women's Career in Football" forum got underway, Natalia Dorantes was excited to find herself in a Zoom room with someone who had always really inspired her. Head coach Ron Rivera was speaking during the virtual event's first panel, and Dorantes, who was then the recruiting coordinator at Texas A&M, did not want to waste a special opportunity to connect with the Washington coach.
"I was living my best life at Texas A&M working on that staff…but I had always admired Coach Rivera," Dorantes recalled. "Being a Latino head coach, everything he's done for women in football. So, I sent him a message."
Hi Coach Rivera. Natalia Dorantes, recruiting coordinator for Texas & AM. I'm thankful you are part of this conversation. I admire your work for our Latino community and minorities (Feb. 24, 2021. 9:39 AM).
Dorantes had no qualms about bending millennial messaging norms when it came to this situation. After a few minutes, she copied and pasted the message and sent it again in the personal chat.
"I sent it again, because I really wanted to talk to him," Dorantes said. "He responded two minutes later…he ended up calling me that night."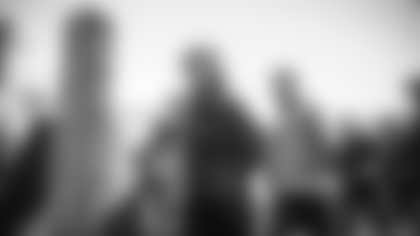 After a month of Rivera getting to know her, interviewing and speaking to Coach Jimbo Fisher, Dorantes joined Washington as the team's coordinator of football programs. With the hire, she became the first Latina in the NFL to ascend to that role and has been "learning new things every day" under Rivera.
This Dorantes anecdote sits within a larger story about Latino mentorship within the Commanders. From Dorantes to tight ends coach Juan Castillo to defensive quality control coach Christian Garcia, many of the Latino staff members in football operations share the experience of looking up to a Latino individual (or individuals) working in Ashburn, Virginia, modeling or directly learning from them and then turning to help others in the next generation, or as Dorantes has put it, "to pull as we climb."
The result has been a mini movement that may have started with Rivera but certainly has not ended with him. As of now, there are reported to be more Latino football staff members in Washington than there are at any other NFL club.
That fact struck Juan Castillo rather quickly when he was hired in February.
"When I first got here, I was like, 'Hey Ron, we must have the most Hispanics in the NFL.' And he just smiled," Castillo recalled with a laugh.
Castillo and Rivera's friendship is over two decades old. Having first started working together in the late 1990s and early 2000s on Andy Reid's staff at the Philadelphia Eagles, their dynamic revolved around a hunger for sharpening their football craft. The intensity in which they both pursued that was deeply rooted in values influenced by their upbringing.
"There's this innate work ethic, and you experience it when you talk about certain things like growing up and going to the farm and seeing relatives work…and then my dad emphasized education," Rivera said. "So, in talking with Juan about these things, it was always about wanting to move up in the world."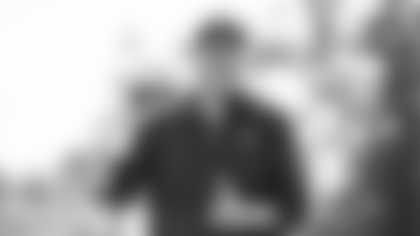 Castillo had a lot of respect for, Rivera who had achieved success in the highest level of the sport as a player. As he looked to keep climbing the coaching rankings, Castillo often turned to his colleague for advice.
"Ron Rivera is a class, really great, humble individual," Castillo said. "When I became the defensive coordinator at Philly, he was the first guy I'd call, because he'd already been a coordinator."
Now having rejoined his longtime friend in Washington and with almost 30 years of NFL coaching experience on his resume, Castillo has looked to be a person to which younger Latino coaches on staff can look.
"The only thing you wanna do is be an example," Castillo said. "You hope you do everything right. You work hard, you dress right. You try to be a good role model for the young coaches who are here. You hope that Cristian Garcia [defensive quality control coach] and [defensive quality control coach/assistant linebackers coach] Vincent \[Rivera\] can say, 'Ah, look man he's been in the league for this long. Look at the way he carries himself. Look at the way he does things.' That's what you hope."
In addition to being an exemplar, Castillo has also tried to be a hands-on influence as much as possible. For instance, in his first Commanders offseason, Castillo brought Garcia and Vincent Rivera into the film room during down time to teach them protections.
"Coach Rivera and Coach Castillo have been great mentors," Vincent Rivera said. "I think looking out for other Hispanics in the profession is something that they value, because when they were doing it, there was even less than there is now. Giving the tools to help your brother or your sister out, that's something about our culture that is engrained us."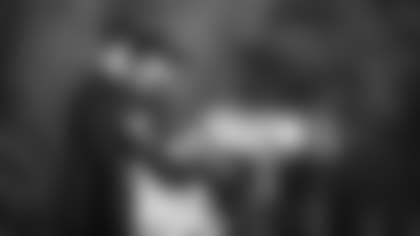 Watching the uncle he described as "great role model" while growing up, Vincent was full of gratitude when Ron Rivera began to take him under his wing and show him the coaching ropes. In another Hispanic household across the country in Miami, Garcia was also being inspired by Rivera, a man who in many ways looked him and was making an impact in the sport that Garcia loved.
"When I was in locker rooms growing up playing, I would look around and I was one of the few Hispanics other than the kicker," Garcia said. "So ultimately when you see people like Coach Rivera, doing it on the highest level possible, it gives you kind of that inspiration to go into it."
The presence of just one or two Latino individual in high places has galvanized members of the next generation, an effect that can be seen in the halls of the team facility. Every day Dorantes comes to work, she is among a group of people with which she shares a cultural bond, and that never gets old.
"We talk about it like, 'This is so cool. Look at us. Our parents would be so proud' or 'our communities would be so proud," Dorantes said. "One of my favorite things is being able to see Coach Castillo, and we just speak Spanish to each other. I've never had that before in an office."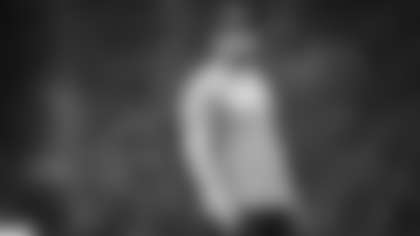 Dorantes does not want Washington's football operations staff to be an outlier in the league. Just like Castillo, mentorship helped get her to where she is today, and now she is eager to pay it forward. Last February, Dorantes was on the other side of a computer for the 2022 NFL Women's Forum.
Sitting in a similar spot to where Dorantes was about a year earlier was 21-year-old Izzy Diaz. The Oklahoma State junior was anxious for the speech she was about to give. To pump herself up at her desk, she had taped motivational sayings behind her computer. Diaz was placed in a random break out room and gave her speech to a Zoom room that just so happened to feature Rivera and Dorantes.
"I think I answered a question regarding my abilities, and we went to break right after," Diaz recalled. "I looked down at my phone and 'Coach Rivera' popped up. After we talked, I hung up the phone and just was...crying and called my mom."
As part of the team's Bill Walsh NFL Diversity Coaching Fellowship, Diaz joined Washington's staff for a stint ahead of her senior year to help with the Commanders secondary. Shortly after Diaz started her fellowship, Dorantes became both a mentor and friend.
"She is definitely someone that I hope to be in contact with forever," Diaz said on one of the final days of her internship. "We talk every day even after we leave the building. She's the best. She's answered all my questions from the beginning whether it be the simplest packing question to whatever else. She's always made sure I've been good and settled."
Dorantes offered that same care and thoughtfulness to Annabelle Somarriba when she came into the building this past summer. The 21-year-old Baltimore native found her mentorship from Dorantes to be one of the highlights of her couple months with the Commanders.
"It was really inspiring," Somarriba said. "I just have never had someone like that in that role, whether it's at school, or any other organization I've been a part of. It was just really cool to see how passionate she is about being a Latina woman in sports, how she's carried that throughout her career and how she's always been so vocal about it…it's something I look up to."
In fact, Somarriba and Diaz found themselves a part of historic franchise project during their summer internship: the launch of Somos, an employee resource group designed to empower, support and celebrate the Latino/a/x community within the Commanders and the DMV area. Those on the football side of the organization, including Dorantes and Castillo, spearheaded the initiative alongside those on the business side.
Whether it be an intern or a head position coach, the hiring approach and the mentality once in the building at the Commanders is the same: bring in the best people and formulate the best ideas. Diversity, Rivera and many of his staff will preach, is critical in achieving that goal. Opening the pool of candidates leads to finding the best talent. Giving a seat at the table to those with different backgrounds and world views wards off groupthink and encourages creativity.
The pipeline into the NFL for the Latino community has not been around for decades like it has been for others, so it needs a few changemakers to keep laying ground and fortifying the path.
"To me, it is about leveling the playing field," Rivera said. "I want that and the only way to do this is to be proactive."