Redskins wide receiver Terry McLaurin was having his way with the Miami Dolphins' secondary.
There wasn't much Miami's last-ranked defense could do to stop McLaurin, who has quickly become one of the NFL's breakout rookie talents this year. The third-round draft pick from Ohio State sprinted away from defenders during an 100-yard, two-touchdown outing, leaving them to sit and watch as he did end zone celebrations in the Miami sun.
It will not be that easy against the San Francisco 49ers on Sunday.
"You gotta be very precise," McLaurin said. "There's going to be plays to be had, and when the ball's in the air, we have to make them. You have to capitalize on a defense like this, who's top two or three in the league."
To be exact, the 49ers have the NFL's second-best overall defense. Much of the focus has been on their ability to stop the run, which is certainly warranted. Their defense allows an average of 87.2 yards on the ground, which is sixth in the league, with players like Dee Ford, Nick Bosa, Solomon Thomas and DeForest Buckner leading a dominant front.
But their passing defense, which has allowed a league-low 751 yards through six games for a 150.2 average, is even better. The group, led by cornerback Richard Sherman, has wreaked havoc on opposing quarterbacks like Baker Mayfield with the Cleveland Browns and Jared Goff with the Los Angeles Rams.
"I know that everything is going to be earned," McLaurin said. "Nothing is going to be given. But I feel like we relish in the challenge of people underestimating us. I'm looking for a four quarter battle."
Sherman, who signed with the 49ers in 2018 after spending seven years with the Seattle Seahawks, already has six pass defenses and two interceptions this year -- both of which are already better than last season's numbers. It's almost a given that Sherman will be matched up against McLaurin at some point in the game. For McLaurin, that means having a "next-play mentality" on every drive.
"You gotta have that -- good, bad or indifferent," he said. "That's always my mindset going into a game."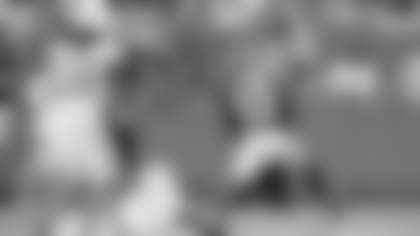 Quarterback Case Keenum, who has played against the 49ers secondary at different times during his career, said "we're going to have our work cut out for us in the passing game. He added communication between him and his receivers will be crucial.
"It's going to be very important, not just on Sunday, but out here on the practice field all week," Keenum said. "It's been really, really good. They've got some guys on the backend that can cover and have been doing it for a long time."
The 49ers secondary is proficient at disguising coverages to confuse offenses before the snap, and Keenum knows he will have to be ready to adjust at any moment.
"Just be a game plan team," Keenum said. "Teams come in here and can decide to run a whole different [defense]. I think we're ready for all aspects of it, though."
There's also the 49ers pass rush to consider, which has 17 sacks this year. Statistically, Ford leads the pass rush with 3.5 sacks on the season, but it's more of a collaborative effort with eight players recording at least half a sack.
That's forcing the Redskins to plan for any situation when it comes to protecting the quarterback.
"It's difficult to say that it's just one rusher because the minute you focus on one rusher…there are three other first-rounders that you have to deal with," interim head coach Bill Callahan said. "It's no secret that the Niners have got a good rush plan and, of course, the pressure plan is outstanding."
Ford, Thomas, Buckner and Bosa have combined for 11.5 sacks this year.
"They do what they do and they line up and play," Keenum said. "They've got a great front. Bosa, Dee Ford, those guys can really get after the passer, so we've got to be on alert for those guys and be ready to get the ball out."
The Redskins offense looked improved against the Dolphins after managing only 10 points in the previous two games. Sunday's game offers the opportunity to build on that performance against a statistically great defense, and players such as McLaurin are ready for that.
"It's another big test for me, but I don't shy away from that," he said.