When Renaldo Wynn was growing up in Chicago's inner city in the 1980s, staying active and physically fit were a part of his daily routine.
His parents encouraged him to play sports and they emphasized proper nutrition. His elementary school and high school both had curriculum that included recess and gym class.
Now, as a professional athlete, Wynn has noticed a declining emphasis on physical activity for children.
Many schools have eliminated or cut back physical education classes, Wynn said. And it's especially hard for inner city kids to get involved in physical activity.
"I'm an inner city kid myself and I know some of the obstacles these kids face," Wynn said. "They don't feel comfortable going outside because there could be violence in their neighborhood, so they're inside playing video games."
That's where Wynn, Antwaan Randle El, the Redskins Charitable Foundation and GlaxoSmithKline come in.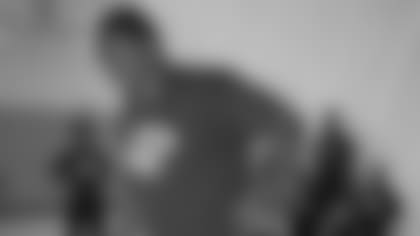 Renaldo Wynn shows how it's done.


On Thursday, April 30, they all came together to help unveil the new Redskins Youth Fitness Zone at the Boys & Girls Clubs of Greater Washington's FBR Branch in Washington, D.C.
The Redskins Youth Fitness Zone is part of "FitU," a GlaxoSmithKline-sponsored Boys & Girls Clubs program which encourages nutrition, fitness and wellness to combat obesity in children ages 8-14.
The Redskins Youth Fitness Zone uses the HOPSports Training System, a multimedia instructional tool for physical education teachers. It includes more than 100 fitness lesson plans.
Childhood obesity is a growing national health issue.
According to The Washington Post, 30 percent of children nationally, 40 percent of children in the District of Columbia and 50 percent of children in D.C. Wards 7 and 8 are considered overweight.
During Thursday's event, Wynn and Randle El served as "Health Ambassadors" and led a group of about 40 FitU kids in a series of exercises designed to motivate them to make fitness an every day activity.
"It was awesome to be leading the activities and to be hands-on with the kids," Wynn said. "The [HOPSports Training System] had a video game-like feel. A lot of the drills, the kids were asking, 'Is this what the Redskins do?' And I said, 'You know, it's pretty similar.'
"I told them, 'You don't have to be professional athlete to exercise and eat right. It's a lifestyle It's something you should do right now, and hopefully you get to live to 100 years old."
Randle El made a point to tell the kids to motivate their parents, too.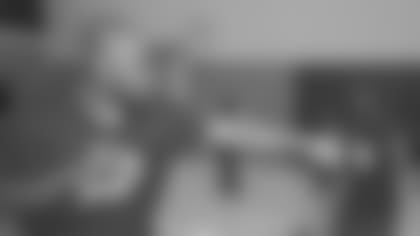 Antwaan Randle El leads children
through an exercise.


"If the parents are feeding their kids [unhealthy foods] all the time, then that's all the kid knows," he said. "So we go the other way and try to get the kids to encourage the parents."
He added: "Just being with the kids and talking to them, to really get them to understand the importance of it all--that's the best part of the event."
The Redskins Youth Fitness Zone was donated by the Redskins Charitable Foundation and GlaxoSmithKline.
"GlaxoSmithKline supports these type of programs because we see childhood obesity as a serious health problem that afflicts more and more children every year," said Stan Hull, Senior Vice President of GlaxoSmithKline.
According to Mark Weihmann, Director of Strategic Initiatives at GlaxoSmithKline, "Preventing childhood obesity now through programs like FitU may prevent the development of chronic diseases like diabetes and heart disease in the future.
"If we can prevent diseases before they occur, the patient wins and our healthcare system wins."
The event is the first of a series of Redskins "Health Ambassador" visits this year. The next Redskins Youth Fitness Zone donation is scheduled for Sept. 22 at the Boys & Girls Clubs of Greater Washington's Clubhouse No. 14 in Washington, D.C.