Dwayne Haskins was standing on the sidelines and watching the Redskins offense struggle against the New York Giants when offensive coordinator Kevin O'Connell gave him the news: if they didn't convert on their fourth offensive possession, he would be in the starting lineup on the next series.
"I had a whole bunch of emotions in my head," the first-round rookie said after the game. "I just wanted to win the game."
The drive was short-lived, as an incomplete pass on 3rd-and-10 from quarterback Case Keenum forced out the Redskins' punt team. Three plays later, though, first-round pick Daniel Jones threw an interception, and Haskins trotted onto the field midway through the second quarter.
Haskins' preparation and development for his eventual debut has been a point of emphasis among fans, coaches and Haskins himself. From the moment the Redskins decided to take Haskins in the first round of the 2019 NFL draft, it was a shared belief that he would be the perennial starter at some point in his career.
Haskins is also a rookie, and his inexperience was apparent during training camp and in the preseason. It was especially noticeable during Sunday's 24-3 loss to the Giants -- when he completed 9 of his 17 passes and threw a trio of interceptions.
However, these are all common experiences for first-round quarterbacks early in their careers. Haskins has experienced his share of growing pains will continue to do so throughout his rookie campaign.
Plus, he's also shown flashes of his potential and the ability to learn from his mistakes, which give his coaches and teammates confidence he'll develop into what the Redskins hope will be their franchise quarterback.
"He's been working hard every day, been getting better every day and getting himself prepared for when or if that opportunity comes this year," running back Chris Thompson said before the game. "He's a young guy. He's continuing to grow, and I'm happy to see what I've seen so far from him."
Up until Sunday's game against the Giants, head coach Jay Gruden said it is hard to gauge a young quarterback's knowledge until they get live reps in a game. On the chalkboard, Gruden said Haskins' knowledge has been good, but it's a different situation compared to facing opposing defensive fronts and having to react to changes in coverages and blitzes.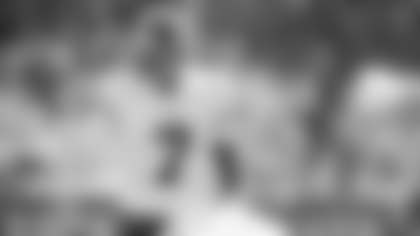 The Redskins are doing a lot to make sure Haskins is prepared for those in-game moments. The coaching staff meets with him every day to go over film, and he also spends some one-on-one time with quarterbacks coach Tim Rattay.
"That's the role of a backup," Gruden said. "You're not going to get every rep in practice, but it's your job to be ready and learn everything."
One thing that has been apparent to his coaches is his confidence as a player. That involves what O'Connell said is taking ownership of information and his fundamentals on the practice field, and there have been times when Haskins has shown that running the scout team against the starting defense.
"I see him as a confident player right now, so that's a good thing," O'Connell said. "I told him [last week] to take advantage of preparing like you're going to play. It's just another step in your process to be able to understand what it's like when you are the guy, and I think he's done a good job of doing that."
Haskins has made the most of taking scout team reps against the defense. He did the same thing at Ohio State before taking the starting role, and he sees it as a prime opportunity to get better.
"It's fun getting to go against better guys," Haskins said. "I can to compete against them…and make them better. …I just want to keep getting better and when I get my name called, I'll be ready."
Despite his final stat line against the Giants, Haskins made several throws, including his first completion to Kelvin Harmon on 2nd-and-15, that showed he has the ability to make plays in the league.
Haskins knows that he will be linked to the other quarterbacks in his draft class like Jones, who was drafted ahead of him and made his second-career NFL start Sunday. Instead, Haskins chooses to focus on his development and the things he can control as he waits for his next opportunity.
"I feel like I've got a lot more work to do, but I like my growth and where I'm going," Haskins said. "I'm trying to stack the days together and keep getting better. I want to be compared to guys like [New England Patriots quarterback Tom] Brady and [New Orleans Saints quarterback Drew] Brees one day."