Sunday's game between the Washington Redskins and the New York Jets likely won't mean much to the national media.
Sitting at 1-8 and 2-7, respectively, the Redskins and Jets have slim chances of making postseason appearances. And with many teams that have playoff hopes playing each other in Week 11, much of the attention will likely be elsewhere.
But this game will matter, or at least it should, to Redskins fans, who have been understandably frustrated with their team's results. Sunday will offer a glimpse into the Redskins' future, as quarterback Dwayne Haskins, wide receiver Terry McLaurin and running back Derrius Guice will be on the same field for the first time.
"We're excited to see all three of them," said interim head coach Bill Callahan. "It's going to be a great opportunity, a great challenge … getting in and out of all of the various personnel groupings, fitting the backs into those groupings and featuring the concepts that we'd like to run against those types of fronts that we're seeing. It'll be a lot of fun. We're looking forward to it."
The trio of Haskins, Guice and McLaurin have all shown flashes of talent, but it has been rare for them to get playing time together. McLaurin has been a mainstay for the Redskins' offense since Week 1, but Haskins had limited game snaps before being named the Week 9 starter against the Buffalo Bills, while Guice has battled injury for the past two seasons.
But now Haskins has been named as the starting quarterback for the rest of the year, and Guice is set to get his first game action since the season opener against the Eagles. With all three of them on the field together, the team expects its 29th-ranked offense to get better.
"I think the main thing you can ask for … is continual improvement," Callahan said. "[The offense's] focus, minimizing their error in their game, showing improvement, eliminating the repetitive error, showing strides where they can expand their game and kind of branch off and grow a little bit more from where they are at right now."
A more confident Haskins sees "a different me"
After appearing in relief of Case Keenum against the New York Giants and Minnesota Vikings, Callahan named Haskins the starter for the Redskins' last seven games of the season Monday. Haskins' numbers in his first-career start weren't enough to pull out an upset against the Bills -- he completed 15 of 22 passes for 144 yards with no touchdowns or interceptions -- but his poise and development was enough to convince Callahan and his teammates that he deserved to be under center moving forward.
"We're looking forward to just trying to rally around him, and I know with his play continuing to get better and with the way he prepares, guys are going to notice that," McLaurin said.
McLaurin, who has been Haskins' teammate since their time together at Ohio State, said he has seen Haskins' leadership skills grow over the years. He also compared Haskins to NBA shooters like Ray Allen in terms of their desire to score and alter the outcome of a game.
"It doesn't matter who's in front of them," McLaurin said. "What he's seeing is the ball going in. I see that a lot out of [Haskins] when he gets going, when he's confident in what he's doing, the team's rolling and he's made some big plays. He's just in a zone that's hard to describe."
Haskins' debut against the Giants wasn't spectacular (he finished 9 of 17 with three interceptions), but he said Wednesday that he has come a long way since then.
"A lot more comfortable, a lot more confident," Haskins said. "Different me back there."
Haskins has gotten better as his snap count has increased, which in turn has helped his confidence and comfort in the offense. But Haskins is not out to prove anything to anyone. He just wants to play.
"I just want to prove to myself to put the work in and be accountable for me and my teammates, and hope that makes a bigger difference trying to prove what I can possibly do," he said.
A more terrifying "Scary Terry"
A different and improved version of Haskins will likely mean more opportunities for McLaurin on longer throws.
McLaurin made his mark on the offense early in the season by catching five balls for 125 yards and a touchdown against the Eagles. He ranks at the top, or close to it, in receptions (32), yards (497) and touchdowns (5) among rookie receivers through nine games.
Despite those impressive numbers, Callahan and the coaching staff want to get more out of him, and they're willing to move him around the offense to do it.
"I think [offensive coordinator] Kevin [O'Connell] has done a good job of moving receivers around," Callahan said. "I think we're in that mode coming off the bye week of trying to position players in different spots in different formation concepts."
McLaurin's longest catch came against the Eagles on a 69-yard touchdown, and the offense could see more of that with Haskins throwing the ball. Haskins was known for his arm strength when he was drafted, and it was one of the reasons the Redskins used the 15th-overall selection on him.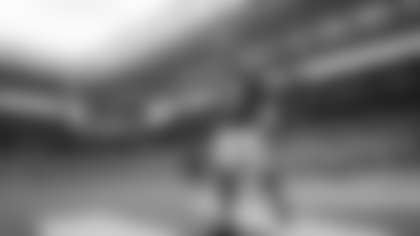 Haskins wasn't able to use that arm strength against the Bills because of windy conditions. That shouldn't be an issue against the Jets, which means the Redskins could have more of a vertical threat with McLaurin and Haskins on the field.
"As Dwayne grows, we'll need to open up the playbook and expand it and take advantage of his skill set and also the skill set of our players," Callahan said.
Haskins will need open receivers if the team wants to utilize his arm strength, but with McLaurin's route running, which Callahan once described as an "art-form piece of work," that shouldn't be a problem.
"Terry's special," Case Keenum said after the Redskins' 17-16 win over the Miami Dolphins. "He's a very friendly target. He's friendly on the eyes, as a quarterback. Just the body language he gives in and out of breaks."
Guice's return will help the game plan
Guice has been one of the most anticipated additions to the offense, but he has barely seen the field in the two years since he was drafted as a second-round pick out of LSU.
Guice tore his ACL in the 2018 preseason, effectively ending his rookie year before it truly began. He made a full recovery and returned against the Eagles, but then he tore his meniscus, which sidelined him for the next eight weeks.
He was officially activated during the bye week and will have a role against the Jets, and his teammates are excited to have him back.
"Very tough runner," Haskins said. "Similar to Adrian [Peterson], he's hard to bring down with the first tackle. Just him being a young guy and being able to relate to him and bringing some energy to our offense and both of us in the backfield together, I felt a spark and I'm excited to play with him."
Callahan didn't give an exact number when asked about Guice's workload, saying it will depend upon the variety of run plays that are in the game plan, but he did add that he feels "pretty confident that he'll see quite a bit of action this weekend."
Guice could also be featured in the passing game with Chris Thompson still nursing a toe injury. The coaching staff felt good about his progression in that area prior to his injury, and it's something they plan to gradually reintroduce to him.
"He's been a productive screen back, a check down back," Callahan said. "I like the way he performs in protection pickups, so his completeness was starting to show prior to injury and he's making his way back."
Regardless of how he is used, offensive coordinator Kevin O'Connell said having Guice back helps open up the offense.
"Obviously, we want to run the football," O'Connell said. "That's no secret. Now, we just have the versatility to do it with him or Adrian or obviously Smallwood in the game plan."
McLaurin said Guice's presence gives the offense "a two-headed monster" in the backfield, which could also help open the offense with downfield throws.
"Hopefully, we can get out play pass going and then get some shots down the field and then we have a complete offense," he said.
The Redskins have been both pass-heavy and run-heavy at different points this season, but now there are threats at every level of their offense. And McLaurin thinks those threats could make for a thrilling and potent product on Sunday.
"With the elite amount of weapons that I feel we have around us, if we can just execute at a high level than it's tough to put nine in the box or zone out coverages to stop over the top shots."