Ron Rivera owns dozens of photos -- several of them fill the walls of his office overlooking the Washington Commanders' practice field at the team's facility -- and all of them tell a story.
They offer a snapshot of the head coach's life. Some pay homage to his nine-year career with the Chicago Bears, whether they're shots from individual games or even a portrait of his former teammate and Hall of Fame running back Walter Payton's jersey.
Sports are a pillar for the Riveras; family is an even bigger one, and for them, that involves a mixture of Puerto Rican, Mexican and Filipino cultures. His wife, Stephanie Rivera is a Filipino American herself, but Rivera has ties to the country as well, and among the various pictures and keepsakes, is a black and white photograph of his grandfather, Margarito Palma, with a blue frame.
It was through his grandfathers that Rivera learned to appreciate the importance of hard work and family values.
"What was really cool about it for me growing up was the things that I learned from him," Rivera said.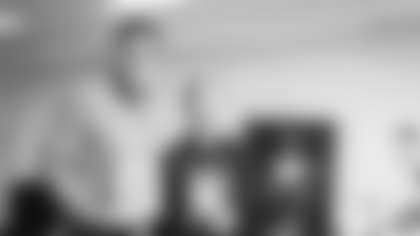 Rivera's grandfather on his mother's side was born in the Philippines before migrating to the Salinas Valley in California. With that region being one of the most productive agricultural regions in the state, Palma found a job as a farm worker, and he made a living off moving from one farm to the next, working the fields.
It was tough work, Rivera said, and he learned a lot from watching how Palma handled himself, especially by how he always was available for his family, despite the physical demands of his job.
Sports have always been a part of Rivera's life. He inherited his love for football through his uncles, one of which was well-known in the Salinas Valley for his talent, and his brothers. When he finally got the chance to be on the field, he wanted to emulate them.
That was one motivation for Rivera; the other was seeing Palma in the stands cheering on him and his cousin, no matter where their games were. Palma loved sports, partly for the entertainment of it, but mostly because he got to see his nieces, nephews and grandkids succeed.
"It was really a lot of fun knowing he was in the stands, because you tried a little harder," Rivera said. "You wanted to have that success because he was there, and it was always cool."
And Palma made sure Rivera knew how much he supported his grandson. If he scored a touchdown, Rivera would get a dollar or a trip to McDonald's after the game. There was a wall in Palma's house that had photos of all his grandkids, and every one of them were in their sports uniforms.
"He took such delight in it," Rivera said with a smile. "That's what was really cool about that one wall was just looking at all of us and going, 'Wow.' He really thought that was cool."
Palma passed away before he could see Rivera play at the college level for the University of California, but had he been able to be in the stands, Rivera believes his grandfather would have appreciated what he accomplished, which included being selected as an All-American.
"I think that's something that would have been really prideful for him."
Family was important to Palma, Rivera said, which is a common theme in Filipino culture. That's a fact that Stephanie can attest to; she also grew up in California near Mare Island Naval Shipyard, which was the first Navy base established by the United States on the Pacific Ocean and is located near the city of Vallejo.
Both Stephanie's grandparents served in the military, which was a significant career for Filipinos to have if they were able to pass the various required tests. It meant you were an accomplished person, she said, and it allowed you to send money and other things back to your family in the Philippines.
Her grandfather, Brigido Tamayo, on her father's side served in World War II for more than 30 years and finished his career as a chief petty officer, while her great grandfather served in World War I. Stephanie called her grandfather the "Ellis Island" for Filipinos, because if they were stationed at Mare Island, they would visit him at some point.
"He was not only the cook on board, but he was also the barber," Stephanie said. "So, lots of strangers came by our house, and he would cut their hair."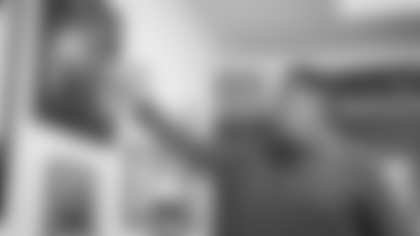 If they were strangers to Tamayo, they likely weren't for long. There is a strong Filipino community around Mare Island, Stephanie said, and described potlucks for celebrations and events as being full of extended family.
"Everybody is your auntie or your cousin," she said with a laugh. "If they're the same age as you, they're your cousin. It doesn't matter."
There are few coaches in professional sports, with Filipino descent with Miami Heat head coach Eric Spoelstra being one of the more well-known examples. There are only a handful of football players with Filipino descent, including Washington offensive lineman Keith Ismael.
Representation is one of the key issues that Rivera has emphasized over the course of his career. It's why he's provided so many opportunities to people of diverse backgrounds; it widens the pool and brings more diversity to the field.
So, Rivera believes the fact that it will mean something to the Filipino community that he can represent them.
"I think the biggest thing is that a lot of people don't know," Rivera said. "I just think people should know a little bit about me in terms of my heritage."