Gameday Graphic for Game on 10/12/2008


After two NFC East road games, the Redskins return to FedExField this Sunday, Oct. 12, to host the St. Louis Rams. Kickoff is 1 p.m. ET.
FedExField is a natural grass surface. The stadium seats 91,704.
Washington enters Week 6 on a four-game winning streak. The Redskins are 2-0 at FedExField this season, having defeated the New Orleans Saints and the Arizona Cardinals at home in Weeks 2 and 3.
The Redskins are coming off consecutive road wins over NFC East foes Dallas and Philadelphia. It's the first tme since 1987 that the Redskins have defeated divisional opponents on the road in consecutive weeks.
St. Louis arrives in Washington with a new head coach in Jim Haslett. The Rams fired Scott Linehan on Sept. 29 after they opened the season 0-4.
The game will be televised on FOX. Kenny Albert does the play-by-play, with Daryl Johnston adding color analysis and Tony Siragusa reporting from the sidelines.
On radio, the game will be broadcast locally on ESPN 980. Larry Michael handles the play-by-play with color commentary by Hall of Famers Sonny Jurgensen and Sam Huff. Rick "Doc" Walker serves as sideline reporter.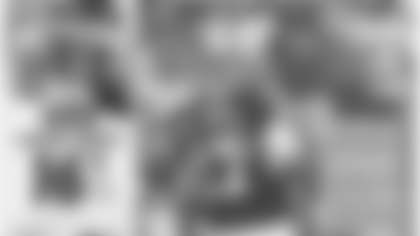 ---
PROJECTED STARTING LINEUPS
OFFENSE
Pos.
Redskins
Rams
WR
89 Santana Moss
81 Torry Holt
LT
60 Chris Samuels
76 Orlando Pace
LG
66 Pete Kendall
63 Jacob Bell
C
61 Casey Rabach
60 Nick Leckey
RG
77 Randy Thomas
68 Richie Incocgnito
RT
76 Jon Jansen
70 Alex Barron
TE
47 Chris Cooley
87 Anthony Becht
WR
82 Antwaan Randle El
17 Donnie Avery
QB
17 Jason Campbell
10 Marc Bulger
FB
45 Mike Sellers
36 Dan Kreider
RB
26 Clinton Portis
39 Steven Jackson
DEFENSE
Pos.
Redskins
Rams
DE
99 Andre Carter
91 Leonard Little
DT
96 Cornelius Griffin
90 Adam Carriker
DT
64 Kedric Golston
95 Clifton Ryan
DE
92 Demetric Evans
72 Chris Long
SLB
53 Marcus Washington
51 Chris Draft
MLB
59 London Fletcher
51 Will Witherspoon
WLB
52 Rocky McIntosh
50 Pisa Tinoisamoa
LCB
24 Shawn Springs
26 Tye Hill
RCB
22 Carlos Rogers
24 Ron Bartell
SS
48 Chris Horton
25 Corey Chavous
FS
30 LaRon Landry
21 Oshiomogho Atogwe
SPECIAL TEAMS
Pos.
Redskins
Rams
P
14 Durant Brooks
5 Donnie Jones
K
6 Shaun Suisham
3 Josh Brown
H
14 Durant Brooks
5 Donnie Jones
LS
67 Ethan Albright
45 Chris Massey
KOR
31 Rock Cartwright
82 Dante Hall
PR
82 Antwaan Randle El
82 Dante Hall
---
Sunday's Redskins-Rams game marks the 33rd meeting between the two clubs. The Redskins have played the Rams through the organization's professional football tenure in Cleveland, Los Angeles and St. Louis.
Washington holds a 20-7-1 advantage in the regular season series, dating back to a 16-7 victory for Washington over the Cleveland Rams on November 21, 1937.
The Redskins have won eight of the last 12 meetings, but lost the last meeting 37-31 on Dec. 24, 2006, at the Edward Jones Dome in St. Louis.
Rams running back Steven Jackson scored on a 21-yard touchdown run in overtime to provide the winning points. The Rams totaled 579 yards of total offense, including 252 by Jackson.
Ladell Betts led the Redskins' offense, finishing with 129 rushing yards and two touchdowns on 29 carries and two receptions for 35 yards.
In the postseason, the Redskins and Rams have met four times, once when the Rams played in Cleveland and three times when they were in Los Angeles. The clubs have split their four playoff encounters.
In 1945, Washington faced off against the Rams in the NFL Championship in Cleveland. Playing in sub-zero temperatures, the Rams fended off the Redskins and won 15-14.
Joe Gibbs' Redskins played the Rams twice in the playoffs during the 1980s. On Jan. 1, 1983, the Redskins manhandled the Rams 51-7 at RFK Stadium. On Dec. 28, 1986, the Redskins again defeated the Rams 19-7 at RFK Stadium.
The other playoff game between the Redskins and Rams was on Dec. 22, 1974, when Los Angeles defeated the Redskins 19-10 at the Rose Bowl.
---
REDSKINS 2008 RANKINGS
Offense
Rank
Yards/Game
Total Offense
6
351.2
Rushing Offense
5
146.2
Passing Offense
17
204.6
Defense
Rank
Yards/Game
Total Defense
13
303.0
Rushing Defense
9
85.4
Passing Defense
21
217.6
 </tbody>

RAMS 2008 RANKINGS
Offense
Rank
Yards/Game
Total Offense
30
246.8
Rushing Offense
28
84.0
Passing Offense
26
162.8
Defense
Rank
Yards/Game
Total Defense
31
411.8
Rushing Defense
28
166.0
Passing Defense
27
245.8
---
FAMILIAR FACES ON THE RAMS
Offensive coordinator Al Saunders served as Redskins assistant head coach-offense under Joe Gibbs from 2006-07.
Offensive assistant Bob Saunders, Al Saunders' son, served as a Redskins assistant offensive coach from 2006-07.
Wide receivers coach Henry Ellard played for the Redskins from 1994-97. He led the Redskins in receptions his first three seasons with the club.
Backup quarterback Trent Green played for the Redskins from 1995-98. In 1998, Green started 14 games and threw for 3,441 yards and 23 touchdowns.
Pro scout Cary Conklin played for the Redskins from 1990-94. He was drafted by the Redskins in the fourth round (86th overall) of the 1990 NFL Draft. Conklin also spent the 2003 season as a Redskins scout.
Pro scout Dick Daniels served as director of player personnel for the Redskins from 1978-84 and 1985-89.
---
REDSKINS-RAMS NEWS & NOTES
-- Zorn's First Season As Head Coach
Jim Zorn is 4-1 in his first five games as head coach. He is aiming to lead the Redskins to their third winning season in the last four years.
Zorn is looking to become the seventh Redskins head coach to record a winning record in his first year at the helm.
The list of first-year head coaches with winning records includes Ray Flaherty (7-5 in 1936), Dutch Bergman (6-3-1 in 1943), Dudley DeGroot (6-3-1 in 1944), Dick Todd (5-4 in 1951), Vince Lombardi (7-5-2 in 1969) and George Allen (9-4-1 in 1971).
Seven first-year head coaches finished their rookie campaign with a .500 mark, while 12 finished with a losing record.
-- Haslett vs. the Redskins
After the St. Lous Rams fired Scott Linehan on Sept. 29, they turned to veteran coach Jim Haslett to take over the team on an interim basis.
Haslett served as head coach of the New Orleans Saints from 2000-05, so he has experience leading teams. He has 45 career wins as a head coach.
Haslett was 2-1 against the Redskins as coach of the Saints. He lost his first game against the Redskins in 2001 by a 40-10 score, but then won matchups each of the next two seasons: 43-27 in 2002 and 24-20 in 2003.
Haslett is a defensive-minded coach. Al Saunders, former Redskins offensive coach, is the Rams' offensive leader.
The Redskins have started the regular season 4-1 or better a total of 13 times since the 1970 merger.
Washington went on to qualify for the playoffs nine of the previous 12 times. They won at least one playoff game content in seven of those nine appearances.
In all five of the Redskins' Super Bowl appearances, they started 4-1 or better.
-- Winning the Turnover Battle
The Redskins have a 6 turnover ratio through five games, tied for tops in the NFL. They have intercepted five passes and recovered two opponent fumbles, while the Redskins' lone turnover was a fumble on a punt return.
Washington is the only NFL team without an offensive turnover and Jason Campbell is the only starting quarterback to have not thrown an interception.
As a team, the Redskins have gone 282 pass attempts with an interception in the regular season, dating back to last season.
Campbell is currently on a streak of 175 consecutive attempts without an interception, which is tops in franchise history.
The Redskins are only the third team since 1933 to have one or fewer turnovers in their first five games of a season. The others were the 1998 Bengals (one turnover) and the 1960 Browns (one turnover).
In playing the Giants, Saints, Cardinals, Cowboys and Eagles in the first five weeks, the Redskins have faced off against the the NFL's first-, third-, fifth-, fourth- and ninth-ranked offenses, respectively.
This week, the Rams' offense is ranked 30th overall.
The Redskins' offense is ranked sixth overall through five weeks.
The Redskins hold a 32:54-to-27:06 time of possession advantage over their opponents this season.
In their last four games, all victories, the Redskins have recorded 11 drives of 10 plays or more.
Against Philadelphia last week, the Redskins ran 75 offensive plays, 28 more than the Eagles.
-- Bartell a Local Product
St. Louis Rams starting cornerback Ron Bartell played his college ball at Howard University in Washington, D.C.
Bartell visited Redskins Park in a pre-draft Rookie Camp in April 2005.
He was eventually selected by the Rams in the second round (50th overall) of the 2005 NFL Draft.
The Redskins have elected six players as captains for the 2008 season. They wear a black "C" on their jersey during games.
On offense, Jason Campbell amd Chris Samuels are the captains.
On defense, Cornelius Griffin and London Fletcher are the captains.
On special teams, Rock Cartwright and Khary Campbell are the captains.
FedExField is the largest stadium in the NFL with 91,704 seats. It is more than 11,000 seats ahead of the second biggest stadium, Giants Stadium.
The Redskins set a single-game attendance record--90,910--in the Dec. 30, 2007 game against the Dallas Cowboys.
The Redskins stay at FedExField for another week as they host the Cleveland Browns. Kickoff is 1 p.m. ET.
It's the first AFC contest for the Redskins this season. Last year, the Redskins were 2-2 against the AFC.