Left tackle Charles Leno Jr. ran a free flag football camp for girls aged 7-14 on Saturday, Oct. 7 at OrthoVirginia Training Center with the goal of promoting opportunities for girls in football. No matter their experience level, the campers, which came from all around the DMV area, were welcomed into the environment and left with increased confidence and knowledge of the sport.
"I just want them to walk away confidently knowing that women can play football, too," Leno said. "This is not a game that has to be segregated to only men. They're starting to open avenues for women to play football, get scholarships, and create leagues in flag football or tackle football. So, I just want to make sure these girls can have the confidence to do those things and understand that they can do it as well."
There's no shortage of important charitable causes that deserve time and dedication. Still, when asked about Leno's choice to focus on women in sports, he says it was his family that brought him to this conclusion.
Alongside his wife and three young daughters, Leno recognizes the importance of what it means for women to have the opportunity to compete, especially in football, where women are historically not given as much access to the game as male players.
"First and foremost, being a father of three girls and playing the sport I play, I really wanted to bring it together," Leno said. "I was talking to my wife about it one time and how I'd never heard of someone doing an all-girls flag football camp. I said, 'I wanna do that. Can we do that?'"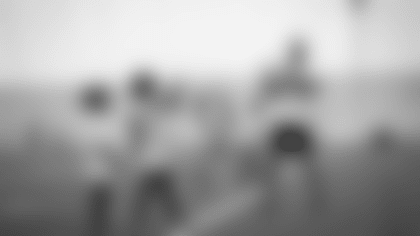 And he did. Girls at the weekend clinic were gifted with energy drinks, Nike bags, headbands, T-shirts, and an incredibly valuable experience. After the camp, four middle school girls sat down and talked about how they'd never been given a chance like this. Olivia Homles, Nazareth Eerege, Cadence Hollingsworth, and Kayla Spencer said they've spent so much time on the same cheerleading squad, but the opportunity to play football had never come across their radar.
"I don't think I've ever even touched a football before today," Holmes said. "We're all on the same cheerleading team, and we spend a lot of time together, but this is something we haven't gotten the chance to do."
Without the opportunity to compete in football, young girls cannot pursue the opportunities that come with playing the sport and are expected to be okay with that reality.
Hollingsworth, who led her friends to do the camp, felt extremely accomplished and proud after getting to play flag football.
"Now I get to walk into school and tell all the boys that I played football with NFL players," Hollingsworth said. "Like, how cool is that?"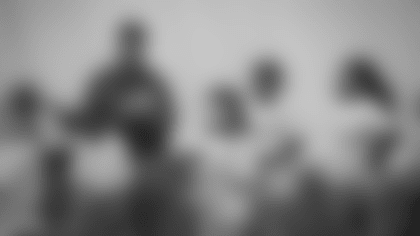 Leno was joined by teammates in the running of the camp, bringing together a fun-filled morning of activities, learning, and growth.
Leno emphasized the importance of girls being able to have an interest in football no matter what and that it shouldn't be a male-dominated activity.
"They should be able to be Taylor Swift fans and get the chance to be involved with this sport," Leno said. "It doesn't have to be one or the other."
The chance for girls to have various interests and passions is critical. Leno's football camp allowed girls to play and enjoy football and meet other young girls along the way.
And at the end of the day, it served as a reminder that football can be a fun activity and doesn't need to be all about pressure.
Coming off a 40-20 loss to the Chicago Bears, Leno felt this camp gave him precisely what he needed as well.
"This is for sure a much-needed moment of joy for me," Leno said. "We just came off a really tough game. But at the end of the day, I'm a human being, and I want to give back to my community. And this does put a smile on my face after a tough week."
Even though football is now a livelihood for Leno, it all began when it was just a sport he enjoyed playing for fun growing up. The ability to return to those roots and share the passion for football with young girls is an incredible light for Leno and his family.