During late July and throughout August, there is a unit out at OrthoVirginia Training Center at Commanders Park that is running, demonstrating exercises and sweating. This corps is not made up of football players but rather athletic trainers.  
"I think if we were to check some step-counters on ourselves, we're north of 20,000 miles I'm sure," Commanders' assistant head athletic trainer Mark McCracken said.  
Washington's athletic training staff is hustling because they are putting in non-stop serious work during preseason to meet the demands of a grueling time of year. To ensure they are able to provide the best care to the team throughout these intense weeks, constantly keeping their heads on a swivel, working hard and leaning on the camaraderie they have developed within the department is vital. 
Putting themselves in the position to provide the required care comes with first understanding the extreme physical impact of training camp and preseason on the players. Sure, the guys are lifting, conditioning and working out with their individual coaches in the lead up to this period, but that cannot fully prepare their bodies for what summer with the team, competing for jobs, doles out.
"The fact of the matter is they might be training decent amount when they come into training camp, but nothing will prepare you for football like football. There's just no way," Jeff Ruiz, the Commanders' Director of Physical Therapy, explained.
Add in the shift that NFL play has experienced over recent years, and it is no wonder that concerns about load are top of mind for the training room.
"Physical demand continues to increase. You see players are completely different athletes – faster, bigger, stronger – than they were decades ago," said assistant athletic trainer Masahiro Takahagi (also known as Hagi).
The Commanders' head athletic trainer Al Bellamy has witnessed many of those changes at pro level firsthand as he has been working in the league since the late 1980s. He has been through dozens of training camps and could not overemphasize the idea that "the recovery process is vital for getting through this portion of the season."
All members of the Commanders athletic training staff as well as those in the strength & conditioning department play key roles in helping the guys re-cooperate and re-charge after long sessions and back-to-back days in the unforgiving heat of Virginia summer.
Jake Sankal, the team's nutritionist, for example, is eagle-eyed about hydration, making sure to weigh players before and after practice to see what is needed to get them re-hydrated. Meanwhile, Brett Nenaber, director of player performance, uses GPS monitoring to help track player loads.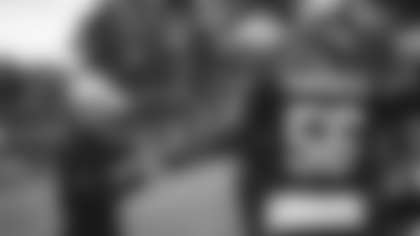 And then there is the recovery mecca nestled in the back of the Commanders athletic training room. It becomes a sort of sacred space during training camp, the kind of environment that feels as if the opening of its doors should come with a chorus of angels singing. Here, players have access to a number of high-tech devices that assist in recovery, including sensory deprivation tanks, red bed therapy, cryotherapy, anti-gravity chairs and more. 
"Last few weeks this has definitely been a popular nap location," Hagi said with a smile. 
Preseason -- with its many practices, walkthroughs, and meetings – is busy, though, which means players do not always have time to get down to the recovery room. With that in mind, the trainer knows they always need to be adapting to and overcoming the hectic schedule to deliver guys what they need. 
"During meetings we like to try to make that a recovery space. We have some mobile modalities that we can give them in there," Hagi said. "So that's kind of my mindset, just utilize any time to get them better." 
This scenario also highlights one of the trainers' unofficial mantras: take the guess work out of life for the guys whenever possible because preseason alone is incredibly taxing. Moments where this slogan is being ascribed to can be identified wherever the trainers are. 
Take, for instance, a subtle but important gesture that every trainer can be seen doing out at practice. The athletic training staff members do not just hold water bottles and wait for the players to make eye contact with them to hand it over. Instead, they are constantly offering water bottles to the players at their eye level.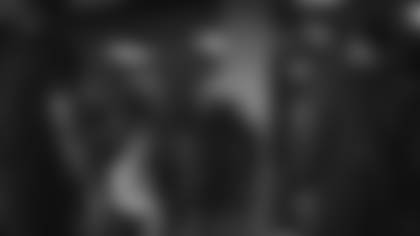 "They have a lot of responsibilities. There are physical demands and there's mental demands, so we want to make sure we're taking care of that for them," McCracken explained.  
Operating with this mindset for 90 players and over a dozen coaches all day, almost every day is not easy. The trainers know that, while their job is to (at times quite literally) fill up the cups of the players, they also need to find bits of time and space to fill up their own cups.  
Many trainers try to squeeze in workouts whenever they can. Music and even trivia are played often during treatment. McCracken stressed the desire for the training room to "not be like a hospital setting." Turning to one another on staff also helps make sure the work is high quality.  
"If someone's having a hard day or maybe they have a case with an athlete that they're struggling with, we help each other out," McCracken said.  
Being there for each other is as important to the job as having a stim or rolls of athletic tape on hand. They wear earpieces at practice to talk to each other. Shared digital platforms provide streamlined ways for everyone on the athlete wellness and player performance side to stay looped in on players' statuses. Hagi described it as a real "family" environment.  
All of them know that together – with their different accreditations and strengths – they can offer up the kind of hard work and knowledge that will help the Commanders get to where they need to be.  
"We are in the service industry, and we need to provide that service accordingly," Ruiz said. "Being able to help someone go out and achieve their dream and provide for their families, that's what it is all about. All the grind, everything like that. That's the whole point."