Prior to the 2022 NFL Draft, members of the Washington Commanders took a step away from the event's intensifying fanfare to focus on service. On Tuesday, April 26, Commanders Co-Owner and Co-CEO Tanya Snyder, Head Coach Ron Rivera and his wife, Stephanie Rivera, along with Jonathan Allen and Jamin Davis teamed up with USO to hand-deliver care packages to troops at BWI airport just before they boarded the plane for deployment.
"We wanna make sure they [the troops] leave with a smile, knowing that there is a lot of gratitude for what they do," Rivera said.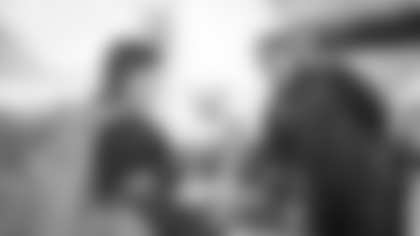 The event was a full circle moment for the USO and Commanders, tying together a series of initiatives to assist the response efforts in Eastern Europe. In March, shortly after the situation in Ukraine began to unfold, Co-Owners and Co-CEOs Tanya and Dan Snyder donated $300,000 to the USO and DC-based World Central Kitchen, International Rescue Committee and Save the Children. Just days later, inspired by Tanya Snyder's call to "do something more," nearly 200 Commanders staff, including alumni, sponsors and partners, joined active-duty service members and USO to assemble 4,000 care packages at FedExField.
A month later, the Commanders surprised departing troops with a visit at BWI where the team passed out the care packages to troops as they waited to board their plane. The team also spent time visiting with troops as they waited in the USO International Gateway Lounge. Described as a "home away from home" to military personnel traveling to and from duty stations overseas, the USO International Gateway Lounge works to ensure that troops feel as taken care of as possible.
"The simple touch of home through the care packages really makes an impact," USO National Capital District's Executive Director Lisa Marie Riggins said. "It's not every day that we have members from an NFL team helping to hand-deliver America's support wrapped up in these care packages to our deploying service members. Having some of the team here to hand out the care packages and show thanks and appreciation to our military was very special."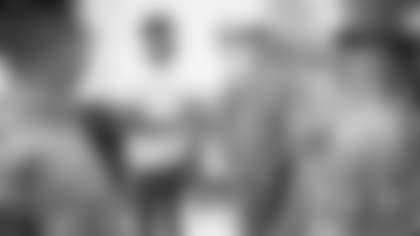 Contributing to the special nature of yesterday's event was the fact that many of those helping with package delivery have deep military ties. Davis, Allen and Rivera all have fathers that served in the military and are intimately familiar with the toll deployments can have. The three of them spent time during the event talking to the troops as well as their families, adding verbal messages of encouragement and love to the physical ones in the form of snacks, hygiene essentials and warm clothes already tucked inside the care packages.
"We're here to let them know that we're thinking about them, loving them, praying for them," Allen said.