Toughness on the gridiron can mean the difference between a team winning or losing a game.
Toughness against cancer can mean the difference between a person winning and losing everything, which is the reason the Redskins welcomed 20 area women battling breast cancer to Redskins Park this afternoon.
This was the fifth-annual All-Star Survivors Celebration, started in 2008 by tight end Chris Cooley in conjunction with the Redskins Charitable Foundation.
Cooley's mother's battle with breast cancer had a profound impact on his life, and is a his motivation for staying involved today.
"The hardest thing for me with my mother's battle, was watching her change as a person," he said.  "What she went through was hell; nobody wants to do it."
But by supporting her during her battle Chris earned a priceless perspective on life, one that he shares with others in the struggle.
"For my mom, honestly, I think it was a competition: 'I'm going to beat this, so I'm going to do everything I can to beat it,'" he recalled.  "It wasn't just cancer, it was the way she raised my brother and I that I wake up happy to do whatever I'm doing every day.
"She showed that to me with her resiliency during her battle with cancer."
Cooley returned to Redskins Park for his first official visit since being released from the team during training camp.
Cooley still lives in the Ashburn area, and has maintained an open line of communication with the organization and coaching staff.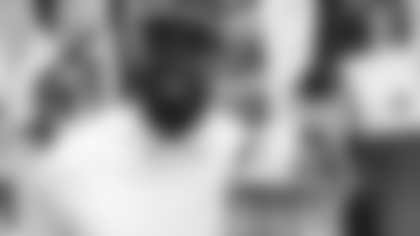 After helping organize today's event, Cooley was the primary tour guide of the facilities, leading the ladies behind the scenes of Redskins Park.  He was aided by current Redskins Alfred Morris, Chris Baker, Doug Worthington, Joshua Morgan and Nick Sundberg, with cameo appearances from several others including Robert Griffin III.
While NFL players are accustomed to being the stars of the show, they created an atmosphere for support and celebration for the All-Stars that will not soon be forgotten.
The ladies were treated to a new pair of jeans donated by Gap Inc., as well as new wigs, scarves, makeup and a custom-made pink and burgundy Redskins jersey.
The surprise gift at the end of the day was a pair of tickets to Sunday's game vs. the Falcons, where the ladies will welcome the players through the tunnel onto the field.
This was a huge surprise for Pamela Hughes, who has never been to a Redskins game in her 32 years in the Washington area.
Hughes was first diagnosed with breast cancer and ovarian cancer in 1990, and has battled it into remission two times before her current diagnosis.
She couldn't pick a favorite part of her day at Redskins Park, but loved the fellowship and empowerment of the All-Star community.
Just please don't call her a survivor.
"I'm loving it, I'm loving it," she said with a huge smile. "We're all cancer conquerors--I don't like the term 'cancer survivors.' I met a lot of women today that are thinking along the same terms: we're not 'cancer survivors,' we're conquerors.
"We're sharing an energy and bouncing ideas off of each other."
At the time of her original diagnosis, Hughes was studying to be a surgical physician's assistant, but dropped out of school when cancer claimed the use of her left arm.
Despite all that could bring her down, Hughes remains infectiously optimistic, and shared that with the other ladies.
"I am healed.  I don't care what the reports say; I've already been healed because I'm beating the odds," she said.  "The first thing I tell people is to take the fear out of it.  When people hear 'cancer,' they automatically think of death.
"Once you take fear out of it, you can fight to stay healthy and fight to protect your health.  It's a mindset thing.  No matter what your diagnosis or treatment, expect it to do what it's supposed to do."
The NFL kicked off their Breast Cancer Awareness Month and Think Pink! campaigns on Monday Night Football this week.
Tanya Snyder, wife of Redskins owner Daniel M. Snyder, is one of the founding coordinators of the campaign, which began with just the Redskins in 1999.  Today, most teams will participate in the NFL's fourth annual *A Crucial Catch *campaign.
"I'm so proud," she said.  "We started things off, and this season we will give out our millionth ribbon through the ZTA Think Pink! campaign.  It's all about momentum, and I couldn't be more thrilled."
Mrs. Snyder is a breast cancer survivor herself, so events like today's give her an opportunity to give back the support she received.  She also looks forward to a day when they are no longer necessary.
"People ask me where I expect this event to be in 10 years, and I tell them I hope there's a cure and this is an obselete event," she said.  "We hope to one day say we can end this event with a happy conclusion.
"Until then, we keep fighting and raising awareness for the cause."