Ryan Kerrigan is expected to provide the Redskins with a bookend pass-rusher to Brian Orakpo.
As a defensive end at Purdue, Kerrigan terrorized opposing quarterbacks and running backs, leading the Big Ten last year in tackles for a loss (26), forced fumbles (5), and sacks (12.5).
With the Redskins, Kerrigan is expected to make the switch to outside linebacker, an opportunity that he embraces.
"I'm really excited about it," he said shortly after being selected on Thursday night. "I feel like I have the ability from a two-point stance. I have to practice that obviously, but I feel like with my pass rush skills and my athletic ability, I can make that transition to outside linebacker."
Kerrigan, drafted by the Redskins with the 16th overall pick in the first round on Thursday, said he had a good feeling when the Redskins were on the clock.
"I had an idea," he said about being selected.  "I had a good couple visits with them and I really like what they're doing with their defensive scheme and thought I'd fit very well in there.
"It felt awesome to hear Coach [Mike] Shanahan call and say 'Congrats on becoming a Redskin.'  I'll never forget that moment and I'm really blessed to be a part of this great organization."
That feeling is reciprocated by Shanahan, who called Kerrigan a "blue-collar guy" and spoke to Kerrigan's high-energy play and "football intelligence."
"He's a very smart guy, you can see that," Shanahan said.  "He picks up the game extremely well. He's very intelligent."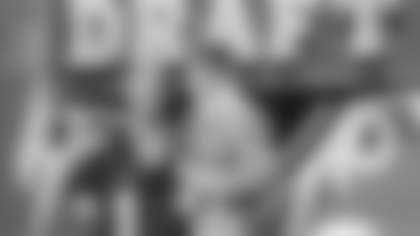 As far as making the transition from defensive end to linebacker, Shanahan isn't worried.
"He brings a lot to the table," Shanahan said. "I thought he was very athletic, very agile, and we think he can make the conversion fairly quickly."
For the Redskins, upgrading the 31st-ranked defense was a top priority in this draft.
Part of that included improving the blitz options to create more pressure.
"We needed somebody opposite [Orakpo] on the other side, to [bring] some pressure," Shanahan said.  "We think Ryan gives us that ability to beat tight ends, beat backs, and obviously beat tackles.
"When you look at him, I think he fits into our system extremely well, not only to play the run but the pass."
The Redskins 3-4 scheme under defensive coordinator Jim Haslett relies on linebackers that can get to the quarterback to force sacks, incompletion and turnovers.
As a member of the Boilermakers' aggressive defense, Kerrigan tied an NCAA record for forced fumbles with 14 in his career.
Asked about his penchant for creative turnovers, Kerrigan replied: "It's about taking things from the practice field to the game field. We really try to emphasize [forcing turnovers] at Purdue and trying to get the ball out."
Kerrigan stops short of comparing himself to other NFL players.
"I've had a lot of comparisons like Aaron Kampman and Kyle Vanden Bosch and guys like that," he said. "But I don't really try to model my game after anyone in particular. I just try to go out there and do what I do, and that's play hard and play physical."
If Kerrigan is looking for anyone to help him make the transition to linebacker, he needs only look to Orakpo.
"He's done very well – he's one of the top linebackers in the league at his position," Kerrigan said of Orakpo. "Coming from Texas, I remember watching him and thinking what a beast he was and what a player he was. I hope to emulate him."