The double move is a route Logan Paulsen can run in his sleep by now.
After working on the route thousands of times in practices and in pre-game drills, Paulsen's patience finally paid off in fourth quarter of Sunday's game against the Philadelphia Eagles, as the third-year tight end caught his first touchdown pass of the season in the Redskins' 31-6 victory.
Paulsen – who was able to cross the goal line despite being brought to the ground by Eagles free safety Kurt Coleman – said he was initially surprised to learn that he had landed in the end zone.
"I didn't even know I scored until Josh Morgan came up to me and said 'Congratulations,'" Paulsen recalled after the game. "I couldn't see where I was on the field, but it's very cool and I'm really happy for it. I'm happy for the team and for the win."
Paulsen credited quarterback Robert Griffin III with a timely and accurate pass after he got open in the middle of the field with the double move.
With 10:35 remaining in the fourth quarter, Griffin III lined up in the shotgun formation on 3rd-and-7 from the Philadelphia 17-yard line.
Paulsen – who began the play in a three-point stance next to right tackle Tyler Polumbus – took off on the snap and ran about seven yards before faking an out route to his right.
The move froze up Philadelphia outside linebacker Mychal Kendricks, who was covering Paulsen on the play, and enabled the tight end to break free at the five-yard line, where he turned around and received the pass from Griffin III. From there, it was all effort from Paulsen, who was able to spin his way through the arms of Coleman into the end zone.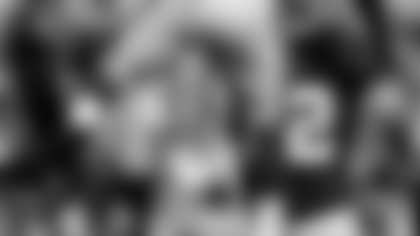 Paulsen said the double move is a route that's "second nature" to him by this point of the season.
"We have a variation of that in every week," Paulsen said. "You don't have to think about it – you just do it.
"That's a credit to the coaches for always putting us in that situation and putting us through that."
Paulsen was named the Redskins' No. 1 tight end after their Week 7 matchup against the New York Giants, a game in which starting tight end Fred Davis suffered a season-ending Achilles injury .
Paulsen has responded with career-highs in receptions (15), receiving yards (217) and also had a career-long 31-yard reception Week 8 against the Pittsburgh Steelers.
Despite improving as a pass-catching threat, Paulsen has remained a strong blocker, as well. On a 3rd-and-6 play in first quarter of Sunday's game vs. the Eagles, Paulsen had a key block that allowed Griffin III to scramble for a 10-yard gain and convert the first down.
For his efforts, Paulsen – a California native who sports long hair to his shoulders and a thick beard – has garnered nicknames from his teammates and coaches that have included "lumberjack," "gym rat" and "Neanderthal."
"He's so stout in the running game, and so solid as a pass receiver," Redskins head coach Mike Shanahan said of Paulsen. "You can see he doesn't have great speed, but he just makes plays.  He blocks well, he makes the catch [and] he runs well after the catch."
Paulsen gets a good laugh each time he acquires a new nickname, but said he appreciates seeing how his hard work – which includes coming into the facility each morning at 6:30 a.m. and leaving no earlier than 6 p.m. – has been paying off.
Sunday's touchdown – his first of the season and second of Paulsen's career – is a prime example of that sentiment.
"I just think I don't want to leave any stone unturned," Paulsen said. "I know that I'm not the most physically talented guy, so I know I need to make up for that in other ways.
"Something easy to do is just work at it; just grind it. If you're willing to put in the time, it will pay dividends for you, and that's the way I've always felt — even in high school and college. I just just try to carry that and grow that."