The 2020 NFL Draft is inching closer every day, and head coach Ron Rivera will soon have his first opportunity to improve the Redskins' roster with seven new players.
In preparation for the three-day event, which begins Thursday, April 23, Redskins.com is breaking down the team's picks in each round with prospects fans should look out for.
Here are the rounds we've covered so far:
It's time to delve into the Redskins' possibilities in the fourth round, where they have two selections. Here are 10 players they could target at 108th and 142nd overall:
TE Devin Asiasi, UCLA
Devin Asiasi was not an All-American or even an all-conference honoree in 2019, but he showed all of the desirable traits of an NFL tight end. Using his speed and athleticism, the 6-foot-3, 257-pound Asiasi corralled 44 passes for 641 yards and four touchdowns for the Bruins. This was the first season he received ample opportunities to prove himself as a pass-catcher, and he did so by averaging 14.6 yards per reception, which helped him earn honorable mention All-Pac 12.
This seems like the ideal prospect to add to the Redskins' tight ends room. Asiasi can develop under longtime tight ends coach Pete Hoener and learn from Richard Rodgers, Logan Thomas and Jeremy Sprinkle -- all of whom have different skillsets. That way, Asiasi will become a well-rounded tight end the team could rely on heavily in the future.
"Asiasi's areas of improvement are attainable," NFL.com analyst Lance Zierlein wrote in his draft profile of Asiasi. "He projects as a play-making Y with future TE1 potential.
WR Bryan Edwards, South Carolina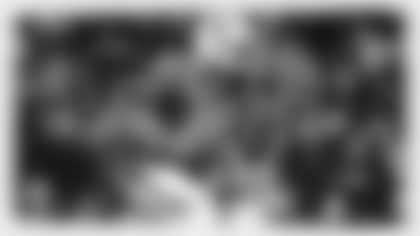 Bryan Edwards should be appealing to the Redskins for several reasons. For one, he's a big, physical wideout. At 6-foot-3 and 212 pounds, he would complement Terry McLaurin well.
He also had a record-breaking career at South Carolina. He's the Gamecocks' all-time leading receiver with 234 receptions for 3,045, while his 22 receiving touchdowns are third-most in school history.
Then factor in his intelligence and positional versatility, both of which Rivera and offensive coordinator Scott Turner covet.
On the Wonderlic test, which NFL teams use to measure intelligence, Edwards ranked second among wide receiver prospects with a score of 28. His smarts allow him to thrive at different positions within the offense. He's primarily an outside receiver but has also shown the capability to play in the slot.
A broken foot suffered in February seems to have hindered Edwards' draft stock, but according to NFL.com's Ian Rapoport, he received positive reviews from teams looking at his medicals. Still, if he falls, it would make a lot of sense for the Redskins to select him.
"He's got a skill set, first of all, that just about every team is going to covet for what he can do," NFL Network's Daniel Jeremiah said of Edwards, who he compared to Tampa Bay Buccaneers Pro Bowler Chris Godwin. " He trains like a pro. He handles himself like a pro. He's been that way since he got to [South Carolina]."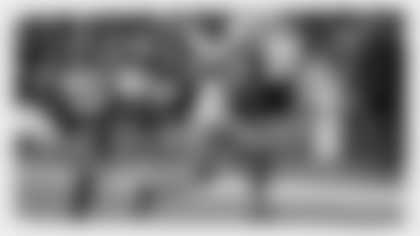 K.J. Hill starred at Ohio State, and his best statistical season came with Dwayne Haskins Jr. at quarterback in 2018. Hill is expected to be a mid-round pick in the NFL Draft with the skillset to contribute immediately.
Sounds like McLaurin 2.0, right? Not exactly.
Still, the Redskins would benefit from adding Hill in the fourth round. His presence would intensify the competition at slot receiver, with Steven Sims Jr. and Trey Quinn also fighting for snaps. Plus, Hill would provide Haskins with another familiar pass-catcher.
"The slot guys tend to transfer pretty quick [to the NFL]," ESPN draft analyst Mel Kiper, Jr. said in a conference call with national reporters on April 15. "I think you'll see someone like a Devin Duvernay from Texas transition very quickly, or someone like K.J. Hill from Ohio State."
CB Reggie Robinson II, Tulsa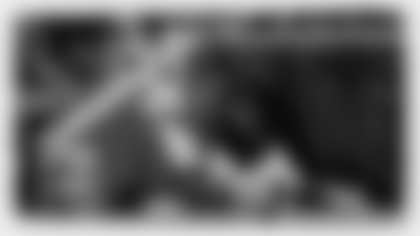 The Redskins need cornerback depth with starting upside, and Reggie Robinson II fits that description.
The 6-foot-1 Robinson is strong, speedy and athletic, which was evident at the NFL Scouting Combine. He ranked tied for first among cornerbacks with 22 bench press repetitions and finished near or in the top 10 at his position in almost every other drill.
Robinson was also highly productive at Tulsa. In 33 appearances (22 starts), he totaled 132 total tackles, 34 passses defended and four interceptions.
All of his interceptions came this past season, when he earned first-team All-American Athletic Conference honors.
"He has average instincts, but his length can be a disruptive factor in close quarters," Zierlein wrote in his draft profile of Robinson. "If he can crank up his run-support intensity, he might get looks as a zone corner or a safety."
OT Ben Bartch, St. John's (Minnesota)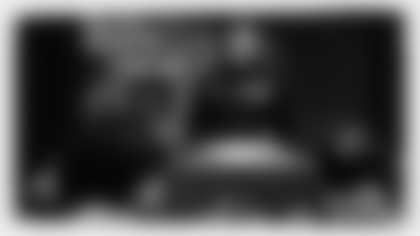 Ben Bartch's NFL.com draft profile reads, "good backup who could become starter." That's precisely what the Redskins will be looking for in the middle rounds of the draft.
Bartch dominated at Division III St. John's in Minnesota, then stood out at the Senior Bowl against top-notch collegiate competition. The 6-foot-6, 309-pound Barch has started 27 games at left tackle over the past two seasons.
Assuming Trent Williams is traded, the Redskins currently do not have a starting left tackle. Their options included 2018 third-round pick Geron Christian Sr. and newcomer Cornelius Lucas, though Bartch could join the competition if selected. And even if Bartch begins his NFL career as a backup, his starting upside makes him an enticing prospect.
"Converted tight end who has added 75 pounds of good weight since stepping on campus but retained his plus movement," Zierlein wrote in his draft profile of Bartch. "Despite a lack of experience and small-school background, his traits and rapid growth in body and play caught the eye of Senior Bowl evaluators."
TE Jared Pinkney, Vanderbilt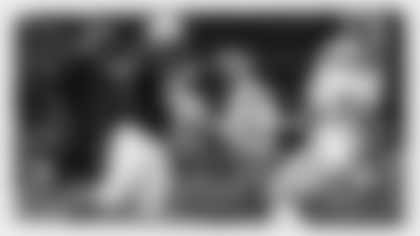 If the Redskins are looking for a pass catcher at tight end who could contribute right away, then Pinkney would be a solid pick. He has the size (6-foot-4, 257 pounds) and speed (4.96-second 40-yard dash time at the combine) to be a successful player at his position with the right tutelage. He has a slight injury history with the Commodores, but he showed off plenty of skills with 114 receptions for 1,560 yards and 14 touchdowns in his career.
The biggest question surrounding Pinkney is his dip in production after recording 774 yards in 2018. And he knows that he has something to prove with whoever drafts him.
"It was a challenging time," Pinkney told The Tennessean about his 233-yard performance in 2019. "People will ask and I'll tell them, 'It's a lesson and a time that you can't think about; you've got to learn about firsthand.'"
WR Donovan Peoples-Jones, Michigan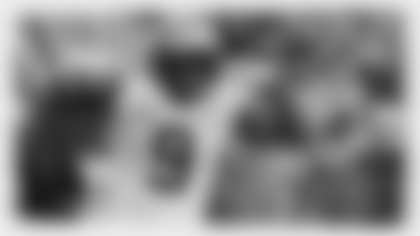 Peoples-Jones is a prime example of how deep the wide receiver class is this year. What's truly impressive about Peoples-Jones is his ability to come down with the ball in his hands. He has a natural ability to find soft spots in zone coverages, and he uses his speed and physicality to create enough space to make catches on deep and short throws. On top of that, he was an exceptional special teams player last year with 25 returns for 250 yards and a touchdown.
Peoples-Jones also had one of the more impressive combine performances with a 44 1/2-inch vertical jump, which is the highest in this year's draft class and the third best since 2006. That surprised him "a little bit," he said, but former teammate and Michigan quarterback Shea Patterson wasn't shocked at all.
"He's been doing that since he was a junior in high school," Patterson told The Blade. "He's not human."
TE Charlie Taumoepeau, Portland State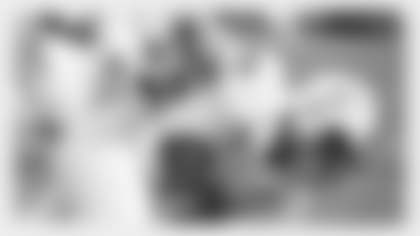 A fourth-round pick might be viewed as a little high for Taumoepeau, but there is no denying he has the intangibles to be a good NFL player. He had a 4.75 40 time, blocks well and is an effective pass catcher when called upon. The Big Sky Conference doesn't offer much top-tier competition, but he did catch five touchdowns against three FBS opponents in his career. Taumoepeau will be a backup for now, but he has abilities that could be worth a gamble.
That combination of speed blocking ability and proven opportunities against tougher competition makes Taumoepeau believe he is ready for the NFL.
"I feel like I showed I can run with the best of them," Taumoepeau told The Oregonian in January. "That I can create some separation, even though it was such a big level difference. I feel like it shows my competitive nature to be from an FCS school to play a team like Oregon, to show I can compete at that level."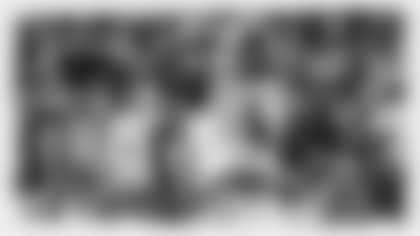 Linebacker is not likely high on the Redskins' list of needs, but Rivera and defensive coordinator Jack Del Rio would love Phillips. His draft profile on NFL.com lists him as a team-first player who learns from his mistakes, both of which qualities Rivera looks for in players. He led the Tigers with 113 tackles and can play special teams, which is a role he would have in 2020. In time, Phillips could be a solid starter with Rivera's guidance.
He also has a passion for the game that resonated with his former teammates. Take what his LSU teammate JaCoby Stevens, who played against Phillips in high school, said about him.
"Jacob has always been a workhorse," Stevens said last October. "He is always going to go hard. He's always going to outwork you, outwork his competitors. I don't have to worry about him being soft or second guessing himself."
S Antoine Brooks Jr., Maryland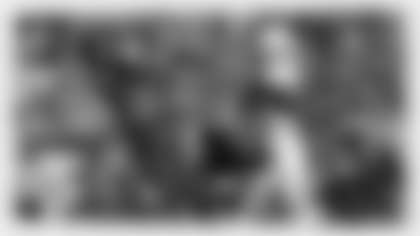 The Redskins need depth in their secondary after a list of releases and trades, and Brooks could offer that this year. One of Brooks' biggest advantages is his versatility; he can work near the line of scrimmage and be a solid coverage player at times. He would most likely be a special teams player in his rookie year, but he's capable of filling that need as well. At the same time, he would learn from veterans like Landon Collins and fellow Terp Sean Davis.
There was a time when Brooks thought his career was cut short. He suffered a compound fracture in his ankle and broke his wrist during his senior year of high school, and he questioned whether or not he even wanted to play football again.
But then Maryland offered him a scholarship, and he shined as a Terp. He even played a role in Maryland's upset over Texas in 2017 with a touchdown on a blocked field goal.