Redskins quarterback Colt McCoy stood in the middle of the team locker room surrounded by a huddle of reporters, microphones and cameras when he was asked the question: "When would you like to know that you're the starter?"
The question of who would be the starting quarterback was one most people who follow the team wanted to know. After missing most of training camp and the first four games of the season with a leg injury, McCoy entered a three-player competition to be the starting signal caller against the Patriots. All three players have had a professional demeanor throughout the week, but it's apparent that each of them wanted the job.
McCoy approached the question by focusing on his development rather than the competition itself, saying that he's feeling confident and getting better each day and adding that hopefully the team would figure things out by this weekend.
After a week of questions, we have an answer: McCoy will be the starter against New England on Sunday.
"I decided a long time ago," head coach Jay Gruden announced during his press conference Friday. "We're going to go with Colt and go from there."
The move to put McCoy in the starting role is one that was expected by many media outlets leading to Friday's announcement. After all, he was the starter on the Redskins' first unofficial depth chart during training camp prior to experiencing problems with the leg he broke last season.
McCoy has also been in Gruden's system since 2014, which the head coach said is one of the advantages to playing him.
"He knows the system, he's experienced and has a live arm and he's a great competitor," Gruden said on Monday. "From an experience standpoint in this offense, I know he's hasn't played a whole lot, but it does help when I call a play we've been running for five or six years that you know where to look and what of the field to read as opposed to seeing it the first time.
The issues forced McCoy to miss the first two preseason games, eventually prompting Gruden to say after the second game that "starting isn't even in the equation now" and that the quarterback needs to get healthy.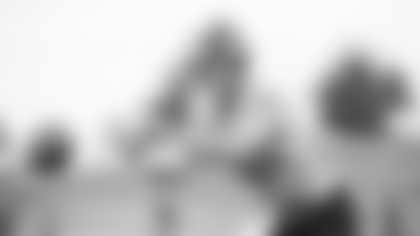 The days turned into weeks, and McCoy's recovery carried into the season, forcing him miss the first four games. McCoy didn't want to draw too much attention to his situation, though, and instead he focused on trying to help fellow quarterbacks Case Keenum and Dwayne Haskins by being "an extra set of eyes" in the meeting rooms.
"I certainly haven't checked out," McCoy said last week. "The more practice I get, the better I'll continue to get and we'll go from there. The most important thing is not making this about me. This is about our locker room and who gives us the best chance to win."
Last week, McCoy got his first action in practice since the injury as the team prepared to play the New York Giants, though he was inactive for the Week 4 contest.
But after a full week of getting first-team reps, McCoy has had little to no issues in practice and said he's ready to move forward.
"So far, it's felt good, and I don't want to think about it anymore," McCoy said. "I just want to practice and see how I'm feeling each day."
Gruden said New England should be "a good test" for McCoy, who has not faced a live pass rush since last season. The Patriots have the No.1-ranked defense in the league, allowing just 181 passing yards per game with a league-high 18 sacks. Coincidentally, McCoy managed to beat the Patriots in 2010 when he was with the Cleveland Browns, but McCoy doesn't see that mattering much in 2019.
"They're such a polished team," McCoy said. "You've got veterans all over the board. They're great at playing man coverage. We can prepare for a lot of things, but I don't know that we'll know exactly what we're going to get. They're really good at what they do."
Offensive coordinator Kevin O'Connell said McCoy is "a stable guy in the huddle that knows our system," and he thinks the team is going to rally around him Sunday.
"Since he's been here, he's always been one snap away," O'Connell said. "It's hard for a guy to do that over the course of time. So nothing really changes. It was just a matter of health and when he was ready to go and rejoin the mix. It was really positive to see him back on the field, healthy and in the huddle again."