John Wisecarver is a 12-year-old from Winchester, Virginia, and a lifelong Redskins fan. He enjoys playing the Madden video game series, and a lot of times he'll play with the burgundy and gold. He doesn't have a favorite player; he likes them all the same.
Wisecarver is one of many patients receiving care at the Inova Children's Hospital in Falls Church, Virginia, and all of them received a special surprise a few days before Thanksgiving: a visit from the Washington Redskins.
In partnership with Inova, the Redskins Charitable Foundation hosted a Thanksgiving-themed event on November 26, which included arts and crafts and room visits from current Redskins Colt McCoy and Maurice Smith. The visit was just as special for the children as it was for the players, who were thankful for the opportunity to interact with some of their strongest supporters.
"It was a powerful experience," Smith said. "I just lost one of my close friends to cancer, and so this was very emotional coming in, and I figured this would be a great time to give back and make some kids smile. It was a blessing to be here."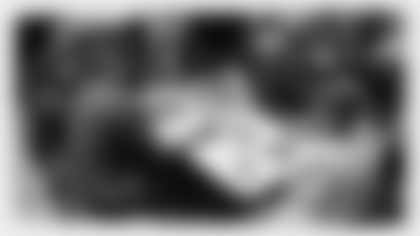 The day began in the playroom, where the Redskins and several children teamed up to do Thanksgiving-themed arts and crafts. While they colored turkeys and made their list of things they were thankful for, Smith and McCoy conversed with patients of all ages while putting their artistic and creative sides on full display. Patients do these sorts of activities all the time, said Jamie Gentille, the Director of Child Life at the hospital. Only on this occasion, a pair of professional football players were there to join them.
From there, McCoy and Smith traveled from room to room to greet patients individually. They delivered signed memorabilia and posed for photos, but more importantly they offered their time by getting to know each child.
"It's always very humbling and nice to come share some of our day with kids in the hospital," McCoy said. "I think sometimes we take for granted the blessing that we have and what we get to do, and to come here and see kids and families and try to put a smile on their face and wish them a Happy Thanksgiving, it makes my day. I don't know if it makes theirs, but it sure makes mine."
This is the second time the Redskins have gone to the children's hospital this season, and they'll do so again for the holiday season in a few weeks. "Every event is as meaningful as the last," Gentille said, "because they all bring joy to children who may be struggling. And regardless of what they're going through, they can count on these special visits to brighten up their days."
"It's something kids will remember when they go home. When they think about their time at the hospital, they'll think about their really cool visit with the Redskins and not necessarily all of the tough stuff."