The origin of Jason Oppenheim's Washington fandom belies its evolution. The deep love he came to develop for the team started out rather superficially as a 4-year-old kid.
"Burgundy was my favorite color," Oppenheim said. "We were watching a game, and I asked my dad who that team was, and I've been a diehard fan ever since. It's been Redskins, now Commanders, my whole life, and it'll always be the Commanders."
His fandom made the Selling Sunset star, who comes from a California family, a bit of a black -- or should we say, burgundy -- sheep. That has never hindered his passion, though, and four decades later, it continues to run strong. Ahead of Washington's Week 5 game against the Tennessee Titans, Oppenheim made the cross-country trip for a special experience with the Commanders.
On Saturday, the real estate mogul, who is used to walkthroughs in multi-million-dollar mansions, was on the field witnessing the Commanders walkthrough practice before the Titans game. He was given a tour of the OrthoVirginia Training Center at Commanders Park, kicked a couple field goals with Tress Way and Camaron Cheeseman, went into the locker rooms and met several players. He also got in some facetime with the Commanders team dog, Mando.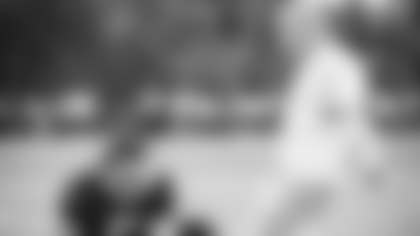 "That was one of the coolest days of my life, honestly," Oppenheim said. "Seeing the facilities, seeing the Super Bowl trophies, meeting the team…that was a dream. I watch all these guys every week. I know everyone who has ever put on a jersey, and yesterday was just one of the coolest experiences of my life."
On Sunday, he took in the scenes of Washington's pregame warm up on the sidelines alongside his girlfriend, Marie-Lou Nürk. Though the German-born, Paris-based supermodel did not grow up watching the Burgundy & Gold like her beau, she has understood, as Oppenheim put it jokingly, that "she has no choice" and was all smiles while rocking her Washington hoodie. Meanwhile, Oppenheim who was wearing a Chase Young jersey, got in a bear hug with Chase Young shortly before kickoff.
The two were back to California on Monday and will be taking in their next Commanders game in person in the state in which they live when Washington faces off against San Francisco on Christmas Eve. And while Oppenheim's real estate realm has famously been confined to SoCal, he did not rule out a chance to expand his work to the DMV for his favorite team.
"I'd love to sell Commanders their houses," Oppenheim said. "I would come out here and do that."