The Redskins' coaches and scouts are in Mobile, Ala., for Senior Bowl practices, gauging prospects with an eye toward the NFL Draft.
The Redskins are thought to have needs across the board, so depending on how team officials approach free agency, this figures to be a critical week in player evaluation.
Coaches and scouts watch Senior Bowl practices because it allows them to get an up-close look at prospects in a setting where they are coached by NFL staffs.
Team officials will spend the day evaluating players on the practice field and the evenings meeting with them at team hotels, general manager Bruce Allen said.
"It gives you an opportunity for the first time to meet the players," Allen said. "We've seen them on tape and we have a preliminary grade on them, but now we get to interview them and find out a little more about the individual.
"And then you get to see them play against better players. In the all-star games, there are very few weak talented players, whereas in some of the college games the matchups can be a little lopsided."
The game is held this Saturday, Jan. 29, at Ladd-Peebles Stadium in Mobile. Kickoff is 3 p.m. and the game is televised on NFL Network.
Who are some Senior Bowl prospects to keep an eye on as the week of practices unfolds?
Here are 10 to watch (in alphabetical order):
-- GABE CARIMI, OT, WISCONSIN
If the Redskins opt to draft a first-round offensive tackle for the second year in a row, then they could solidify the bookends of the offensive line for years to come. Carimi was a four-year starter at left tackle and team captain for the Badgers and he is thought to have prototypical size at 6-7 and 337 pounds. He won the Outland Trophy as college football's top offensive lineman and was also a first-team All-American.
-- RASHAD CARMICHAEL, CB, VIRGINIA TECH
With Carlos Rogers scheduled to be a free agent this offseason, the Redskins could eye cornerbacks in this year's draft. Carmichael could be next in a long line of Hokies cornerbacks in the NFL, including Redskins' DeAngelo Hall and Macho Harris. A native of Clinton, Md., Carmichael is a 5-9, 185-pound speedster. He started the last two seasons, playing man and zone coverage and logging 105 tackles, 10 interceptions and 13 pass break-ups. He was part of a Hokies defense that ranked second in total interceptions in college football.
-- ANTHONY CASTONZO, OT, BOSTON COLLEGE
Castonzo started at right tackle as a freshman and then shifted to left tackle, never missing a start his last three years at Boston College. He earned first-team All-ACC honors in 2009 and 2010, holding his own against top college pass rushers Robert Quinn and Da'Quan Bowers, both expected to be first-round picks this year. Castonzo is 6-7 but weighs 295 pounds, so he may need to add weight and strength to compete at the NFL level.
-- LEONARD HANKERSON, WR, MIAMI
The University of Miami has produced a long line of great wide receivers, including Santana Moss. Would the Redskins look to the Hurricanes to upgrade the wide receiver corps with Moss scheduled to be a free agent? Hankerson, 6-3 and 205 pounds, was a two-year starter and team captain at Miami. In his senior year, he logged 72 catches for 1,156 yards and 13 touchdowns, setting single-season marks for the Hurricanes.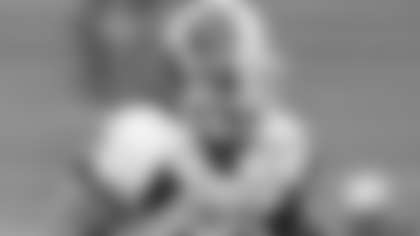 -- GREG JONES, LB, MICHIGAN STATE
With Rocky McIntosh a pending free agent this offseason, the Redskins could take a look at inside and outside linebackers in the draft. Jones, 6-1 and 240 pounds, was a very productive four-year starter for the Spartans. A high-energy player with a great work ethic, Jones led the defense in tackles all four seasons, finishing with 465 overall, 46.5 tackles for a loss, 16.5 sacks and two interceptions.
-- JAKE LOCKER, QB, WASHINGTON
Locker would have been a top 10 pick in the 2010 NFL Draft but he opted to stay for his senior year at Washington. His stock may have fallen somewhat after a sub-par year in which he completed just 55.4 percent of his passes for 2,265 yards, 17 touchdowns and nine interceptions. Locker was a four-year starter for the Huskies, although his 2008 season was abbreviated due to a fractured thumb. Scouts are concerned about his accuracy – his highest completion percentage in college was 58.4 percent in 2009 – but he is thought to have great arm strength and mobility.
-- CASEY MATTHEWS, LB, OREGON
The Redskins certainly remember how disruptive Green Bay Packers linebacker Clay Matthews was in Week 5 at FedExField last season. Now Matthews' brother Casey is a linebacker prospect. At 6-2 and 235 pounds, he projects as an inside linebacker in a 3-4. A three-year starter, Casey logged 245 tackles, 30.5 tackles for a loss, nine sacks and four interceptions for the Ducks. The Matthews pedigree, of course, includes their father Clay, an NFL linebacker from 1978-86, and uncle Bruce, a Hall of Fame offensive lineman.
-- VON MILLER, LB, TEXAS A&M
Improving the Redskins' pass rush opposite Brian Orakpo is expected to be a priority for the defense this offseason. Miller, 6-3 and 243 pounds, could be a perfect fit as a 3-4 outside linebacker. He emerged as a dominant pass rusher for the Aggies the last two years, recording 27.5 of his 33 career sacks. He also posted 182 tackles, 50.5 tackles for a loss and one interception. Miller won the Butkus Award as the nation's top linebacker in college football last year.
-- STEPHEN PAEA, DT, OREGON STATE
The Redskins may look to upgrade the defensive line in the draft, and Paea could fit the ball at either end or nose tackle. He started the last three years for the Beavers, logging 126 tackles, 29.5 tackles for a loss and 14 sacks. Paea, who is 6-1 and 311 pounds, grew up in the Tongan Islands. At Oregon State, he regularly faced double teams and he responded by becoming a workout warrior, establishing himself as the strongest player on the defense. (Note: Paea reportedly suffered a knee injury during Monday's practice and he is not expected to participate in the Senior Bowl.)
-- DA'REL SCOTT, RB, MARYLAND
The Redskins signed four running backs to the roster midseason last year, but the team may still look to improve a ground game that finished 30th in the NFL. Among local prospects, Scott showcased breakaway speed in rushing for 2,401 yards and 17 touchdowns in four seasons at Maryland. As a senior, Scott, 5-11 and 200 pounds, split carries. His career 5.6 yards-per-carry average ranks fourth all-time in Terrapins history.