Montgomery County native Monica Blakely has a lot of titles of which she can be proud, from small business owner and philanthropist to mom and wife. Now, she can add "Commanders Fan of the Year" to the list.
"Being Commanders Fan of the Year is a huge, huge deal for me," Blakely said. "I've loved this team my whole life. This is home."
Blakely was surprised with the fan of the year news in an on-field moment during Washington's Week 8 game against the Eagles. Being bestowed with the Commanders Fan of the Year title is an emotional moment for the longtime season ticket member. A passion for Washington football and the DMV community it represents has made her the person she is today and helped her give back to others.
Football has always been a family affair for Blakely. Not long after her dad immigrated to the D.C. area from Iran, he became a fan of the Burgundy & Gold, eventually passing down the interest to his only child, Monica.
"I'm my dad's daughter, and football was our bonding time … That's where the love of this team and the game came from," she said. "When I was younger, there was a huge waitlist and we didn't have the money to buy season tickets, and my goal was always to have season tickets with my dad."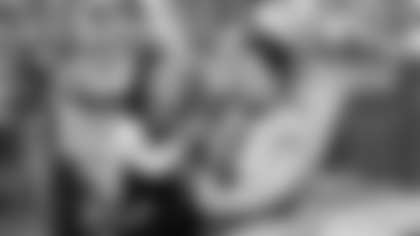 Her dad is disabled, and the chance take care of him with season tickets was a goal on which was she was laser focused.
"I was able to finally get season tickets and slowly but surely moved to adding more tickets. And eventually last year, for my dad's 65th birthday and my 35th birthday, I added these Dream Seats," Blakely said.
Her fandom has only grown as she has gotten older. Blakely has been known to even make trips to the NFL draft whenever possible. And now, with her ever-growing number of seats, she attends games with both her dad and husband and has passed down a love for Washington football to her own daughter.
"In our household it's really 'faith, family, football,'" Blakely said.
As if having it be so personal wasn't enough, football has also become a cornerstone of Blakely's professional life. However, when Blakely set out to establish her custom apparel company Passion for Ezra 11 years ago, she couldn't have predicted just how much the sport might seep into her business.
"Ezra is our daughter, and I wanted to start a business where I could be with her and take care of her and show her the world," Blakely said. "Starting it came from wanting to give Ezra the best that we could."
Passion for Ezra makes items for customers around the country, ranging from themed denim jackets to charcuterie boards to high heels. In the last couple years, Blakely has made pieces for some pretty cool clients. A career highlight for her was creating Donna Kelce's split Chiefs-Eagles denim jacket that hit headlines at last year's Super Bowl. And while she doesn't let her football biases dictate who she works with ("business is business" she'll tell you), Blakely admits she "always wanted to come home" in some fashion (literally) with the Commanders.
"We see our stuff on the field with the Command Force," Blakely said. "We see our stuff on [Commanders in-game host] GeNienne [Samuels], we've dressed her a lot of the season. We did the Lady Commanders jackets for a lot of player wives. So, it really feels like I'm home. It's really appreciated."
When she is not painting a set of shoes for a client or cheering on the Commanders at FedExField, Blakely can be found giving back to those in need. Service is an important element of her and her husband Taylor's life.
"We're a veteran-owned and operated business -- my husband served -- and we're a woman-owned business so we give back to anybody we can at all times," she said.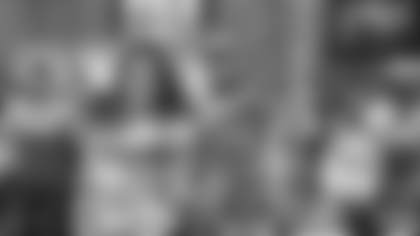 "At all times" truly describes it. They donated thousands of masks to first responders during the height of the pandemic. Each time Passion for Ezra makes a custom cornhole game for someone, Blakely and her husband donate one. They put on Easter Bunny and Santa Claus events, focusing on giving time to veteran families, people with terminal illness and kids with debilitating issues. And, throughout the year, Blakely has been known to give her Commanders tickets away to those who may be less fortunate. 
"Being tied into this community is really important to us," she said. 
Considering the person she is and the diehard way she loves her team, it seems the Commanders picked a gem to call its 2023 Fan of the Year. As part of her selection, Blakely was gifted two tickets to LVIII in Las Vegas. Going to that game will be a full circle experience in what's been an unforgettable year.  
"This year started with Donna Kelce and the Super Bowl, and it's going to go to the next level with the Commanders," she said. "There's no down, it's all just up."