Tom Compton has been all over the place for the Redskins' offense this season.
As the team's swing tackle, he's already played both left and right tackle on several occasions when Trent Williams or Tyler Polumbus were nicked up and needed attention from the team's medical staff.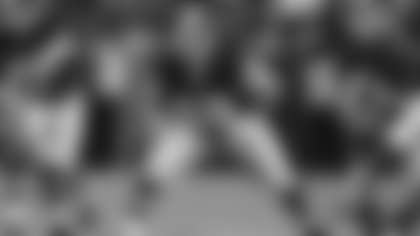 Compton has even lined up at tight end on occasion, when head coach Jay Gruden needs another big, athletic body in there that knows how to throw a quality block.
So after gaining all that experience in the first seven games of the season, Gruden has decided the three-year pro has earned his first-career start.
Gruden announced Friday that Compton will get the start Monday when the Redskins travel to Dallas to take on the Cowboys at AT&T Stadium.
"We're going to start with Compton this week," the first-year head coach said. "He's done a good job. All throughout camp he's been a very good swing guy for us. He's been our extra tight end. We go big situations where he comes in and reports eligible – he's our tight end. He's got some reps in game situations."
Gruden said Compton – who stands at 6-foot-5 and weighs 308 pounds – responded well when he was placed into the game at right tackle for Polumbus last Sunday against the Tennessee Titans.
Compton and Polumbus alternated throughout the second half, when the Redskins used a 22-yard field goal in the final seconds to defeat the Titans, 19-17.
Gruden said while Compton gets the starting nod on Monday, both Polumbus and rookie tackle Morgan Moses need to be ready to go in a pinch, too.
"[Compton] played well against Tennessee in the reps he got so we're going to give him an opportunity to start," Gruden said. "Still, Tyler will be ready to roll and Morgan [Moses], we've just got to decide who's going to be active as far as the extra tackle's concerned."
Compton – a Rosemount, Minn. native – was drafted by the Redskins in the sixth round (193rd overall) of the 2012 NFL Draft. He spent a majority of his rookie year on the practice squad, and was signed to the team's active roster Week 13.
Last season, Compton played in 15 games and was primarily a contributor on special teams, making his NFL debut against Philadelphia Week 1 and also appearing on offense as a tackle-eligible tight end.
Redskins offensive coordinator Sean McVay said Compton plays with confidence, and "has done a nice job" with his opportunities so far this season.
"He's gotten a bunch of experience playing right and left over the last couple seasons," McVay said. "[Offensive line coach] Chris Foerster does an excellent job with those linemen, and [Compton's] done a nice job this week."