Editor's note: Leading up to the NFL Draft, Redskins.com's Larry Weisman profiles some of the Redskins' potential draft targets in the first round and beyond. Up next: quarterback Tyrod Taylor.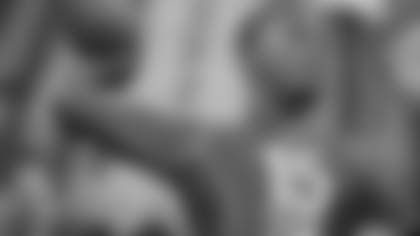 Tyrod Taylor sees himself as a quarterback. Always has. For good reason.
As the Atlantic Coast Conference's Offensive Player of the Year last season, he owns the credentials to make his case.
So when he hears that NFL teams might see him playing another position, he's smart enough not to say no and confident enough to restate what and who he is.
"I'm a quarterback and I've been playing this position since I was five," Taylor says. "No other position. My preparation, my training, my thought processes come from being a quarterback.
"So to play another position, I'd be starting all over again. I'm a winner at quarterback. That's what I do. Look at the numbers that I put up at Virginia Tech."
A three-year starter for the Hokies, Taylor leaves as Tech's career leader in total offense, career passing yards, career rushing yards for a quarterback, career rushing touchdowns by a quarterback and touchdown passes in a season.
He peaked as a senior, throwing 24 touchdown passes and only five interceptions.
What inclines the NFL to think of him moving elsewhere? First, size. At 6-1, 216 pounds, he's a little shorter than most teams like. There are some questions about his mechanics and his footwork, but certainly not about his ability to make plays.
"My height has never been a problem for me in finding passing lanes," Taylor says. "It is nothing that I can't see over the line of scrimmage."
He's confident that other perceived defects can be coached and fixed.
"Of course you know what your weaknesses are," he says. "And that's what you try to work on to get out of your game. At Tech we ran a pro-style/spread (offense). I can throw it in the pocket, I can throw out of the pocket, I've got the ability to keep a play alive and get the ball downfield. My touchdown to interception ratio was one of the best in the country, if not the best."
Taylor showed a willingness to use his feet to buy time and make throws in the East-West Shrine Game and he threw accurately and well at the Indianapolis scouting combine.
So he'd like to stay put at quarterback and he'll make one final argument on that count.
"I think some people see my athleticism and think I should play another position. But I don't think they should hold that against me," he says. "Just put it together and make a better quarterback, especially with defenses getting as fast as they are now. I think I have everything I have to have to be a quarterback."
---
Larry Weisman, an award-winning journalist during 25 years with USA TODAY, writes for Redskins.com and appears nightly on Redskins Nation on Comcast SportsNet. Read his Redskinsblitz blog at Redskinsrule.com and follow him on Twitter.com/LarryWeisman.