Hi Washington Football Family,
Tuesday is the classic "Day Off" for the guys on the squad, where they are focused on recovery, spending a little time with family, and pivoting their attention to the next game. A deep breath if you will. I thought that I would take advantage of that natural break in the week to give you a weekly update on the business side of the Washington Football House. I use a slightly longer format to answer some of the things I expect are on your minds, since 280 characters don't allow you to get details and often bring out the shittiest aspects in all of us 😊. So here we go…
Reflections From Cardinals Week
I played my last two NFL seasons for the Cardinals, so I was disappointed when I had to cancel my trip to see the game, reconnect with old friends and walk the stadium I once played in. But even though I did not get to experience the nostalgia in person, I got to do it virtually from my basement. Seeing the same head trainer on the field with a bit more gray hair (sorry Tom), recognizing the spot where I got "knocked the f* out" (Smokey from Friday voice) on a kickoff return, and seeing my teammate Larry Fitzgerald still (argh!) making plays was a bit surreal.
But viewing the game as a fan is very different from how a game is experienced as a player. I don't have the inside information I'm used to having. The third-down defensive package; the kick return scheme; the proper depth for routes --- a player or coach's understanding of these things allow him or her to more easily diagnose what went right or wrong on a given play. Inside knowledge allows me to mentally convert football into a game of math and execution. Each play has an inherent probability of success based on how the two teams line up and how the plays are dialed up. Then the success of each play is dependent on how well the play is executed by the individuals on the field. Math and execution. As a result, it is often much easier for players and coaches to logically break down what happened, adjust, and (mostly) stay out of an emotional frenzy that leads to bad decisions.
Being a fan is different. I don't actually know what the hell is supposed to happen on a given play, so I attribute the outcome to (choose your favorite)… one guy "wanting it more than the other"; a player being "in the zone"; someone being a strategic genius or coaching dunce; supernatural motivation and momentum; being a team of destiny or doom. And when the outcome is due to one of those intangibles, my emotions swing high with joy, burn hot with anger and dip low with dejection on a play-by-play basis. I'm in a glass case of emotion™… and I love it. Experiencing the game from my gut instead of my head these last two weeks has been incredible.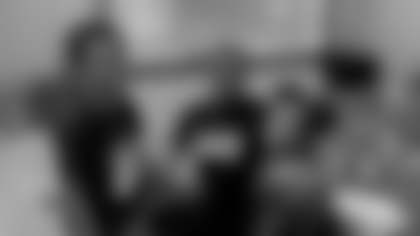 Those experiences have me thinking about how we, as a business, can revamp the fan experience. If fandom is indeed lived from the gut, we need to focus on making meaningful emotional connections between our fans, the players, and the community. When fans next walk into FedExField, how can we make sure we don't lose the best aspects of our history that includes pioneers (Mitchell, Williams), superstars with big personalities (Theismann, Cooley), the supernaturally skilled (Green, Monk), gritty greats (Grimm, Riggins), quintessential ball players (Baugh, Jurgensen) and so many more? How can we show that we really know our fans by tailoring experiences to them so that they don't feel disposable? How can we think about the future fans, those younger and not yet diehard, and design offerings that allow them to engage the game in new, unique ways? What can we try to do now, using technology in the context of COVID, to help our fans feel more connected to the club and to the guys on the field even though they aren't in person? This week, our commercial, marketing, and operations leaders are developing new concepts that we can pilot in anticipation of a return to the stadium, and they've got me excited. We may only be able to make modest progress while COVID-19 still dictates our lives (screw you COVID, for real), but we are damn sure going to try. Fandom is more special than I knew, and it will always be a worthwhile investment to stoke those passionate flames that our fans carry in their hearts.
Business Question Of The Week
When will we reconsider having fans again at FedExField?
As we see other teams play around with hosting fans in their stadiums, it's natural to ask "why not us?" Well, rest assured that I am asking myself and our leadership team this question every week. As I noted above, it's important to strengthen the connection between the fans and the club wherever we can, and nothing does that quite like being together in the stadium, taking on the opponent together. Consequently, I am eager for in-person viewing to return, just like you… but not at the expense of public safety. As a result, we are reviewing the data each week to see what is happening with other teams, looking at national and local infection rates, and reviewing state and local guidelines for safety. Right now it's still a "no" based on a few factors:
1. Sports gatherings caused the outbreak in Europe to accelerate. I follow European soccer, and the biggest news story of the last year was not about my squad winning the Premier League (#YNWA). It was the fact that one European Champions League soccer match accelerated the spread of COVID-19 throughout Italy. We must learn from this and take on our role as good stewards of our fan base and good corporate citizens of the DMV and this country. This means taking all precautions to ensure we do not cause a similar negative outcome.
2. Data from the first few home games with fans is still rolling in. Kansas City followed all the proper COVID protocols to the letter, and I give them so much credit for being able to execute with such precision and excellence. Yet even with that, we now know that at least one fan at the game had COVID-19. Due to the Chiefs' remarkable operational discipline, it is likely to remain an isolated case, but we are a ways away from having enough case examples to suggest that we, in a larger metropolitan area, can take the same approach. Dallas' home game this past week will be a very helpful use case for us all.
3. We are best served by trusting state and local guidelines. Prince George's County, where FedExField is located, is being incredibly thoughtful about reopening, and I am grateful for County Executive Alsobrooks's strong leadership in our region. Based on all existing guidelines, the largest outdoor gatherings in the county cannot top 250 people. We will follow those guidelines until something changes and we can talk with county leaders about a larger gathering at the stadium.
In short, I'm eager to find a way to get us back into the stadium as soon as possible because we love our fans and love being together as a family on gameday. But that love also compels us to prioritize the health of each and every person who supports this club, and the communities they live in, above all else.
Encounters Of The Week
I did an interview this week with CBS Sports hosted by three charismatic women who hit me with hard questions, yet allowed for lots of levity between serious topics. I didn't realize until the interview ended that one of the hosts was THE Lisa Leslie -- famous US National Team basketball captain, Los Angeles Sparks WNBA legend and certified BOSS! I grew up in the Los Angeles area and my parents had Sparks season tickets. They were the first season tickets we bought since the Raiders left LA, and we were devoted to the team. I remember seeing Lisa Leslie throw down the first ever in-game dunk by a woman against Miami (to the dude who just rolled your eyes -- get off the hater-ade for just a moment and relax bruh). I fondly recall moments of sheer joy after a Sparks win, hugging my sister as purple, green, and gold confetti rained down on us. But I most vividly remember the bold message of women's empowerment that the WNBA, and Lisa Leslie in particular, embodied. Through various public service announcements, creative commercials and honest media interviews, the Sparks players demanded to be respected and treated as professional peers to their NBA counterparts. They advocated for women in other professions to be similarly respected and have better access to job progression and pay in their workplaces. They were on the "more than an athlete" kick well before it was so pervasive. This shaped me and my sister profoundly. It reinforced my desire to use whatever platforms I might gain through athletic success to advocate for the causes and people that I wanted to see uplifted. So, meeting Lisa this week left me a little starstruck -- something that never happens to me. Thank you for your inspiration, Lisa, even though the weight of your influence on my family made me an embarrassing, giddy mess after our interview 😊.
What's Next
This week we will head to Cleveland to take on the team where I spent most of my NFL career. Cleveland believed in me as an athlete and as a person, and launched me into a real career. It's also where I learned how deeply the economic and emotional vitality of a region can be tied to a sports franchise (insights I'm using now in my current role). "I'm grateful for all of that... But I still want to beat the brakes off the Browns. Let's go team!