Gameday Graphic for Game on 9/4/2008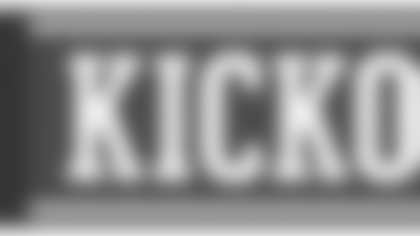 The Redskins kick off the 2008 NFL season on Thursday, Sept. 4, as they travel to North Jersey to take on the defending Super Bowl champion New York Giants at the Meadowlands. Kickoff is 7 p.m. ET.
The Meadowlands has a FieldTurf surface. The stadium, which also houses the New York Jets, seats 80,242.
It's the second time in six seasons that the Redskins are part of the NFL's kickoff game. In 2003, the Redskins opened the NFL season against the Jets at FedExField, winning 16-13.
In 2004, the NFL started a tradition in which the previous season's Super Bowl winner hosts the NFL Thursday night season kickoff the following September.
The Redskins-Giants game marks the regular season debut for new head coach Jim Zorn. He takes over for Joe Gibbs, who retired after last season.
How important is the game? Just ask Chris Cooley.
"Season openers set a real standard for your team," Cooley said.
Since 1978, teams that are victorious on Kickoff Weekend are more than twice as likely to reach the playoffs than losers of an opening game.
The game will be televised nationally on NBC. Al Michaels will call the play-by-play and John Madden will provide color commentary. Adam Schefter will serve as side reporter.
On radio, the game will be broadcast locally on ESPN 980. Larry Michael handles the play-by-play with color commentary by Hall of Famers Sonny Jurgensen and Sam Huff. Rick "Doc" Walker will serve as sideline reporter.
Westwood One Radio will air the contest nationally with play-by-play announced Marv Albert teaming with color analyst Boomer Esiaison and John Dockery reporting from the sidelines.
The Redskins produced a 3-2 preseason record. They are coming off a 24-3 loss to the Jacksonville Jaguars in which the first-team managed just 14 yards and produced no first downs in three offensive series.
The Giants finished preseason with a 2-2 record. In a Super Bowl XLII preseason rematch, they defeated the New England Patriots 19-14, but rested key starters in quarterback Eli Manning, wide receiver Plaxico Burress and defensive end Justin Tuck.
The Redskins are 37-35-4 in Week 1 games of the NFL regular season.
---
PROJECTED STARTING LINEUPS
OFFENSE
Pos.
Redskins
Giants
WR
89 Santana Moss
17 Plaxico Burress
LT
60 Chris Samuels
66 David Diehl
LG
66 Pete Kendall
69 Rich Seubert
C
61 Casey Rabach
60 Shaun O'Hara
RG
77 Randy Thomas
76 Chris Snee
RT
74 Stephon Heyer
67 Kareem McKenzie
TE
47 Chris Cooley
89 Kevin Boss
WR
82 Antwaan Randle El
81 Amani Toomer
QB
17 Jason Campbell
10 Eli Manning
FB
45 Mike Sellers
39 Madison Hedgecock
RB
26 Clinton Portis
27 Brandon Jacobs
DEFENSE
Pos.
Redskins
Giants
DE
99 Andre Carter
91 Justin Tuck
DT
96 Cornelius Griffin
96 Barry Cofield
DT
64 Kedric Golston
98 Fred Robbins
DE
55 Jason Taylor
98 Mathias Kiwanuka
SLB
53 Marcus Washington
55 Danny Clark
MLB
59 London Fletcher
58 Antonio Pierce
WLB
52 Rocky McIntosh
59 Gerris Wilkinson
LCB
24 Shawn Springs
31 Aaron Ross
RCB
22 Carlos Rogers
23 Corey Webster
SS
37 Reed Doughty
37 James Butler
FS
30 LaRon Landry
20 Michael Johnson
SPECIAL TEAMS
Pos.
Redskins
Giants
P
14 Durant Brooks
18 Jeff Feagles
K
6 Shaun Suisham
5 John Carney
H
14 Durant Brooks
18 Jeff Feagles
LS
67 Ethan Albright
51 Zak DeOssie
KOR
31 Rock Cartwright
87 Dominik Hixon
PR
82 Antwaan Randle El
25 R.W. McQuarters
---
The Redskins and New York Giants have played each other every year since 1932, with the Giants leading the series 85-61-4. The two teams have played each other more than any other team in each club's history.
The Redskins are 12-20 all-time playing the Giants at the Meadowlands.
It's the ninth time the Redskins and Giants have played in Week 1 of the regular season. The Giants hold a 5-3 edge in these games and have won the last four. The last time was Sept. 6, 1998, won by New York 31-24.
The Redskins won the last game in the series, on Dec. 16, 2007, by a 22-10 score at the Meadowlands. It was the second of four season-ending wins for the Redskins en route to a Wild Card playoff berth.
In the game, the Redskins' offense controlled the line of scrimmage, allowing Clinton Portis to rush for 126 yards and a touchdown on 25 carries. Ladell Betts added a 14-yard touchdown run.
Todd Collins was the quarterback and he completed just 8-of-25 passes for 166 yards amid windy and rainy conditions.
The defense was led by London Fletcher's 10 tackles and Andre Carter's two sacks. Shawn Springs and Fred Smoot combined for six pass break-ups.
The Redskins and Giants have split the season series four times in the last five years.
The Redskins' first-ever game in Washington, D.C., was against the Giants. On Sept. 16, 1937, the Redskins defeated the Giants 13-3 in front of 19,941 fans at D.C. Stadium.
The Redskins and Giants have played just once in the postseason, in 1986 when New York defeated Joe Gibbs's Redskins 17-0 in the NFC Championship game at Giants Stadium. The Giants went on to win the Super Bowl.
Coincidentally, when the Giants win the Super Bowl it has meant good fortune for the Redskins.
In the seasons following the Giants' two previous Super Bowl championships, the Redskins swept the season series and went on to win the Super Bowl themselves while compiling a 31-6 overall record.
---
REDSKINS 2007 RANKINGS
Offense
Rank
Yards/Game
Total Offense
15
333.4
Rushing Offense
12
115.0
Passing Offense
14
216.4

Defense
Rank
Yards/Game
Total Defense
8
305.3
Rushing Defense
4
91.3
Passing Defense
16
214.0
GIANTS 2007 RANKINGS
Offense
Rank
Yards/Game
Total Offense
16
331.4
Rushing Offense
4
134.3
Passing Offense
21
197.1

Defense
Rank
Yards/Game
Total Defense
7
305.0
Rushing Defense
8
97.7
Passing Defense
11
207.3
---
FAMILIAR FACES ON THE GIANTS
Defensive coordinator Steve Spagnuolo was a Redskins personnel intern in 1983. He interviewed for the Redskins head coaching job last January.
Offensive line coach Pat Flaherty was a Redskins tight ends coach in 2000.
Tight ends coach Michael Pope was a Redskins tight ends coach from 1997-99.
Linebacker Antonio Pierce played for the Redskins from 2001-04. He was a backup his first three years, and then emerged as a starter at middle linebacker in 2004. He left the Redskins in 2005 as a free agent.
Defensive end Renaldo Wynn played for the Redskins from 2002-06. A five-year starter at defensive end, Wynn was one of the most popular Redskins among teammates and fans and was very active in the Washington, D.C., community.
---
REDSKINS-GIANTS NEWS & NOTES
-- First-Year Redskins Head Coaches
Jim Zorn makes his NFL head coaching debut on Thursday night against the New York Giants.
Redskins head coaches are 11-13-3 all-time in their debuts with the franchise, including Joe Gibbs's win to begin his second tenure with the club.
Five have gone on to have winning seasons, not including Dick Todd who was 5-4 after taking over three games into the 1951 season.
The most successful first-year Redskins head coach was Hall of Famer George Allen in 1971. He produced a 9-4-1 record.
Twelve first-year Redskins head coaches suffered losing campaigns, including Gibbs's return in 2004.
Herman Ball coached the final seven games in 1949 and finished 1-4 while Terry Robiskie finished 1-2 coaching the last three games of 2000.
The least successful first-year Redskins head coach was Bill McPeak in 1971, with a 1-12-1 mark.
Seven first-year head coaches ended their seasons with a .500 record.
If Jason Taylor is cleared to play on Thursday night, then he will make his Redskins regular season debut against the Giants. Taylor has been slowed the last two weeks by a sprained knee.
The Redskins traded with the Miami Dolphins to acquire the six-time Pro Bowler on July 20.
Taylor and Andre Carter are one of three sets of current NFL teammates who both registered double-digit sack totals in 2007. Coincidentally, all three duos reside in the NFC East in Dallas's DeMarcus Ware and Greg Ellis and the New York Giants' Osi Umenyiora and Justin Tuck.
Taylor had 11 sacks last season while Carter had 10.5.
Taylor's 117 sacks are the most among all NFL active players and rank 14th all-time in NFL history.
Additionally, Taylor's 100.5 sacks this decade are a league-high, 11.5 more than Michael Strahan's 85 and 26 more than any other active player (Leonard Little, 74.5).
Taylor has also demonstrated a propensity for getting his hands on the football as his 41 forced fumbles are 10 more than any other current NFL player (Dwight Freeney and Little, 31).
Taylor has started 130 consecutive games, which ranks seventh among active players.
Fletcher has been one of the NFL's most consistent and productive defensive players throughout his 10-year career.
That continued last season, his first in the nation's capital, as the 5-foot-10, 245-pound Fletcher was named a first-alternate to the Pro Bowl after starting all 17 of the team's games and leading the Redskins with 164 tackles.
Fletcher has started 119 straight league contests, a figure which ranks eighth among active players.
Last year also marked the ninth straight in which he recorded at least 100 tackles, dating back to 1999 when he was in his second season with the St. Louis Rams.
That streak is topped only by Tampa Bay's Derrick Brooks and Kansas City's Donnie Edwards, who have reached the plateau in 12 consecutive campaigns.
Since entering the NFL in 2002, Clinton Portis has established himself as one of the premiere running backs in football.
Among active players, the seventh-year pro from Miami ranks seventh in career rushing with 7,715 yards and third in rushing touchdowns with 63.
His 91.8 rushing yards per game is second among active players, trailing only LaDainian Tomlinson's 95.9-yard average.
Portis has compiled 4,616 rushing yards for the Redskins, which ranks fourth all-time in franchise history.
With 1,260 rushing yards in 2008, Portis would pass Stephen Davis and Larry Brown to move into second place in Redskins history in that category.
With 11 rushing touchdowns, Portis would move ahead of Brown and Terry Allen and tie Davis for second place all-time in club history.
-- Redskins Preseason Stat Leaders
Jason Campbell started all five games for the Redskins and completed 23-of-39 passes for 202 yards, one touchdown and one interception. He was sacked five times. His QB rating was 70.7.
Marcus Mason, released by the team in final roster cuts, led the Redskins in rushing with 317 yards on 66 carries. Rock Cartwright had 158 rushing yards on 20 carries.
Billy McMullen, also released by the team in final roster cuts, led the receivers with 20 catches for 227 yards. Fred Davis added 10 catches for 85 yards.
Shaun Suisham connected on 5-of-6 field goals and all seven PAT attempts.
Khary Campbell led the Redskins' defense in tackles with 21, followed by practice squad defensive back Matteral Richardson with 20 and Alfred Fincher with 20.
Rob Jackson, Lorenzo Alexander and Chris Horton tied for the team lead in sacks with two each. Reed Doughty had 1.5 sacks.
Richardson and J.T. Tryon were active in the secondary, both leading the Redskins with three passes defended. Richardson also picked off a pass in the Hall of Fame Game on Aug. 3 and returned it 38 yards for a touchdown.
Kareem Moore, who has started two games at free safety for the injured LaRon Landry, and Doughty also recorded interceptions.
Washington finished with a 3-2 mark in preseason play. The Redskins are now 108-127-2 all-time in preseason play.
The Redskins beat the Indianapolis Colts 30-16 in the Hall of Fame Game on Aug. 3, and then defeated the Buffalo Bills 17-14 and the New York Jets 13-10.
They closed out preseason with a pair of losses, 47-3 to the Carolina Panthers and 24-3 to the Jacksonville Jaguars.
The Giants were 2-2 in preseason, beating the Cleveland Browns 37-34 and New England Patriots 19-14 while losing to the Detroit Lions 13-10 and New York Jets 10-7.
The Redskins have played in the Thursday night season opener on one other occasion.
On Sept. 4, 2003, they defeated the New York Jets 16-13 at FedExField. John Hall kicked a 33-yard field goal with five seconds remaining to lift Washington.
The Redskins have opened their season against the defending Super Bowl champion once before.
On Sept. 6, 1993, the Redskins defeated the defending Super Bowl champion Dallas Cowboys 35-16 at RFK Stadium.
Washington has opened the season three other times against defending NFL champions.
The Redskins lost at home to the Cleveland Browns 17-7 in 1965. They lost to the Baltimore Colts 20-0 in 1960 and defeated the Browns 27-17 in 1955.
Eli Manning went on a hot streak late in the 2007 season and guided the Giants to a Super Bowl XLII championship. He was named MVP of the Super Bowl for his efforts.
Against the Redskins, Manning has been up and down in his career.
Overall, Manning has played in seven games against the Redskins, completing 121-of-245 passes for 1,276 yards, six touchdowns, four interceptions and a QB rating of 66.3.
Manning's best game against the Redskins was on Oct. 8, 2006, in a 19-3 win. He completed 23-of-33 passes for 256 yards and one touchdown.
Plaxico Burress is Manning's favorite target. Burress has caught 24 passes for 298 yards and two touchdowns in six games against the Redskins.
Amani Toomer is another Giants player who has had success against the Redskins. In his career, Toomer has caught 76 passes for 1,086 yards and six touchdowns in 21 games.
The Giants finalized their roster on Sunday, signing veteran kicker John Carney and defensive end Jerome McDougle.
With Lawrence Tynes unable to kick due to a knee injury, the Giants turned to 21-year veteran Carney.
Carney has played 274 regular season games for six times, most notably San Diego (1990-2000) and New Orleans (2001-06). He has made 425-of-519 field goals, an 81.9 percentage, and 537 extra points for 1,812 career points.
McDougle was a first-round draft choice by the Philadelphia Eagles in 2003. He has struggled with injuries most of his career. He adds depth to a Giants defensive line that has lost Michael Strahan to retirement and Osi Umenyiora to a knee injury.
Clinton Portis and Jason Taylor both celebrate their birthdays on Sept. 1. Portis turns 27 while Taylor turns 34.
Demetric Evans turns 29 on Sept. 3.
With seven receptions, Chris Cooley ties Larry Brown for 10th most in Redskins franchise history with 238.
Shaun Suisham has made all eight of his field goal attempts at the Meadowlands, including a 5-for-5 effort against the New York Jets on Nov. 4, 2007.
James Thrash will see action in his 150th career contest.
Redskins defensive tackle Cornelius Griffin played for the Giants from 2000-03. He was a second-round draft pick by the Giants in 2000.
Even though he maintains a low profile on the team, Griffin remains a central figure in the Redskins' defense.
When healthy, he has proven to be a dominating force in the middle of the defensive line.
Redskins wide receiver Santana Moss is the older brother of Giants third-year wide receiver Sinorice Moss.
Santana has 61 catches for 808 yards and three touchdowns last season, while Sinorice had 21 catches for 225 yards.
Following Thursday night's NFL season opener, the Redskins host the New Orleans Saints at FedExField on Sunday, Sept. 14. Kickoff is 1 p.m. ET. It's the first daytime contest the Redskins will play this year.