Wendell Smallwood could hear the squish from the ground as he trotted onto field and entered the huddle for the first time against the San Francisco 49ers on Sunday.
Smallwood had watched starting running back Adrian Peterson rip his way through the NFL's second-best defense seven straight times as the rain continued to pour on an already wet and sloppy field. Now, with the Redskins facing a 2nd-and-7 from the 49ers' 40-yard line, it was his turn to make a splash.
Keenum snapped the ball and immediately tossed it to Smallwood for an outside zone play. It quickly became apparent that it was going to work; as right tackle Morgan Moses dove at 49ers safety Jaquiski Tartt, causing him to stumble onto the grass, tight end Jeremy Sprinkle cut off cornerback Richard Sherman, allowing Smallwood to sprint through the crease for a 17-yard gain.
It's that kind of production that gave the coaching staff confidence in Smallwood having a larger role in the offense with Chris Thompson out with a toe injury. Smallwood played in 35% of the offensive snaps -- the most he's been featured all year -- and had a season-high 41 total yards.
"It was fun just being able to get in there and actually get some plays and get the ball in my hand," Smallwood said. "I wish we could've gotten the win, but I enjoyed it."
Smallwood, a fifth-round pick in 2016 by the Philadelphia Eagles, was a late addition to the Redskins roster. After rushing for 364 yards and on 84 carries and making 28 receptions for 230 yards in 2018, the Redskins claimed him off waivers in August.
Smallwood joined a crowded position that included Peterson, Thompson, Derrius Guice and Shaun Wilson, though Guice and Wilson have spent much of the season on Injured Reserve. And with Thompson missing the San Francisco game, the Redskins looked to Smallwood to fill the void.
"We thought Smallwood played really well," interim head coach Bill Callahan said of Smallwood's performance. "He was really functional in the passing game in terms of protection and pickup. He knew where to be, his check downs were in order."
Smallwood has been used sparingly for the most part this year outside of special teams, where he is a more consistent contributor. His average snap count was 11% prior to Sunday's game and varied from being inactive in the season opener against the Philadelphia Eagles to 24% the following week against the Dallas Cowboys. That percentage has been steadier the past two weeks, though, with Smallwood getting 10 snaps against the New England Patriots and the Miami Dolphins.
With Thompson sitting out Sunday, Smallwood knew his offensive role was sure to increase. He made sure to make every play count.
"You gotta be ready for any opportunity," Smallwood said. "Nothing is guaranteed in this league for anybody around here. So I'm definitely all about taking advantage of your opportunities, especially with me."
Smallwood's role requires him to be versatile and adaptable, which is why he studies everything that Thompson and Peterson do in case he needs to fill their spots.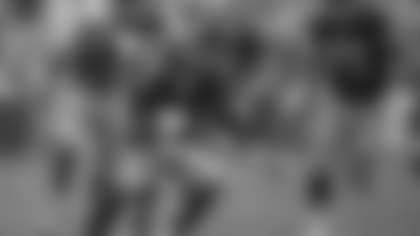 "I decided to step up and I knew that if [Thompson] goes down, I gotta be ready," Smallwood said. "Just like that, it can turn around. It's the same with AP. If AP would've went down, I would've had to know what AP could do. I'm just the next man up in the room."
Smallwood followed up his 17-yard run with a screen pass in the second quarter that went 18 yards. Both plays were practiced all week, and Smallwood said they were executed well.
"Both of those plays…were probably the best they've looked," Smallwood said. "Probably didn't look too clean in practice, but it got the best look in the game, so that's all that mattered."
Thompson is still recovering from his injury, so it's unknown if he'll be ready for Thursday's road game against the Minnesota Vikings. If the coaching feels like Thompson can't make the trip, that means Smallwood will be in the backup running back role once again, and he'll do what always does: make the most of his chances.
"Going forward, he definitely has a role for us," Callahan said. "We're excited about his future. He's a guy that comes to work every day. He comes in early, practices hard. He's a dependable guy. He's got all those traits you look for."