Seventy-five seventh-grade girls sat and listened as Melonie Ducre Johnson, president and COO of MGM National Harbor, told them of her moments of self-doubt and ensuing reaffirmation of self-love.
"I stood up for myself, and I wasn't going to allow somebody to just push me in a corner and tell me that I was something I knew that I wasn't, because I thought I was a queen," Ducre Johnson said. "When you're successful and you look back you're gonna be so proud of yourself that you didn't allow someone else to break you."
The fall summit for the ASPIRE initiative, created by the Washington Redskins Charitable Foundation in partnership with Visa, marks the second year of the program that seeks to inspire, educate and build confidence in young women who are going through a transitional period in their lives.
Following the keynote and panel discussions, girls participated in to two breakout sessions, including a tour of Visa's cyber center to learn about different career opportunities available in tech, as well as a breakout on social media and personal branding, where the girls were given the opportunity to come up with collaborative descriptions of what social media means to them.
"We do 125 events per year at the foundation and this is my favorite," the Executive Director of the Charitable Foundation, Jane Rodgers, said. She added that the event was tailored toward seventh-grade girls because herself and every woman she spoke to found that age to be their most difficult and confusing growing up.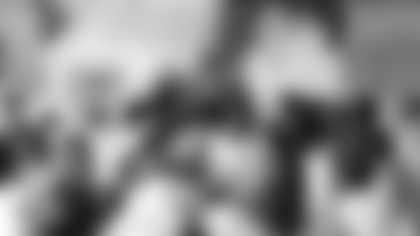 Ducre Johnson encouraged the girls to value themselves over the opinion of others, and added that her first step to success was surrounding herself with the right people.
After that? She forged a career path that eventually landed her a job in charge of 4,000 people as the president of a major casino. Ducre Johnson said she wanted to quit repeatedly during her journey to the top, as it was incredibly difficult to advance in her career as a black woman.
In addition to keynote speaker Ducre Johnson, the event also featured a panel of three influential women from different career and personal backgrounds, which was moderated by Carol Maloney, a longtime DMV area sports reporter.
The panel was made up of Carissa Cullbreath a tax manager for BDO, Kat Maniatakis, an associate producer at Bleacher Report, and Jess Portillo, a senior associate at KPMG.
Each woman shared their story of how they their path from seventh-graders to the positions they were in now. Common themes were belief in oneself, supporting each other and fighting for a career even if they were told it was not a place for women. Both Portillo, who has worked in IT, and Maniatakis who has worked in sports media, said they had to prove they deserved to be there just because they were women in male-dominated fields.
"I think if you trust your process and trust yourself and understand who you are, those strengths, those weaknesses, just how genuine and how wonderful you are and what you bring to the table every single day. That is going to carry you as far as you want to go in any career," Maniatakis said. "You start learning like what is your strength, what's your weakness and how you can really set yourself apart. And I think just remembering to trust yourself and what you have every single day, that's what's going to carry you really far."
When told to expand their comfort zone, one seventh-grader asked if that included bringing in others who needed support.
"One hundred percent. I think you rise by lifting others, I believe Maya Angelou said that," Maniatakis said. "Everyone needs someone and at the end of the day you don't know what anyone else is going through so just being that person for anyone that needs it or just being positive, that one compliment or that one 'Hey if you need anything I got you,' that kind of thing, especially as girls and women who are growing and evolving we need to have that, and that's a big part of going out of your comfort zone too."
The panelists were also asked whether they ever saw themselves being in the positions they are now, and if they had something they did on a daily basis to help them achieve that success.
"It's not so much that the success makes you happy, it's that the happiness makes you successful," Maloney said.
The participants will come back together in March 2019 for the Spring Summit focused on living a healthy life.