London Fletcher felt the Redskins were a team of destiny. He thought the team was headed for greatness--they were on a roll that would lead them to Super Bowl XLI.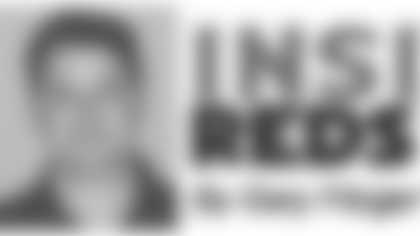 He had not felt that way about a team since early in his career, when he made a pair of Super Bowls with the St. Louis Rams in 1999 and 2001.
That's what made Saturday's 35-14 loss to the Seattle Seahawks in the Wild Card playoff round so stunning.
"I think to a man everyone is disappointed with the outcome of the game," he said. "It's really disappointing because we really didn't think this was going to end without us reaching [the Super Bowl]. We were so confident, we felt like we were playing so well, that we weren't going to be defeated without getting to the Super Bowl.
"We battled, battled, battled, and then we got the lead [against Seattle]. Then we got the football on the kickoff and we're thinking, 'We're going to Dallas next week.' We know what we were going to do to them.
"It didn't work out for us. It just doesn't seem right that it's over for us."
On Sunday and Monday, players gathered their belongings and departed Redskins Park for an offseason.
Some players said they would take time to reflect on what turned out to be a trying season for everyone involved in the Redskins organization.
In the first two weeks of the regular season, the Redskins lost their right side of the offensive line when Jon Jansen and Randy Thomas succumbed to injury.
Later, the Redskins lost cornerback Carlos Rogers, linebacker Rocky McIntosh and quarterback Jason Campbell to season-ending knee injuries.
Midseason, the Redskins had a series of close, heart-breaking losses, resulting in a four-game losing streak.
Then, the Redskins lost Pro Bowl safety Sean Taylor when he was tragically murdered in his Miami home on Nov. 27.
Through it all, the Redskins battled back from a 5-7 record to win their last four games and earn a Wild Card playoff berth.
Despite the loss to Seattle, Santana Moss said the Redskins can hold their heads high.
"It's hard when you lose and it hurts for so many different reasons," he said. "Losing is never fun this time of year, but everyone has to hold their heads up high and if we keep playing the way we played [vs. Seattle], that is a lot of promise in what we can be in the near future.
"Every guy has shown what they are made of and how dedicated they are to this team to take it this far. I feel like you hurt more because you fell so short and you know that the cause was bigger than this game.
"I am just proud to be on this team and we are all blessed to be able to go out and do what we do. I don't ever want to go out there with a different core, with a different team than the one I am on now."
This season was particularly hard on Moss and Clinton Portis, who were among Taylor's closest friends. The three of them played together at the University of Miami.
Portis said he was "definitely proud" of how the team rallied around Taylor and how players formed a close-knit bond.
"Out of this season, you take the positives, and the positives were you had a franchise grow together," Portis said. "You had a team come together. You had a bunch of guys build love for one another, in appreciation of one another.
"That's the best thing that can happen for an athlete in sports, because of the competitive edge or because of always changing teammates, with guys leaving and guys coming. It's hard to grow and it's hard to get used to guys.
"But I think as a team this organization turned from a team to a family. You found a lot of guys who developed a lot of love for one another. That's the best thing that can ever happen out of a season."
Added Fletcher: "I have never been on a team that has been more resilient, a team that has been more battle-tested. We lose some close ballgames down the stretch. We blew some second-half leads. Then, there was Sean's death.
"Then we had a four-game winning streak against some really good football teams. We get into the playoffs. I mean, we've had so many emotions. We've gone through so many different things--we couldn't help but be as close as this team [is]."