For the first decade of the 21st century, the Redskins benefited from the presence of an immovable object on the offensive line.  That player, Chris Samuels, stood as one of the most talented left tackles in the game.
Samuels spent his entire NFL career in D.C. (2000-09) and made six Pro Bowls, the third-most in Redskins history.  He started every one of the 144 games that he played in, including 76 straight starts.  He also blocked for a 1,000-yard rusher in seven seasons, including Clinton Portis and his team-record 1,516 yards in 2005.
This season, Samuels was named one of the "10 for 80," the 10 new names added to the Redskins' 80 greatest list in honor of the franchise's 80th anniversary.
Another member of the "10 for 80," legendary Redskins O-line coach Joe Bugel, coached Samuels for four seasons.  Bugel compared the 6-5, 310-pounder to Jim Lachey, a perennial All-Pro left tackle for the Redskins in the late-1980s and early-1990s.
In Samuels, Bugel also found traces of "Gilligan," the TV character from the 1960s who was stranded on an island, hence the show "Gilligan's Island."
"Excellent athlete, good run man and pass blocker, and can run like a deer," Bugel once said.  "We isolate him one on one like we did with Lachey and leave him on the same guy the whole game.  He's like Gilligan, he's got this guy the whole game."
The Redskins hoped for stardom in Samuels when drafting him with the No. 3 overall pick in 2000.  He yielded no sacks in his last 47 games at Alabama and won the Outland Trophy as the nation's top lineman as a senior.
As a Redskin, Samuels immediately showed the maturity and talent imperative for success at left tackle, which protects the blind side of a right-handed quarterback.  The Redskins' offensive line coach at the time, Russ Grimm, was excited about Samuels' potential, saying Pro Bowl honors awaited him.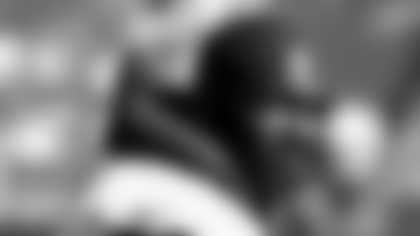 "He'll be one of the top tackles in the league soon," said Grimm, a charter member of the "Hogs" who is in the Hall of Fame.  "There will be some things he needs to learn and some mistakes may pop up.  But he's been solid as far as assignments, and he's been good on pass protection.  He's a physical player."
Early on, Samuels found it much more challenging lining up against pro defensive ends than those in college, whether it was the Eagles' Hugh Douglas or the Ravens' Michael McCrary, both established sack artists at the time.  He noticed that NFL defensive linemen often resort to mind games to outmaneuver players on the opposite side of the ball.
"Defensive linemen are much smarter in the NFL than in college," he said.  They'll set you up for a move later down the line."
Samuels made his first Pro Bowl in the 2001 season and followed up with an appearance in Honolulu in 2002.  But he missed out on a third straight trip in 2003 while losing confidence and struggling with his game, possibly because the Redskins had three different offensive line coaches in his first four seasons.
But things changed when Bugel, one of the greatest O-line coaches in NFL history, arrived in 2004.  Samuels credits Bugel, the architect of the "Hogs," with improving his fundamentals.
"He's the best offensive line coach I've had on this level," Samuels said of Bugel after the Redskins piled up 481 yards in a 36-30 win over Jacksonville on Oct. 1, 2006.  "He's working on us every day.  He's not satisfied with us just blocking a guy.  He wants us to be perfect on technique and everything.  Like today I thought I played pretty good but had a few plays where I got beat, and coach Bugel's going to be breathing down my neck when we watch film on the game."
Samuels, who battled ankle and knee injuries in 2004 and 2005 without missing a game, received Pro Bowl honors again from 2005 to 2008.  Along the way, he was mentioned as one of the game's elite left tackles alongside his contemporaries such as the Rams' Orlando Pace, Seattle's Walter Jones, Baltimore's Jonathan Ogden and Cincinnati's Willie Anderson.
He also held a team leadership role in a quiet, unassuming way.
"Dancing and jaw-jacking and making a lot of noise … that doesn't win games in my opinion," the classy Samuels once said.  "I try to lead by example and with my play on the field."
Right tackle Jon Jansen, a decade-long teammate of Samuels and another "10 for 80" selection, said Samuels confronted teammates face-to-face in hopes of getting them motivated and focused.
"Chris is a great person," Jansen said while the two played together.  "He's a good guy to have on the team because he's a quality individual.  He's not going to go out and get in trouble and get other guys in trouble.  He's a leader in that regard because he'll step up and say things that need to be said.  The more guys you can have like that, especially as offensive linemen, the better chances you have of being successful."
"Chris cares about his teammates," Jansen added.  "He cares about the offense and how we do.  He doesn't want to go out and give a sub-par performance.  That's why he's been to Pro Bowls."
In the 2009 season, Samuels suffered a neck injury in the fifth game and was forced into retirement.  He'll long be remembered as one of the greatest left tackles in Redskins history.
---
Mike Richman is the author of *The Redskins Encyclopedia and the Washington Redskins Football Vault.  He was on the blue-ribbon panel that played a key role in selecting the 10 new names who are part of the Redskins' 80 Greatest team unveiled this season, also known as the "10 for 80."  His web site is www.redskinshistorian.com and his email is mikerichman@redskinshistorian.com.*