They called him "Sweet Pea."
With his long, graceful strides and sure hands, Roy Jefferson was a go-to guy on the receiving end for the Redskins in the 1970s.
Playing in D.C. from 1971 to 1976, he caught 208 passes for 3,119 yards and 16 touchdowns.  He was a consistent threat who helped increase the Redskins' level of success during the historic era of coach George Allen, when they went to the playoffs five times, including an appearance in Super Bowl VII.
"He was a hard-nosed receiver whose only goal was to catch the ball no matter where it was," Mike Bass, a Redskin cornerback who teamed with Jefferson for five seasons, said several years ago.  "He was absolutely fantastic, and I don't think he ever got the credit he deserved."
Jefferson's time has come.  He was chosen as one of the 10 new names who are part of the Redskins' 80 Greatest team announced this season in honor of the franchise's 80th anniversary.  It was a just reward for a man who was a key performer in D.C.
Jefferson was one of the best receivers in the league in his 12-year career, catching 451 passes for 7,539 yards and 52 scores. 
He played his first five seasons in Pittsburgh, leading the NFL in receiving yards in 1968 and setting a team-record for catches the next year (67), before going to Baltimore, where he caught 45 passes in 1970 and earned a ring when the Colts beat the Cowboys, 16-13, in Super Bowl V. 
But Jefferson disliked Colts owner Carroll Rosenbloom and wanted out of Baltimore.  He named three teams that he preferred being traded to: the Redskins, Vikings and Los Angeles Rams.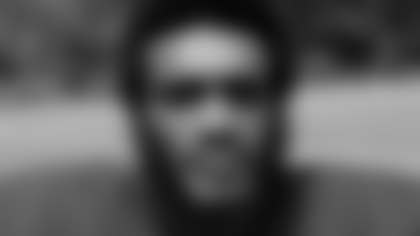 He got his wish.  New Redskins coach George Allen, who had a keen eye for veteran talent, traded his top draft pick in 1971, Texas receiver Cotton Speyrer, plus two draft choices in exchange for the 6-2, 195-pound Jefferson.
Jefferson knew Allen was a conservative, defensive-oriented coach.  But he was eager to play for a man who had transformed the Rams into an NFL powerhouse in the 1960s.
"I knew he was a winner, a thorough coach," Jefferson said.  "Many people think that just because you're a receiver or you play offense that you want to go to an offensive-oriented team.  That wasn't the case.  You always want to have the opportunity to perform and, indeed, my opportunities decreased when I came here to Washington. 
"But I had a very strong feeling based on what George Allen had done in the past that it was going to be a winning situation, and I wanted to play for a winner."
In Washington, Jefferson failed to match the huge numbers from earlier in his career, although he trailed only Redskins legend Charley Taylor in receptions and receiving yards during his six-year stay in D.C. 
His best year was 1971, when he posted team-highs of 47 catches and 701 receiving yards, while becoming the Redskins' primary receiver after Taylor suffered a season-ending injury in the fifth game.  Jefferson made the Pro Bowl that season for the third and final time and earned All-NFC honors.
In perhaps his greatest game ever, he caught eight passes for 137 yards and two touchdowns in a 38-24 win over the Rams in Allen's much-hyped return to L.A. on Dec. 13, 1971.  That victory clinched the Redskins' first playoff berth since 1945.
Jefferson was no stranger to clutch performances. Against the Rams in 1971, he caught a bomb from quarterback Billy Kilmer and ran in for the score to erase a 7-0 deficit. 
He snatched three touchdowns in the playoffs, including a 32-yarder from Kilmer in a 1972 game against the Packers that lifted the Redskins to a 7-3 lead in their 16-3 win, Washington's first postseason victory in 30 years.
Jefferson ran a quick post route on the play, a pattern he specialized in.
"Billy was very good at throwing that pass, and I felt that I made a very good cut on it," Jefferson said.  "It's all a matter of taking the right angle.  If the timing is right and if the guy is off of you, or even if he's in a bump-and-run, as long as you can get inside, there's really no way they can stop it unless they just sit somebody in a spot, and that would be somewhat ridiculous."
Jefferson also caught a few eyes off the field.  When ostentatious clothing was in vogue in the 1970s, he was the Redskins' Mr. Flamboyance.  He wore pink, orange and lavender jumpsuits, bell-bottom pants, colorful velvet hats and a bag over his shoulder that resembled a purse.
"He set the trend on the team," Taylor said.  "He was the fashion king in the mod style.  He wore several outfits.  You name it, he had it."
Late in his career, Jefferson starred in an action movie called "Brotherhood of Death," a story about three African-American men who left their small southern hometown to join the U.S. Army and fight in the Vietnam War.  They later returned to the U.S. and took up racial injustices prevalent in their hometown.  Nearly the entire film was shot in Montgomery County, MD. 
---
Mike Richman is the author of The Redskins Encyclopedia and the Washington Redskins Football Vault.  He was on the blue-ribbon panel that played a key role in selecting the 10 new names who are part of the Redskins' 80 Greatest team unveiled this season.  His web site is RedskinsHistorian.com  and his email is mikerichman@redskinshistorian.com.