Christine Rupert stopped eating her pumpkin cheesecake and set down her fork. Reaching to slightly pull down the collar of her black turtleneck, she revealed her upper chest spotted with burns. These are lingering byproducts of the breast cancer treatment Christine finished just days earlier.
For the 52-year-old mother of one, the burns are sores to be celebrated, not wounds worthy of preventing her from relishing the treasured experiences of Washington's Breast Cancer Awareness month events. In the immediate lead up to the "THINK-PINK®" game against the Saints, in which Christine and 29 other selected All-Star survivors were to be honored, loved ones expressed concern about the sores and questioned whether she should go.
"I wouldn't have missed it for anything," Christine said of Washington's "THINK-PINK®" game. "My best friend was like, 'How are you going to go with those burns?' I'm like, 'I don't care. I'm going. I don't care about the burns.'"
So, she went, taking in the scene of tens of thousands waving pink and white rally towels, wearing pink ribbons and enjoying the festivities of a football Sunday at a stadium just a few dozen miles from where she finished her treatment.
Days later, looking ahead to Washington's annual All-Star Survivors Celebration on Oct. 12, Christine's mentality was the same: she wasn't going to miss it for anything.
Hosted at the Lansdowne Resort & Spa, the All-Star Survivors event was established to support and celebrate women like Christine whose lives have been affected by breast cancer, and their families. Throughout the day, All-Stars were treated to lunch, make up consultations, and spa services and took home various goodies, including new jeans from Gap Inc., custom Color Bar jewelry from Kendra Scott, and Washington Football Team gift bags. For these women and their loved ones, the event provided a cherished opportunity to connect with other survivors and create joyful memories in the midst of hardship.
Each All-Star carried a unique story into the resort's ballroom at the All-Star Survivors Celebration. Some had relatives who also had breast cancer, while others had no family history of the disease whatsoever. Rupert found a rash she initially shrugged off. Rosemarie Poole had a lump first mistaken for a clogged milk duct. Carla Geter just had a bit of soreness. Yet, every one of them got news -- at lunch with her daughter, in a gown at Washington Radiology, outside her apartment carrying bags of groceries -- that forever changed their lives. Since hearing that "C-word," every one of them has broken down in tears, felt their body struggle and watched those they love grapple with the disease alongside them.
Christine Rupert's daughter, Jackie, couldn't help but grin watching these women, bonded by their specific yet common experiences, all come together at the event.
"It really just gives them an opportunity to make friends with people who share the same kind of situation as them," the 21-year-old said. "It's really nice, and it's touching to see that there's so many women here and they can all come together and make a really crappy situation seem really great."
Attention to the little details played a big role in the mission to make these women feel special. That extra level of awareness left an impression on JJ Jackson.
"Just coming in and seeing the football with my name on it, you know, and a gift bag, it was just like, 'Oh my God. They really care,'" JJ said.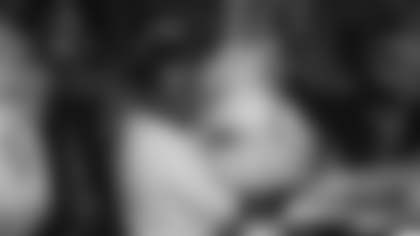 Washington's deep and authentic care towards this cause stems from a very personal place. Washington alumnus and former All-Pro tight end Chris Cooley launched this annual tradition with the team in 2008 after his mother was diagnosed with breast cancer. He saw how the family struggled to cope, how she fought to beat this disease, and the toll that a double mastectomy and radiation treatments imposed.
Washington's co-owner and Co-CEO Tanya Snyder, who has continued this event and developed additional programming for Breast Cancer Awareness with the team over the years, is also a breast cancer survivor who was diagnosed in 2008. Mrs. Snyder's presence and influence on the day earlier this month, as a woman who knows first-hand about the emotional turmoil of this journey, was significant for Poole.
"Mrs. Snyder has been in our shoes. She understands what we are going through and continue to go through and I'm just glad that she has that platform where she can bring it out into the open and she brought us all together," the two-time cancer survivor and mother of four said. "I'm just thankful that she's able to help us share with each other."
Meeting the other All-Stars was also a highlight for Carla Geter, a former law enforcement officer who was diagnosed in January 2021. Carla is in the process of getting two major surgeries many of the women she met at the celebration have also undergone. In April, Carla had a double mastectomy. At the end of this month, she will have reconstruction surgery.
She looks ahead to that milestone now with a bit of new gratitude and boost of bliss thanks to one special day.
"Everything was great. From the being pampered to the food to the meeting everybody to seeing the former players, it was just amazing," Carla said while fighting back tears. "I'll never forget this."