He was mean. He was nasty. And, boy, could he lay a hit on a ball-carrier.
That was Sam Huff, one of the greatest middle linebackers in NFL history.
For 13 seasons, his first eight with the New York Giants (1956-63) and last five with the Redskins (1964-67, 1969), Huff was one of the most feared defenders in the league.
A field general equipped with razor-sharp instincts, he sniffed out runners and receivers like a hound dog and roamed the field like a hawk, intercepting 30 passes, one of the highest totals ever for a linebacker.
Huff achieved nearly all of his fame with the Giants, playing in four of his five Pro Bowls and earning all four of his All-Pro distinctions. With No. 70 manning the middle, the Giants made it to six NFL championship games, winning once.
Huff was inducted into the Pro Football Hall of Fame in 1982. He was called an "inspirational leader, brilliant diagnostician with great speed, tackling ability...noted for hard-hitting duels with premiere running backs" -- Cleveland's Jim Brown and Green Bay's Jim Taylor to name a few.
A native of Edna Gas, West Virginia, Huff won a football scholarship to West Virginia. He earned All-American honored playing guard and tackle on offense and defense, and made a slew of all-star teams. He was enshrined in the College Football Hall of Fame in 1980.
The Giants drafted Huff in the third round in 1956. But he was undersized at defensive tackle and discontented with coach Jim Lee Howell, so he walked out of training camp with fellow rookie Don Chandler. Both were talked back into the fold, and early in the season, Huff got the break that launched his star-studded career.
When middle linebacker Ray Beck injured his ankle, defensive coach (and later famed Cowboys head coach) Tom Landry asked Huff if he'd like to try the position.
Huff was the eventual Rookie of the Year in 1956, when the Giants downed the Bears 47-7 in the NFL championship game.
Playing behind a talented line consisting of ends Andy Robustelli and Jim Katcavage, and tackles Rosey Grier and Dick Modzelewski in the Giants' modern 4-3 scheme, Huff came to personify a ferocious defense that propelled the Giants to appearances in five more title games in the coming seasons.
Huff was glamorizing the middle linebacker position.
In 1959, when named the NFL's most outstanding lineman (linebackers at the time were considered linemen), he appeared on the cover of TIME magazine, which described him as "a confident, smiling fighter, fired with a devout desire to sink a thick shoulder into every ball-carrier in the NFL."
The next year, CBS aired a documentary narrated by celebrated anchorman Walter Cronkite called "The Violent World of Sam Huff."
Huff was also a fan favorite in New York, where chants of "Huff, Huff, Huff, Huff" reverberated through Yankee Stadium.
But Huff's glory ride in the Big Apple ended in April 1964.
Coach Allie Sherman, who was trading stars from the Giants' defense like shuffling a deck of cards, dealt Huff to the Redskins for talented halfback and punt returner Dick James, defensive end Andy Stynchula and a draft pick.
Huff was furious at Sherman, a feeling that exists to this day, and hinted at quitting football.
"I didn't want to be traded from a championship team, a championship organization," said Huff, who arrived in Washington the same year as future Hall of Fame quarterback Sonny Jurgensen.
Continued Huff: "We had just lost to the Bears in the 1963 championship, and the head coach gets rid of five guys on the defensive unit. Allie Sherman was an offensive-oriented coach, and he didn't like us because we were Tom Landry's team that he put together defensively.
"I'll never forget that trade. I look at my life in Washington and with the Redskins and can't forget what I've accomplished here. But at the time, the trade was very, very upsetting."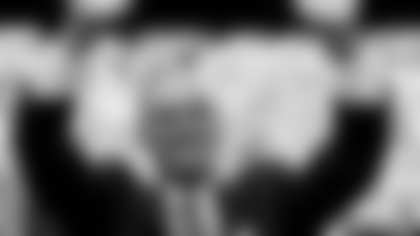 Huff delayed signing with the Redskins for more than two months. He recalled that Redskins head coach Bill McPeak enticed him into playing for Washington by coming to his home in New York and offering him his No. 70 jersey. He also said the Redskins doubled his salary and offered a no-trade clause in his contract.
With Huff on board, the Redskins' defense improved to No. 2 in the league in 1965. He made the Pro Bowl for the last time that year and remained a steady presence on the field until an ankle injury in 1967 halted his streak of 150 straight games played.
In one of the legendary games in NFL history, Huff galvanized his Redskins teammates on Nov. 27, 1966 at RFK Stadium. They responded by beating the Giants 72-41 in the highest-scoring game in league history.
He retired after the 1967 season. But when his assistant coach from his Giants years and one of his mentors, the legendary Vince Lombardi, signed on in 1969 to coach the Redskins, the 34-year-old linebacker returned as a player-coach.
The Redskins posted a 7-5-2 mark under Lombardi, their first winning season in 14 years, and Huff, the defensive captain, picked off three passes, returning one 18 yards for a touchdown.
"I thought the world of Lombardi and Tom Landry, they were such great, great people in the sports world," Huff said. "They had a great influence on my life."
After retiring for good, Huff spent one season coaching the Redskins' linebackers in 1970.
He has worked in the radio booth as a Redskins color analyst—alongside Jurgensen—for more than 30 years, as fans of the organization are well aware.
---
Mike Richman is the author of *The Redskins Encyclopedia and the Washington Redskins Football Vault.  He was on the blue-ribbon panel that played a key role in selecting the 10 new names who are part of the Redskins' 80 Greatest team unveiled this season, also known as the "10 for 80."  His web site is www.redskinshistorian.com and his email is mikerichman@redskinshistorian.com.*