Dashon Goldson flew into San Francisco on Thursday morning and hustled over to the Moscone Center to give interviews on Radio Row. Here's how his day went.
"Is Dashon promoting anything?" a radio coordinator asks Redskins safety Dashon Goldson's publicist on Thursday afternoon.
"No, just himself," she replies, which earns a look of relief by the two station hosts, who at this point in the week have come to accept that any of the big-name celebrities and players roaming San Francisco's Moscone Center, the site of Radio Row for Super Bowl 50, have at least a few business ventures to share with whomever is listening.
But don't let Goldson's personal branding – and lack of ulterior motives – get mistaken with pure ego. It's easy to be inflated here. Everyone wants your autograph, lots of radio stations want to chat. But Goldson comes to every Super Bowl because he just enjoys the atmosphere; he enjoys meeting new people and representing himself as a member of the Redskins (for the first time). He also enjoys spending time with fans. If this Super Bowl is anywhere else besides San Francisco, the place Goldson played for six years, he's likely not as popular as he is on this day.
In the cracks of a busy afternoon, getting herded around the cramped confines of Radio Row, Goldson's name is yelled often by fans wearing 49ers jerseys expressing how much they miss him. He just smiles. Eventually he goes over and signs some autographs, and then a crowd forms and he signs more. A few selfies are required in this transaction, too, before he's whisked back to answer questions. An NFL official approaches us twice within two hours to express his gratitude. "Nobody does this," he exclaims, referring to giving away autographs, boosting Goldson's ego, which, again, is something that's hard to avoid here.
This is the second year that the NFL has let fans enter Radio Row, and by early afternoon it's already a swamp clogged with different-colored jerseys. Goldson, who just flew in from Los Angeles, enters the Moscone Center just after 1 p.m. and goes through security before taking an escalator ride up to the second of three floors this building holds. That's where I greet him – he's wearing a purple and blue plaid shirt, jeans and some blue shoes, "not purple," he tells me -- and I follow him to his first scheduled stop.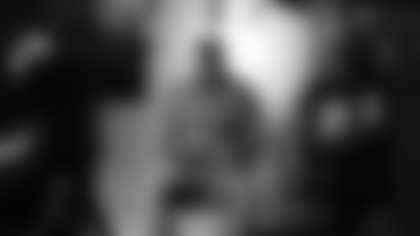 An NFL Films representative greets us and hands Goldson a waiver to sign. "Are you familiar with the Top 100 show?" she asks him. That's what he'll be helping out with. There's some time to kill before everything is set-up and the camera crew is ready for him, so small talk is in order. Goldson explains he has a busy weekend ahead of him – he's going to the zoo on Friday and then taking some kind of acrobatics class with a local circus troop on Saturday.
D'Qwell Jackson is nearby and introduces himself. Then we're signaled and escorted to a dark, high-ceilinged room with a partition. Several cameramen huddle around a white canvas backdrop, which sits behind Goldson. A moderator hands him a tablet showing plays of Odell Beckham Jr. and asks Goldson to give his reaction into the microphone floating above his head.
"I know that was against us, but that was amazing," he says after hitting "play." "He's a true warrior." I ask him later if he was reacting to Beckham's one-handed grab, which is a dumb question in retrospect because of course he did.
He's asked about Kirk Cousins and that Tampa Bay game ("That game showed his confidence. He earned a lot of respect that week"), then about why Jordan Reed should make this list ("Versatility makes him the way that he is"). Then Goldson makes the case for a few fellow safeties around the league. He's asked who should be this year's No. 1 player. Goldson just dabs. "I'm a fair guy. Fair is fair."
Does Goldson get nervous for these kinds of interviews, when the bright spotlight is on him?
1:32 p.m. -- Enters Radio Row:
This isn't a stop on the schedule but it feels like one. After we head down the escalator it takes us five minutes to walk several hundred feet. Agent Drew Rosenhaus walks buy and gives dap to Goldson. "How ya been?" he asks. Other people Goldson claims he barely knows gives him handshakes. Walking into the convention center feels like a brightly lit nightclub. Music is playing over the speakers, people are everywhere. It's sensory overload.
We walk to the far wall and make a left where wide receiver Victor Cruz happens to be. Cruz tells Goldson about where he's been recently – Aspen was apparently insane – and then he trails off. Doug Flutie walks by and gives him a head bob. We head to the last set of outlets.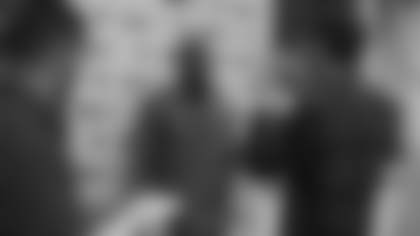 1:39 p.m. -- The Player's Tribune:
Several people are waiting, huddling around a table when Goldson arrives and then scramble to get him a microphone. He stands against the company's backdrop and looks into their camera to answer a bunch of rapid fire questions.
What's your spirit animal? "Uh, the hawk."
Who's the most underrated player? "Kirk Cousins"
Taylor Swift or Katy Perry? "Katy Perry." They give him some grief for that answer.
Then he's given a sheet of paper with more frivolous questions to answer, something the Player's Tribune will eventually photo copy and post to their website. Josh Duhamel is sitting across the table killing some time and the little alley to walk through has become clogged. Time to move.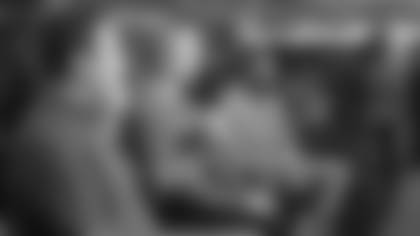 1:50 p.m. -- Bleacher Report:
Next door is a little less hectic. Chris Simms and a partner are sitting in director's chairs waiting for Goldson, who gives each of them handshakes before sitting down in front of a couple of cameras.
"I've always been a big fan of yours," Simms says before they get to the interview.
At this point, 49ers fans, just several feet away, are yelling Goldson's name, desiring an autograph.
The duo asks him about his wife's reality show before getting into football – how will the Redskins carry over the momentum? What did you think of Kirk Cousins this year? – and then the obligatory Robert Griffin III question.
"I thought he handled himself like a true professional," Goldson says. Later they get into what it's like for a safety to hit someone. Goldson was always known to give out punishing blows, and so he laments the lost element of his game. "They took that away from me."
They wrap. Handshakes, goodbyes. Time to move.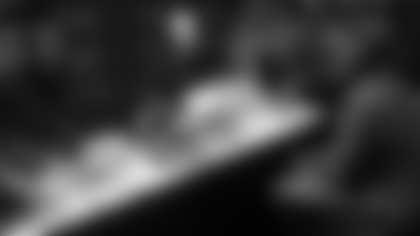 2:14 p.m. -- Yahoo Sports:
On our way to Yahoo's station, Goldson, unprompted, asks me, "How are you doing?" I'm doing fine, but the question is meant to share, I think, in the strangeness of this annual tradition. Where else do you pass Liam Hemsworth and Jeff Goldblum talking to a sports station before brushing shoulders with Jerry Rice?
Yahoo isn't ready for Goldson just yet, so he takes some photos with more fans hounding him. A security guard even stops to take a selfie. Then he's called back and puts on his headphones.
"You cashed out of San Francisco at the right time," the hosts says. Goldson just smiles.
During the interview a woman approaches wearing a sling that holds a Pug's face, a monkey's torso and arms and a baby's feet, dangling beneath with the hashtag #PuppyMonkeyBaby written on the front. Goldson just laughs. Someone random asks to take a picture of it. "Only if you promise to use the hashtag!" she says. You can only take this place so seriously.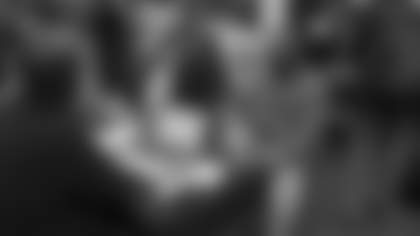 2:26 p.m. -- TSN Winnipeg:
Now the questions are getting repeated. Goldson sits down at the table just a few paces away and responds to how Robert Griffin III will perform with another team and how it was dealing with the quarterback change last season.
It eventually gets easier. They ask him about the Super Bowl and if he's going to any parties (of course he is). Once he sets his headset down another TSN representative approaches us and asks when Goldson will be ready. Somehow there's been a mix-up. Goldson was meant to speak with TSN Toronto, not Winnipeg. The host is a little flustered, but chalks it up to some email miscommunication.
Goldson's publicist sorts it out and he'll talk to Toronto later. Time to move.
2:37 p.m. --  95.7 The Game:
This is one of San Francisco's flagship stations so Goldson is a solid interview to grab. They aren't ready for him to do a live hit so one of the hosts, ready with a 3x5 card full of questions, sits him down for a one-on-one to be broadcast later.  
It's hard for Goldson to concentrate. Jerry Rice is posing for photos a few feet away, and then screams and shouts indicate somebody "bigger" has just approached – it's Tim Tebow, and yes, the screams are louder for him than Rice. Goldson reflects on the Pro Bowl: "It's cool to experience it," he says. "I'd rather play in the Super Bowl than go down there," a nice, political answer.
This offseason he says he's taking more time off than he usually does and believes that how you lift has more importance than how you eat. For example, he still likes plunging into a box of McDonald's chicken strips mixed in with some cross fit.
Then he gets asked about Griffin III again. "He slipped that one in there at the end," Goldson says later. Time to move.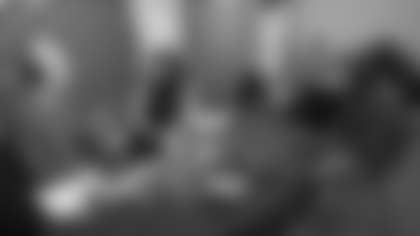 Now it's out of the scrum and into the Sirius side of the Moscone Center. They've rented out an entire corner for their several shows, and entering feels like getting admitted to a special party. There's a bouncer and velvet ropes and people give me odd stares when I say I'm following around Goldson.
We have some time to wait until the hour changes and Goldson strikes up a conversation with someone nearby. I show him Cousins' British accent video and he cracks up. Then he's whisked onto the stage to join Lisa Anne and Ray Flowers. The Sirius publicity agent for the show comes up to us and asks "Is Dashon promoting anything?" (No.) "Is he still under contract?" (Yes.)
By the end of questioning – "Do you play fantasy?" "What's your Twitter?" – Goldson is bombarded by more 49ers fans, which he gives more attention to and signs his name to jerseys and hats. The appointments are nearly over. Time to move.
Goldson is familiar with this bunch and greets Chris Cooley with a big handshake. He seems more relaxed here knowing he'll get good, relevant questions about the team from people who actually follow it.
"We've got some work to do, we've got some work to do, man," Goldson says. "We're on the right path though, for sure."
With key injuries to the Redskins' secondary this season – Duke Ihenacho, Chris Culliver – and key midseason additions, position changes and activations – Will Blackmon, DeAngelo Hall and Quinton Dunbar – Goldson remained a consistent presence on the field and as a vocal leader in the locker room. Cooley asks him about the navigating the changes and how this year will be different.
"I think once we get it all together with some more depth, I think we're going to be straight," Goldson says.
We've coordinated a stop at Twitter headquarters to finish out Goldson's day and we find a back exit to duck out and call an Uber, the lifeblood of every fan and media person staying in San Francisco. We wait on a side street and our car is taking forever. Goldson glances over and sees Richard Sherman exit and stroll into a private SUV. "He's big-time, isn't he?" Goldson says.
4:10 p.m. -- Twitter Headquarters:
We get checked in and identified in the lobby by the security chief and head up the elevator to the ninth floor. More checking in. Additional lanyards to wear. Twitter is apparently having a company-wide meeting in their large auditorium. Another security guard brings us back down in the elevator a couple floors, then across a sea of empty tables with computers, where you can envision a bustling newsroom, then up another set of elevators, then back across the hall to meet the Twitter sports team.
In the 10-minute taxi over to Market Street, Goldson admits he's hungry, so it's a happy occasion when he notices the spread of appetizers, wings and beer in the corner being offered. We launch Periscope from the Redskins account and ask him a few questions about his day before he tries out the main attraction, sitting 50 feet away.
It's a circular set of curtains with a yellow Twitter backdrop and small stage in the middle. Goldson obliges the team and stands on top of it, while an iPhone holder travels 360 degrees around him. They cue up some Chris Brown and Goldson is asked to dance. He's a bit hesitant at first. This isn't really his song.
Then the track changes to "Jumpman" and Goldson gets excited. "There we go," he says. The moves come easily after that. He dabs and gets used to the camera circling him. Suddenly, with a full stomach and a chance to dance, this day has become something more than just talk.
He regains some of the swagger that he displayed on the field this year and flashes his signature smile. He's got some parties ahead and a trip to the zoo the next day. Another busy weekend. But for the moment he can relax.
He's made it through Radio Row. Wouldn't you dance, too?