In the lead up to gameday kickoff, Allen Edwards doesn't get a whole lot of time to stop. As stadium manager, he's constantly surveying the stands, dishing out directions and turning on his heel to hustle off to the next section that needs his attention. But, when the chuff-chuff of the helicopter rotors quickened before this Sunday's kickoff, Edwards paused to take in the moment.
"Being a veteran, you always enjoy the flyovers," Edwards, a former soldier, said.
Three helicopters from Joint Base Andrews 316th wing wooshed over his head and tens thousands of others at FedExField just before 1 p.m. The flyover was one of several highlights during the Washington Football Team's Salute to Service pregame. Coming into the stadium, fans were greeted by displays that included Hum-Vees, Blackhawk Helicopters, rescue vehicles, and, of course, the "W" statue splashed with camo.
A feeling of patriotism and pride punctuated the air that hung over the Washington Football Team Salute to Service game on Nov. 14. With its hundreds of active troops, veterans and military family members joined together just miles outside of the nation's capital, the game put forth a unique celebration of and homage to the country's armed forces.
Bonnie Carroll, president and founder of the Tragedy Assistance Program for Survivors (TAPS), became familiar with Washington's distinct focus and thoughtfulness towards Salute to Service Month in 2015. That year, Washington became the first NFL team to partner with TAPS. On Sunday, five TAPS families were recognized on the field, the final event of three this week hosted to commemorate the sacrifice and service of families that have lost loved ones who've served.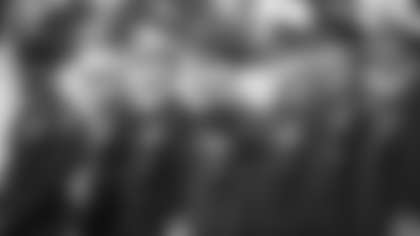 "The Washington Football Team absolutely has gone above and beyond to honor our nation's military," Carroll said. "From enlistment in the military to honoring those who have died while serving, they have honored the entire military experience and how this nation relies on our men and women in uniform to defend our freedom."
One aspect of that military experience, often stuffed down due to stigma, was given a critical platform at the game. Pasha Palanker, who was presented as the Black Rifle "Veteran of the Game" during a first quarter stoppage of play, appreciated that Washington wasn't afraid to shy away from conversations about mental health issues and PTSD in the military.
"I'm working to raise awareness and to get people to take care of their mental health before they reach a breaking point like I did last year," explained Palanker, a special operations forces veteran. "It meant a lot to hear that talked about inside FedExField during a Salute to Service game."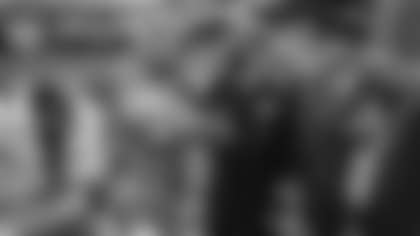 Around the stadium, one of the most visually captivating elements of this year's event was the active service member presence. Roughly 400 individuals from the Army, Navy, Air Force and more stood in uniform, filling an entire section of the stadium. They also shone in on-field moments throughout Washington's eventual upset of the reigning Super Bowl champs. Just before kickoff, the U.S. Naval Academy Band Vocalists sang the national anthem. Midway through the first quarter a U.S. Air Force Oath of Enlistment was held while halftime was highlighted by a performance from U.S. Naval Academy Band.
A member of the Marine Corps and the breathtaking armed forces outfit at FedExField, Corporal Straatmann was excited by the rare opportunity to spend time with members of all the branches en masse on Sunday.
"It's like bringing family together," Straatmann said. "Whatever branch you're in, it doesn't matter, we're all military, so this is a great place to recognize us and relax and actually enjoy a good football game."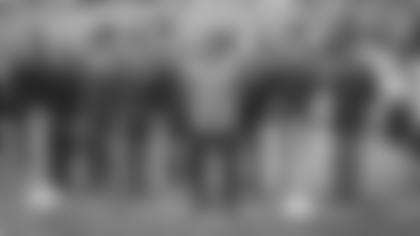 Allen Edwards, too, felt that sense of family reunion. In section 217, just a couple hundred feet away from Lance Corporal Straatmann and the other active service members in attendance, sat a very special trio: Master Sgt. Matt Hensen, Chief Warrant Officer Roger Shuford and Capt. Kathy Shuford.
"Mikah Lomax [Washington's Ticket Operations Coordinator] got me four tickets and I got to invite my veteran friends." Allen Edwards said. "Getting to do that really touched me."
Moving between greeting his old army friends and helping the active troops find their seats, the stadium manager with a Washington staff ID dangling right next to the "Veteran" button stuck to his chest, captured the sentiment of the day.
"Having been in active-duty military, for the Washington Football Team to honor our troops like this means the world to me and my family," he said. "It's an honor for me to help and assist all our soldiers in any way I can."