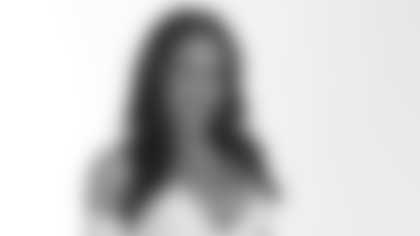 My name is Adrienne and I was born in Bossier City, Louisiana. I'm so thrilled to start my first year as a Redskins Ambassador and I am excited to join you in cheering the Washington Redskins to victory!

I'm an Air Force brat and grew up in several states and US territories. I have had the opportunity to live all over the east coast including Alabama, South Carolina, and Virginia. I also lived in Guam for two years where I obtained my PADI open water scuba divers license. I have also traveled to Japan, Australia, Hawaii, and Saipan where I was able to experience different cultures. I love traveling and always look forward to meeting new people and seeing new places.

Dance has been a huge part of my life since the age of 4. During my 9th grade year at DoDea Guam High, I was the captain of the freshman cheerleading squad. I eventually settled down in Northern Virginia and attended Robert E. Lee High School. As a member of my high school dance team, we won two "National Champion" titles at The Disney Wide World of Sports Dance Competition. I also cheered on my high school's cheerleading team.

I graduated from Old Dominion University in 2007 with a Bachelors of Science in Business Administration with a concentration in Marketing and Management. I am currently working full time as a Human Resources Analyst for a government contracting firm. I am also studying to earn my master's degree in Human Resources Management from the University of Maryland-University College.

I have been so fortunate in life and would like to thank my parents for their continuous support and encouragement in everything that I do.

I am looking forward to a great season and lots of fun! See you at FedEx!