LaRon Landry announced himself to the NFL in Week 2 at Philadelphia.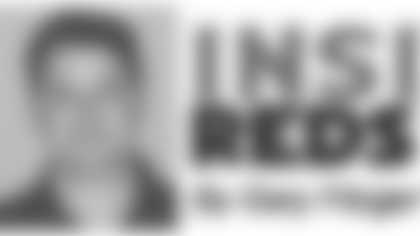 The rookie strong safety leveled a punishing hit on Eagles' wide receiver Kevin Curtis, breaking up a pass on fourth down in the game's final moments.
Landry, the Redskins' first-round draft pick out of LSU last April, continued to show progress in last Sunday's 23-20 win over the New York Jets.
Landry finished with six tackles, one sack of Jets quarterback Kellen Clemens and one fumble recovery in the game that led to the Redskins' only touchdown of the game.
On another hit on Clemens, Landry was called for a roughing the passer penalty. He drew a fine from the league for the hit.
So how did Landry grade his performance?
"I gave myself a C- or even a D," he said. "Some plays I could have made if I played better technique. I missed three, four tackles. It's never good enough for me."
"The way I grade myself, I grade myself hard," he replied.
Landry has earned plaudits from head coach Joe Gibbs, though.
"He is what we thought he would be when we went after him in the draft," Gibbs said. "I think he's real comfortable on defense."
Added Gibbs: "If you watch him on film, as soon as he spots something [in the offense], he's gone. Our defensive coaches say, 'Sometimes that's bad because he spotted the wrong thing.'
"But that's a great attribute to have--very few guys have it. Of course, he's an outstanding athlete, too, and he's very physical."
Landry is third on the Redskins in tackles with 57 so far this season. He has two sacks.
Along with the Jets game, he has had strong performances against the New York Giants in Week 3 (with a team-high 11 tackles) and Arizona Cardinals in Week 7 (nine tackles).
Landry said the adjustment to Gregg Williams' scheme was greater than anticipated. He continues to fine-tune his game. He pours over game film and listens to the advice of veterans like Sean Taylor, Shawn Springs and Pierson Prioleau.
"The main thing is staying with your technique and knowing formation," he said. "You have to know down and distance, know your opponent, who you're going up against, and what you can expect them to do as offensive players."
Said Williams: "The common rookie mistakes are things where you get misaligned, you get beat towards your technique, or you have improper technique or leverage. He has had very few of those for a rookie.
"He has so much speed and strength that if he does get caught with wrong leverage or technique, he can fight his way out of it."
It was a surprise that Williams anointed Landry a starter at free safety on opening day, but the rookie has earned his keep.
"He has built trust in people," Williams said. "He has done everything we've asked and he deserves the opportunity to start."
Gibbs sees a player who fits in perfectly on defense, and as a Redskin.
"Some guys get up here and say, 'I belong here and this is what I was made to do,'" Gibbs said. "You can see that in LaRon."