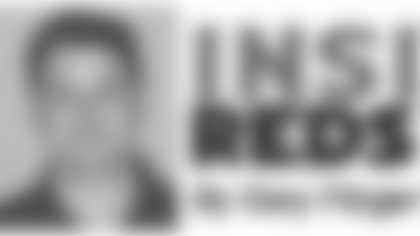 Forgive Carlos Rogers if he takes an extended vacation this offseason.
Since October 2007, when he suffered a knee ligament injury, Rogers has been constantly rehabbing his knee.
Sure, he worked his way back into the lineup and re-emerged as a top-level cornerback. But he also had to spend hours making sure his knee was healthy each and every week.
Rogers played in all 16 games last season. Now he wants to take some time off.
"Got to get away," he said.
When Rogers returns for OTAs and mini-camp, he is eager to put aside rehab and focus on "improving my game, specific stuff for my position."
Looking back, it was uncertain whether Rogers would even be available for the start of last season.
Due to the extent of the injury, it was thought he would not be ready until early October.
Instead, Rogers made quick progress in his rehab and started the Redskins' season opener on Sept. 4.
Rogers would go on to start 14 games. He posted 53 tackles, two interceptions, a fumble recovery and a team-high 30 passes defended.
Perhaps his most memorable play came in Week 3 vs. Arizona when he recorded a fourth quarter interception of a Kurt Warner pass.
Rogers had to make a diving leap for the interception. He got up and raced 42 yards to set up the Redskins' game-winning touchdown in a 24-17 victory.
Rogers' penchant for dropping interceptions was put to rest, at least for one game.
He also had an interception in the Redskins' season finale in San Francisco. He returned that one 32 yards to help set up a field goal in a 27-24 loss to the 49ers.
Overall, Rogers was part of a secondary that finished the season ranked seventh in the NFL in pass defense. The unit allowed just 193.4 passing yards per game.
The defensive front struggled at times to get pressure on quarterbacks, but coverage provided by Rogers, Shawn Springs, DeAngelo Hall and Fred Smoot was strong all season.
"We did okay," Rogers said, summing up his thoughts on the Redskins' defense. "The way things went, I think it could have been a whole lot better. The way we started out and the way we ended up was a disappointment.
"With all of the things that happened, we left a lot out there [on the field]. It shows we have to get better and we have a lot to improve. Not just the defense, but the whole team."
At season's end, Rogers served as a third cornerback behind Springs and Hall.
Rogers was clearly disappointed to be standing on the sidelines during some key moments in games.
With Hall an unrestricted free agent, the Redskins have some decisions to make in the secondary this offseason.
Rogers, who remains under contract with the club, was asked about his long-term future in Washington.
"I think that each individual person is going to do what's best for them," he replied. "I think somebody would give an arm and a leg for the [secondary] we had. We had four corners that started in this league.
"For me, I am just going to take my time and do what I have to do individually to get better."