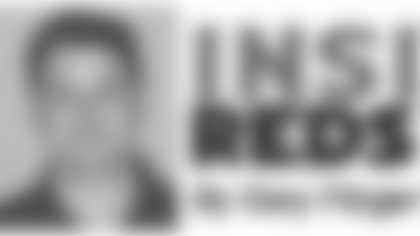 It has been eight months since Jon Jansen has stepped onto a football field, helmet in hand and ready for action.
On Friday, Jansen returned to action at mini-camp after completing rehab from a fractured ankle. He suffered the inury in the Redskins' 2007 season opener against Miami at FedExField.
Jansen participated in some individual drills during practice. He said afterwards that the injury feels "close to 100 percent."
Since early April, he has been a regular participant in the Redskins' off-season strength and conditioning program.
"I won't really know truly where I am until I get a chance to get out there and push off some guys and have them push off me to see how my ankle reacts," he said. "But I feel really good and I'm excited to get back out there and be part of the offensive line again."
It was the second time in four years that Jansen had suffered a season-ending injury early in a season. Jansen tore his Achilles in the Hall of Fame Game in August 2004.
Jansen's fractured ankle last year was a gruesome injury, but he never viewed it as career-threatening.
"I had the same doctor who did my Achilles do the surgery [on the ankle], and he was real confident that this was an injury that I could come back from," Jansen said. "It might have looked uglier, but when he did the surgery, everything was pretty clean. I'm excited about getting back out there.
"It was the longest rehab I've ever had, but now it's time to get out there and play football."
Jansen expects to limit himself in on-field work so that he can ease back into playing shape.
"I talked to Coach [Joe] Bugel and we're going to feel it out so that it's safe," Jansen said. "We have such a long time before [training] camp begins. I'll go through individuals and see how I feel.
"I really just think I can re-assert myself and get back to 100 percent."
Jansen is entering his 10th NFL season, all with the Redskins. He turned 32 years old in January.
Since 1999, Jansen has been a constant at right tackle, except for 2004 and last year. He signed a contract extension in February 2007.
In recent years, the Redskins have sought to fortify the offensive tackle position.
Last year, undrafted rookie Stephon Heyer emerged as a viable option, performing well as a starter down the stretch.
The team drafted Northern Iowa offensive lineman Chad Rinehart in the third round of the draft last weekend. Rinehart is expected to see action at right tackle, right guard and even center as he adjusts to the NFL game.
Meantime, Jansen is intrigued about the changes at Redskins Park this offseason, starting with the hiring of head coach Jim Zorn.
"I think he bring a great feel to the team," Jansen said. "Obviously there are going to be some changes in what we do on the field, how we go about [the offense], and in play selection. What I'm looking for is a new feel and just getting back to playing football."