The stats are piling up for wide receiver Santana Moss.
Career catches as a Redskin: 442, fourth-best all-time.
Career receiving yards as a Redskin: 6,142, fifth-best all-time.
Catches last year with Redskins: 93, second-most all-time in a season.
Since joining the Redskins in 2005, Moss has emerged as one of the best receivers in team history. He still trails Art Monk, Charley Taylor and Gary Clark, the franchise's elite receivers, in most statistical categories. But last year he was able to surpass Ricky Sanders and Jerry Smith, a tight end, in catches and receiving yards in franchise history.
Moss is not a numbers guy, though.
In fact, don't even bother telling him what his stats are.
"I won't look at the numbers until it's all said and done," he said, standing beside his locker in the last days of the 2010 regular season. "Even during the season, people were calling me telling me, 'Hey, you got this.' I would tell them, 'Hey man, you can talk about anyone else's stats, don't talk about mine.'
"That's the way I like to get it done. I don't like to go out thinking about accomplishing something. My goal is to go out and be the best that day for my team."
Whether Moss returns to the Redskins for the 2011 season is an open question.
It was reported on ESPN on Sunday that Moss is scheduled to be an unrestricted free agent this offseason, but that fact has been known for months.
Moss addressed his status before last season ended. He was unsure what would happen in free agency but he added that he hoped to return to Washington.
Retirement is not a consideration, either. He turns 32 years old on June 1.
"I tell you, I never put a number on anything, I just go," Moss said. "The day will come [when I retire]. And until that day comes, you'll see me out here running routes and doing what I do."
Moss is coming off perhaps his best NFL season.
Along with his 93 catches, he logged a team-best 1,115 receiving yards and six touchdowns.
His 12.0 yards-per-catch average was a career-low, but he lined up in the slot more last season in Kyle Shanahan's new offense.
In the slot, the 5-10, 205-pound Moss was able to run more crossing patterns. He found more open space – but more tacklers – than he did running along the sidelines.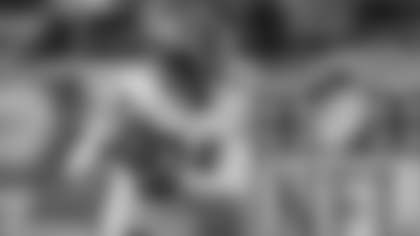 "In the slot, you have a chance to go inside where they can't put Cover 2 over you all the time," he said. "You might have two guys sticking with you and somebody watching you – other than the guy who's covering you – but you still have more ways to get open.
"You can also get open a lot faster by putting a couple moves on a guy and getting him out of his break."
Moss said he enjoyed playing in the slot – something he had not done since college.
"You kind of give yourself kudos because you played at a high level on the outside all those years and still accomplished a lot," he said. "But I got to the NFL as a slot guy. [Last] year it was great just to be able to change it up a little bit and see the ball differently."
For his career, which includes four seasons with the New York Jets before joining the Redskins, Moss has logged 593 receptions. That's tied for 59th all-time in NFL history.
His career receiving yardage total of 8,558 is ranked 63rd all-time.