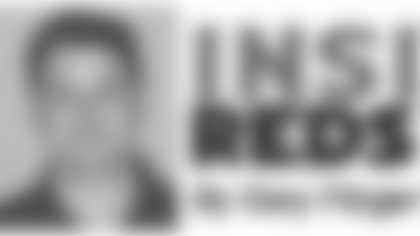 For Shaun Alexander, his first month in a Redskins uniform has felt like preseason.
With Clinton Portis uncertain for this Sunday's game against Dallas due to a knee injury, Alexander could be called into action.
That means "preseason" is over for the eight-year NFL veteran.
"It's funny, it really does feel like I've come through preseason," he said. "I got a few carries in the first couple of games, none in the fourth, and then we play."
More importantly, Alexander feels ready for the increased workload, should Portis not be available to play.
"I'm pretty comfortable in this offense," he said. "I was always comfortable with the passing game, but the run game was just a little bit different. I had to get used to certain angles and where they want to attack [defenses]."
In limited duty this season, Alexander has 10 carries for 23 yards.
Alexander played in Seattle's version of the West Coast offense the first eight years of his career. He compiled 9,429 career rushing yards with the Seahawks.
Since head coach Jim Zorn comes from that system, Alexander has had an easier transition than he would have had somewhere else.
Still, there are subtle differences.
"Shaun understands the way we play is a little different from what we had him do in Seattle," Zorn said . "Our cuts up the field are a little bit different. We asked him to do different things than he did in Seattle.
"Each week he has been here, he has improved. I hope he gets the chance to show that on the field."
Jon Jansen says the offensive linemen would also have to adjust to Alexander, but he doesn't think the transition will be hard.
"It's more of a feel," Jansen said. "We may be running the same plays he did in Seattle, but the way our offensive line works together, the hole may be outside whereas in Seattle it was inside.
"We have a certain way that we work together up front and a certain way we block plays, and it has worked well for us. I don't have any doubt that he'll be able to go in there and do well."
Sunday's matchup against Dallas promises to be Alexander's biggest game since last January when the Seahawks advanced to the second round of the playoffs.
"You're always excited to go out there and try to make plays to help your team win," he said. "This is a good time. It's a big week for us, and this is a game that we can put ourselves in a good position. I'll be ready."