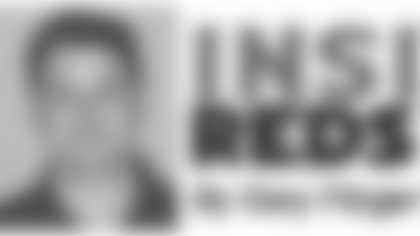 What's Shaun Alexander doing at Redskins Park?
"Just picking up some mail," he said with a sheepish smile during a visit to the team's facility earlier this week.
Alexander, the 9-year veteran running back and three-time Pro Bowl selection, was released by the Redskins on Nov. 25 after a five-game stint with the club.
Since then, Alexander has stayed in the Washington, D.C., area. He has visited Redskins Park every couple weeks and stayed in touch with some of the Redskins coaches.
Alexander, an unrestricted free agent, is still hoping to catch on with an NFL team for the 2009 season.
Nothing appears imminent.
"I am looking, and that's all I can say," Alexander said. "It's just that the Redskins fans are amazing and they have sent me a lot of fan mail, and we stayed here."
On March 3, Alexander's wife Valerie gave birth to a baby boy, named Joseph Prince Alexander.
It was the couple's first son. They also have three daughters.
Alexander arrived in Washington last October after eight stellar seasons with the Seattle Seahawks.
Ladell Betts was sidelined with a knee injury and Alexander, familiar with head coach Jim Zorn and running backs coach Stump Mitchell from their time together in Seattle, was summoned to serve as a backup to Clinton Portis.
In limited action, Alexander had 11 carries for 24 yards for the Redskins. He also caught one pass for nine yards.
Alexander said he would welcome a return to the Redskins.
"Oh, I would definitely like to come back and play here and help this team win," he said.
Retirement is the furthest thing from his mind. He has been working out on his own and staying in shape.
"There'll be teams around, so I just have to stick with it," he said.
Alexander starred for the Seahawks from 2000-07. In 2005, he was named league MVP after he rushed for 1,880 yards and a then-record 27 touchdowns.
Just two years later, though, Alexander was released.
For his career, Alexander has 9,453 rushing yards, 25th most in NFL history, and 100 touchdowns.