As the Redskins' new coaches settle in, they are already moving quickly to get ready for the start of free agency and the NFL Draft, executive vice president/general manager Bruce Allen said on Thursday.
Allen discussed the first month of the Redskins' offseason in an interview on ESPN 980's "The John Thompson Show," broadcasting this week from Miami, site of Super Bowl XLIV.
Allen said the coaching staff, led by head coach Mike Shanahan, would "blend a lot of new ideas" in terms of player evaluation and developing new schemes on offense and defense.
Many of the new coaches have not worked together before--including Shanahan and his son Kyle, who was hired as offensive coordinator after directing the Houston Texans' offense the last two years.
"[The coaches] have not really worked together as a group," Allen said. "Watching them together and start to install the playbook is really an exciting time for our organization."
Allen did not go into specifics on players or the scheme and he suggested that more information about the team's plans would be revealed as free agency approaches.
Free agency is slated to start on March 5, just a month away.
Given the uncertainty over the Collective Bargaining Agreement between the NFL and the player's association, this year's free agent class may not be as bountiful as in years past.
In the meantime, coaches are also preparing for the NFL Scouting Combine, scheduled for Feb. 24-March 2 in Indianapolis.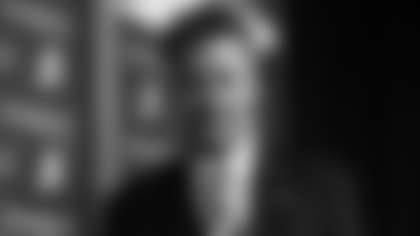 "We're going 100 miles an hour getting ready for free agency," Allen said. "It starts on March 5. Obviously we have the combine coming up later this month and we have to get ready for the draft.
"It's really going to be important for us to utilize the coaches, not only to update them on our own personnel but on the type of players we want to have and go after in free agency.
"We are going to have a new style of offense. We are going to have a new style of defense. And it's going to be Redskins football. The pieces we acquire this year will be our first components to building a champion."
Asked to describe the Redskins' brand of football, Allen replied: "We're going to be a disciplined team. Just watching the way Coach Shanahan interacts with the coaches and players that come in--he runs a disciplined program.
"He wants us to be in top shape physically and he wants players who want to get better mentally. So much of this game is preparation during the week."
Regarding the status of Clinton Portis, Allen said: "So far he's really gung ho. We're looking forward to seeing Clinton help us win."
And asked how the team foresees using Albert Haynesworth, Allen replied: "The coaches will put the players in position to help us win. It's all about how we prepare for an individual opponent. You might see a different look in Week 3 than you did in Week 1.
"That's the flexibility of our new scheme. We want to take advantage of the matchups that we can create on defense."