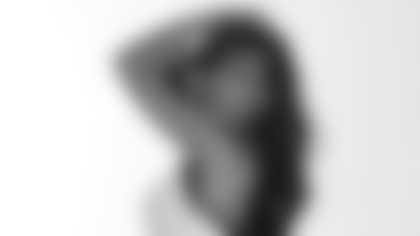 My name is Amber and this is my first year as a Washington Redskins Cheerleader Ambassador. I can't begin to put into words the excitement and overall pride I feel to be able to cheer for the best team in the NFL alongside the best fans EVER-you!

I'm a Southern Belle, born and raised in Greensboro , North Carolina and the youngest of seven children. I graduated from North Carolina Agricultural and Technical State University , where I earned my Bachelor's degree in Construction Management and became a proud member of Delta Sigma Theta Sorority, Inc (Alpha Mu). Having just recently moved to the area, I haven't found one thing I don't love about our Nation's Capital; from museums, to concerts, poetry readings, and the Redskins I fall in love with the city everyday.

My background in cheerleading and dance dates back to the age of 5 when my mother enrolled me in dance and gymnastics. After 6 years of studying ballet, tap, jazz, and gymnastics I decided to take a chance at cheerleading. From there my love for the sport started to grow and still seems to be blossoming. I went on to cheer in middle school, high school, and in college. Upon graduating high school, I found a parallel passion in coaching cheerleading; which lead me to coaching a local high school team in Greensboro for 3 years and after moving to Charlotte, NC I went on to run an All-Star Cheerleading program in Concord, NC.

I want to thank my parents and BIG (Shonica-my sister) for their continued support, love, and helping me follow my dreams no mater how off the wall they can be at times! My family, friends and dog, Snacks, is where the majority of my free time is spent. I believe in making everything I do as fun as possible, so you will always see me smiling and enjoying life.

Being a part of this team is an extraordinary opportunity and I look forward to every amazing moment. Can't wait to meet each and every one of you at all the home games! Hail to the Redskins.