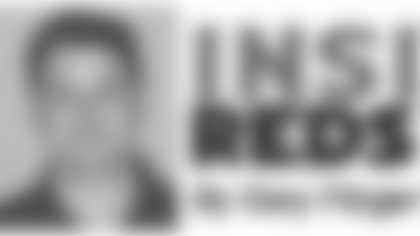 London Fletcher walked into the Redskins Park locker room on Wednesday and shouted: "It's too quiet in here. Let's make some noise."
It was open locker room, and reporters had already peppered several players with questions about Jim Zorn and Clinton Portis.
Media surrounded Fletcher. It was his turn.
Fletcher admitted surprise when reporters told him that teammates had talked openly about a players-only meeting that had occurred earlier in the day.
"Is anything not off limits around here?" Fletcher said incredulously. "We have too many people talking!"
Fletcher said the meeting was intended to make sure the team's focus was on this Sunday's game against the Cincinnati Bengals.
"It wasn't a lot of yelling or anything, it was really a matter of understanding that we are too good of a football team to be playing the way that we have been playing," Fletcher said. "We need to turn this thing around and it starts this week with Cincinnati and our preparation."
Team captains, including Fletcher and Jason Campbell, spoke to the team about playing hard over the final three games and continuing to make a push for the playoffs.
"Our [players-only] meeting was about us and what we need to do as far as winning on Sunday," Fletcher said. "[It was about] the state of the team and how we're just not where we need to be. [It was about] where we're at in our season, where we need to be, and how we're going to accomplish what we need to accomplish."
"It's about each man taking ownership of what he needs to take ownership of and each man believing in what we're doing as a team, going out there practicing as a team, preparing as a team, playing together on Sundays as a team. We feel like we can get it done."
The Redskins are 7-6 and still in the thick of the NFC playoff chase, but they have lost four of their last five games.
Fletcher was asked if players had lost some confidence during this rough stretch.
"I think for the most part guys do believe," he said. "Every now and then, there are some guys who may need a little more pushing. That was also one of the messages [from the players-only meeting].
"We have to believe what's being called from a play standpoint, believe in each other and believe in the man next to you and not letting him down.
"When you take the attitude that you don't want to let the guy next to you down, that you believe in whatever the play call is, it's going to transfer to Sundays and you're going to have a successful football team."
Fletcher, who leads the Redskins' defense with 116 tackles this season, was confident that players would put aside the week's distractions.
"The preparation is the same: we have to understand what the game plan is and then we have to go out and transfer what we learned on the practice field to the game on Sunday," he said. "It's that simple."